Wednesday, July 9, 2008
Originally, I had planned to spend the entire day today geocaching. And then Pat Durand called yesterday and said he had two complimentary tickets for the McKinley Explorer. Now which should I do?
I meet Pat at 5:45 AM at the Holland America service building and checked in for the day's ride. Donald Trump once said, "Everything in life is luck." So it was that we were dead-heading number 1050 which meant we had the entire railcar to ourselves. Or did we? No, there would be a bartender and attendant onboard to provide us with one-on-one service. I must be living right.
| | | |
| --- | --- | --- |
| | | |
| Number 1052 "Chena" | Our private railcar | Onboard computer tracks railcar position |
Soon the Alaska Railroad consist was backing up to couple to our railcar. For you hardcore railroads, I can report the line-up for this train was two SD70MACs, 102, 452, 654, 400, 206, 522, 352, 500, 1050, 1051, 1052, 1053 and four Princess cars.
As the train rumbled out of Anchorage, Pat and I headed straight for the dining car so as to beat the breakfast crowd. Our service was very impressive as was the quality of the food. I opted for the Engineer's Special (scrambled eggs, muffin, hash browns, and reindeer sausage) which appeared on the table a mere ten minutes after I ordered it.
| | |
| --- | --- |
| | |
Returning to "our" car, I haunted the vacant outdoor viewing platform, taking numerous photos and video. Eventually, I returned to my seat to spend some much needed time catching up on my trip journal using my daughter's brand new Apple laptop (it's a long story). This in turn attracted the attention of the two car stewards. Knowing full well I would lose control of the laptop, I brought up my web page for them to view. So began a lightning fast exchange of information, rumors and gossip such as Rotary #3 going to Curry, Target sponsoring the annual Fair train and heated and covered walkways eventually being installed on E street from the convention center to the depot. As predicted, I lost possession of my laptop so one of the attendants could use my website to obtain informational tidbits for his passenger tour car commentary.
Lunch was no less spectacular. The food was prompt and delicious and we were entertained by two lanky moose munching on reeds in a snow fed lake. As we finished our meal, an announcement came over the speaker telling us we were now traveling at 60 miles per hour. This is one of the benefits of continuous welded rail and was definitely a thrilling first for me. [click here for 4.1MB video for crossing Hurricane Gulch]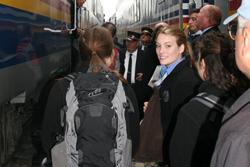 Our train came to a stop at Broad Pass and I saw that another passenger train was waiting in the siding. It was here that the tour guides, as well as Pat and I, swapped trains so we/they could return home for the night. It was quite the rush to stand between two ginormous trains that extended as far as the eye could see and towered high overhead.
Although we did not have a private car on the way back, our railcar (#1059) was less than half full. Furthermore, for some unknown reason dinner was complimentary. Bonus! We spent the evening taking photos, swapping stories and just generally relaxing.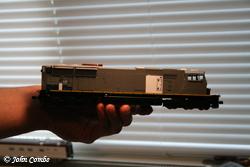 We arrived at the Anchorage depot a little before 8:00 PM and Pat's son Casey was there to give me a ride to the condo. We first stopped at Pat's van so I could borrow his photo scanner for tomorrow's visit to the museum. We also stopped at Casey's house so he could show me the HO scale Denali railcar and SD70MAC he'd been working on.
Once back at Don's I tried unsuccessfully to get the scanner working with my laptop. Unfortunately, the software was too old. If I could get Internet access somewhere then maybe I could download a newer version. So I drove to a nearby hotel and "borrowed" their wireless Internet signal. I found the software I needed, but couldn't get the download to work. I finally gave up at midnight and headed back to the condo thoroughly exhausted from the 20-hour day.