Saturday, July 27, 2002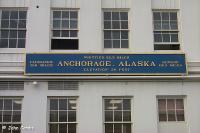 After a quick breakfast and shower at Don's, we got into our Chrysler Sebring and headed out for a two day excursion. Our first stop was a wallet emptying visit to the railroad gift shop located in the Anchorage Depot. Luck was again with us as the Coastal Classic (Seward bound passenger train) was sitting just outside. Since the weather was finally beginning to break, I took a bizillion photographs before heading into the depot gift shop. After we'd both been relieved of several hundred dollars, we began our drive south. We made a quick stop at Wal-Mart to pick up a few necessary items and encountered an Eskimo girl begging for money.
The fickle finger of fate was again pointing favorably in our direction as we encountered the Whittier shuttle (Anchorage to Whittier to Anchorage) as we drove along scenic Turnagain Arm. Randy took photographs while I videotaped the encounter. We continued south and even though it was spitting rain, it was a very beautiful drive.
At Soldotna we stopped at Craftsman Hobbies and visited with owner Steve Booth. Although they have factory painted Alaska Railroad items, the true gems are the custom models Steve produces. Unfortunately for us, Steve's custom items were all sold out. He promised to make more this winter.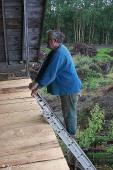 Our next stop was Bob Barrett's house in Sterling. Bob's personality can be described in one word: eccentric. Bob does some Alaska Railroad scratch built HO scale modeling and is currently building the entire route (Seward to Fairbanks) in a 20' x 60' layout in the loft of his barn. He is also the author of the book "Equipment of the Alaska Railroad 1915-1985." However, the most extraordinary thing about him is his collection of Alaska Railroad negatives. He has negatives for every locomotive that ever ran on the railroad. He also has historic negatives of most freight, cabooses, depots, buildings, etc. Randy and I spent an hour and a half looking through Bob's negatives and discovering he has a file cabinet like memory for Alaska Railroad roster history. I picked out fifty negatives of the pre-1960s locomotive roster photographs from which to have prints made. It is my goal to have a photograph of every Alaska Railroad locomotive on this web site. Maybe by this time next year, those fifty photographs will all be online. Before we left, Bob gave me an autographed copy of his book.
Natural beauty surrounded us as we stopped at a roadside park for the lunch. Don had packed an awesome meal of sandwiches, fruit, potato chips, soft drinks and chocolate bars(!). You just gotta love this guy!
We made a brief stop in the city of Moose Pass to visit the railroad's Maintenance of Way area. We took photos of the storage buildings and two loading ramps. Pulling back onto the highway, we found the road to be as smooth as glass. The entire road system had been rework over the past year and a half. The narrow canyon through which it travel was graded into gently slopping hills. Railroad crossing were eliminated and the road had been widen and resurfaced.
For beginners only: A railroad's Maintenance of Way (MOW) Department is responsible for maintaining roadbeds, bridges and buildings. Today, all but the most minute of maintenance of way tasks are accomplished through the use of machines and automated devices.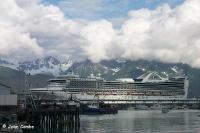 Seward is touted as the "Gateway to Kenai Fjords National Park". It is a picturesque town situated at the head of Resurrection Bay on the Kenai Peninsula. We pulled into the edge of town at 5:00 p.m. with Princess' largest cruise ship ("2,700 happy people") looming in the distance. Randy had us right on schedule so we could photograph the northbound Coastal Classic before it left at 6:00 p.m.
Stopping at the depot, we photographed the northbound Seward passenger train and were invited on board by the engineer and fireman. The engineer showed me his digital photographs and videos on his laptop and promised to send them on CD for use on my web site. We also stopped into the depot and talked briefly with Harry Ross, the senior conductor on the railroad. As the train made its way out of the depot at at 6:00 p.m., we drove the car ahead and got ourselves into position. We photographed and videotaped the train from above the new tunnel at Divide and then raced to the Snow River Bridge for a few additional shots. [Note: My video of the overhead view at Divide can be found on my videos page - #04]

| | | |
| --- | --- | --- |
| | | |
| GP 40-H no. 3009 ready to leave Seward | Left side of control stand | Right side of control stand |
Returning to Seward, we checked into our room at the Whistle Stop Lodge. The owner's assistant (and sister) Sandy Sandefur gave us a tour of the facilities and a brief history. Whistle Stop Lodging is an 82' troop sleeper car that has two rooms that face south with the fantastic views of the Seward Small Boat Harbor, beautiful snow capped mountains of Resurrection Bay. Our room had a full bath, two full sized bed, refrigerator, instant hot water coffee maker, TV/VCR with videos, clock radio and a nice heater. The other room was similar except it included a full kitchen.
For Alaska Railroad addicts only: The Harbor Train Station opened June 6, 1997. Owner Tanya Sandefur inquired to the Alaska Railroad about any rail cars they may have for sale. They had four retired rail cars that had been setting unused for about 15 years. Theses cars were put out for public auction to closed bids and only three were submitted. Tanya bid on two of the cars plus $1,000 each for the other two 82 foot sleeper cars. Her winning bid made her the proud owner of four gray World War II rail cars for just over $10,000.
In September 1995, Tanya and her husband Ron began the renovation. The utilities were laid underground, three of the foundations poured and original 1904 Seward rails put in place. In March 1996 the car interiors were removed in preparation for city building codes. Showers, toilets, bunk beds, heaters, fuel tanks, carpentry cabinets and doors scattered the work area. So were piles of metal that had to be removed from the undercarriage so the Northern Stevedoring forklifts could take them off the tracks and place them on their foundations. It only took three months for Tanya and Ron and her crew to remodel the trains and build a huge deck that connects all the trains in a pleasant court yard atmosphere.
The 52 foot Pullman Mud car contains the Seward Bike Shop while the 52 foot Pullman Kitchen car is a Deli. One of the 82 foot American Founder sleepers houses QuarterDeck Charters, a fishing charter boat company which handles luggage storage for railroad or cruise ship customers.
The other 82 foot sleeper is known as Whistle Stop Lodging. Tanya converted this car into two rooms that face south with the fantastic views of the Seward Small Boat Harbor, beautiful snow capped mountains of Resurrection Bay. Tanya convinced her sister Sandy and her friend Bob to start the business which opened May of 1999.


| | | |
| --- | --- | --- |
| | | |
| Whistle Stop Lodging sign | Harbor Train Station | Whistle Stop Lodging rooms |
| | | |
| Interior of our fabulous room | | View from the window of our room |
By pre arrangement, we met Randy's friend Dave at Ray's Restaurant at 7:00 p.m. Ray's has good seafood and a fabulous view of the harbor, but were very slow and fairly expensive. After the meal, Randy left with Dave to see his new house while John drove through Seward taking photographs of various Alaska Railroad related items. We returned to our room at about the same time and finally passed out at 11:30 p.m.