Friday, July 26, 2002
While it is mandatory to pack as many Alaska Railroad activities into each day as possible, every now and then a guy must rest or suffer the consequences. I slept in a little, had a leisurely breakfast, sorted through my digital photos and caught up on my journal. Don Prince shared stories of his exciting days in train service.
Randy Thompson (the Alaska Railroad calendar guy) called at 11:00 a.m. and said he had wrangled an earlier flight out of Seattle and was ready to be picked up at the Anchorage airport. I picked him up and we headed back to Don's place to drop his gear. As we were leaving, Frank Dewey dropped off my snow shed spike. What a relief!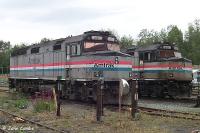 Our first stop was the chief mechanic's office for various railcar and caboose drawings and information. While we were in the neighborhood, we visited the locomotive shops and surrounding yard to grab a few quick photos of its current inhabitants. Again, I saw those tacky looking Amtrak units, plus the more esthetically pleasing rebuilt GP40s and SD70MACs.
On the way to the headquarters building, we spied the Grandview at the Anchorage depot. We both climbed the exterior stairwell and got some nice overhead photos. Unfortunately, the sky was still dreary, but I took the photos anyway since I am an Alaska Railroad addict.
We stopped by the headquarters building and saw that September 11th had created a whole new world here too. Employees now wore identification badges. The receptionist in the lobby ensured you signed in, wore a visitor's badge and were escorted through the offices by a railroad employee. We had to asked for several employees before we finally found one at their desk. Pat Flynn, the Alaska Railroad's public affairs guy, came down and escorted us to his office. We swapped railroad stories with him for a while and also obtained a few posters, annual reports and other odds and ends.
Next, we visited the railroad's offices at the Anchorage depot and again encountered a receptionist. She connected us with Adrie Setten, the big Kahuna of passenger services who provided us with information about changes in passenger car service and depots. A lot of things are happening in the depot department. Fairbanks and Denali are getting new ones while Talkeetna is having an extension of its current passenger platform.
For Alaska Railroad addicts only: The Alaska Railroad has done an excellent job in obtaining millions of dollars in federal funds for various projects. As the number of projects have grown, so has its civil engineering staff. As part of a reorganization, the offices for civil engineering and passenger service were moved from the headquarters building to the Anchorage Depot offices. This can get a little confusing especially when employees start throwing around acronyms. For example, "Bob moved from the NOB to the GOB." When you hear a phrase like this, you swear the person is speaking another language such as Elfish. Once you locate an interpreter, you learn the NOB (new office building) is actually the headquarters building while GOB (general office building) are the offices located in the Anchorage depot.
Driven by hunger pangs, we stopped at the Sourdough Mining Co. for dinner. We arrived during the tourist's "last hurrah" and thus had to wait 30 minutes for a table. As usual, the food was superb and the quantity was such that I actually left food on my plate. You'll want to put this restaurant our your "to do" list when you visit Anchorage.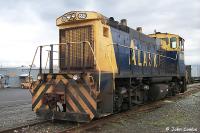 Back at the Anchorage yard, we found MP15 yard switchers no. 1553 and 1554 shuffling cars from track to track. One of the switchers was manned by a woman which is a fairly rare sight. A recent article in the Alaska Journal of Commerce said, "Only five of 180 conductors and engineers are women, a number that has stayed about the same for the last 20 years." From what I could see of her work, I think more women should seek this type of employment.
Again luck was with us for as we passed the Anchorage depot we saw the northbound Denali Star. This was our first opportunity to gets photographs of non Alaska Railroad passenger cars. Apparently Royal Celebrity Tours doesn't run passenger cars on Fridays since we only saw Westours and Princess units. After burning up some film (or in my case charging up some electrons), we went to the Royal Celebrity Tours car shops. As predicted, all four of their passenger cars were there. While snapping a few pix, we encountered Mark who serves as the mechanic for these cars. He was kind enough to give us a tour of the inside of one of the cars and provided us with a wealth of information. One of the things that really piqued my interest was the $100,000 sound system which would leave even the most amateuristic audiophile drooling. It delivers sound to the arm rest of each chair and lets the user choose their favorite music (jazz, rock, country, etc.)


| | | |
| --- | --- | --- |
| | | |
| Royal Celebrity Tours RCIX 1002 | The lower level dining room | Great views from the upper level |
| | | |
| The $100,000 sound system | Royal Celebrity Tours car shop | Car shop interior |
We returned to Don's and shared our stories and digital pictures. He reciprocated by bring out the various railroad items he had collected over his thirty years with the railroad. Since Randy wanted to stay on the same sleep schedule as he did when he is at home, we turned in early at 9:30 p.m.