Sunday, July 28, 2002
A brisk clear morning! There was hardly a cloud in the sky and my body was eager to soak up the sun. The view out of our railcar window was nothing short of spectacular! We took showers and then hit the road. We loved our stay at Whistle Stop Lodging and I would give my unqualified recommendation to anyone visiting Seward.
We cruised the railroad's car shop which services the passenger car fleet. As cruise ship passenger patronage of the Alaska Railroad continues to grow, we should see future expansion of this car shop.
Burger King sounded like a safe breakfast stop. Unfortunately, the teenage girl who took our order was actually a I-really-don't-want-to-be-here food Nazi. The most revealing moment occurred when she made an error at the cash register and ordered her boss to come fix it. Heated words were exchanged and she finally ended the argument by telling her boss to "bite me!"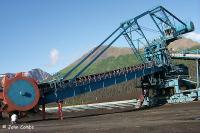 Before we departed Seward, we went on a short Alaska Railroad photographic safari. We visited the loading facility that loads railroad delivered coal into huge ocean freighters bound for Korea. Unfortunately, this loading operation will soon cease now that Korea has located cheaper sources of coal on the world market. Our final Seward photos were of the cruise ship, flat car loads and some old orphaned McKinley Route box cars now used as storage trailers.
Shortly after leaving Seward, we caught the southbound Coastal Classic at an underpass and at scenic Snow River Bridge. [Note: My video of this can be found on my videos page - #04 and #08 respectively] As I pulled away from the bridge, I noticed the gas gauge was practically on empty. I felt pretty stupid having to return to Seward to fill up the gas tank. Adding injury to insult, I overflowed the gas tank trying to get an extra eight cents in. I have never fueled a car that overflowed so easily.
The drive to Whittier was beautiful as well as uneventful. We arrived at the Anton Anderson Memorial tunnel just before 11:00 p.m. Due to massive protests from the residents of Whittier, the toll had been reduced to $12.00 for cars. After waiting for several minutes, our lane got the green light and we drove through the longest highway tunnel in North America, a length of 2.5 miles, and entered into the wonderful world of Whittier. [Note: My video of driving into the tunnel can be found on my videos page - #10]
For beginner's only: "In 1941, the U.S. Army began construction of the railroad spur from Whittier to Portage. This line became Alaska's main supply link for the war effort... On April 23, 1943 workers completed the spur, which consisted of a 1 mile tunnel through Begich Peak and a 2.5-mile tunnel through Maynard Mountain, thus linking Whittier to the Alaska Railroad's main line at Portage. With a new rail connection to Whittier, the area began to change. In the mid-1940s, work crews and supply ships began to arrive, and population, including military and civilian personnel, swelled to over 1,000. Infrastructure - such as buildings (including the six story Buckner building and the Begich Tower), a power plant, and a petroleum tank farm - began to change the landscape. The 1950s brought change to Whittier once again. As the military pulled out, Whittier transformed into a federally run commercial port... Whittier has been a port on the Alaska Marine Highway, but its only link to Alaska's highways was via the Alaska Railroad. The Alaska Railroad began offering a shuttle service between Portage and Whittier in the mid 1960's. This unique form of rail service allowed vehicles to drive on to flat cars to be transported between Whittier and Portage... As the numbers of people traveling to and from Whittier increased, so did the demand for more convenient and affordable passage to Whittier... After studying all the options, [it was] determined that the best solution was to construct a highway to Maynard Mountain and transform the existing railroad tunnel into a one lane, combination highway and railway tunnel that allows cars and trains to take turns traveling through the tunnel... Construction began in September 1998 and was completed in May 2000" -- from the Anton Anderson Memorial Tunnel web site.

| | |
| --- | --- |
| | |
| View of Bear Valley portal and mountain | Close up of portal thru car windshield |
As we emerged from the darkness of the tunnel, I noticed a little bit of sun peaking through the clouds. This was good news since Whittier is known for its nasty weather. You can enter the Bear Valley portal under partly cloudy skies and emerge from the Whittier portal to horizontal rain. The ocean and mountain range creates a truly unique weather system.
Excerpt from John's Alaska Railroad 2000 Trip Journal: "I have never encountered any town as unique as Whittier. Their phone book doesn't even cover an entire page. They have 30 to 50 school children meaning your high school graduating class would have two to three members. That is if your parents didn't decide to send you off to Anchorage instead. There is basically one street in town and a handful of businesses. But the thing that makes them really stand out is virtually all the residents live in the Begich Towers apartments. This World War II era building survived the 1964 earthquake plus the resulting tsunami. Another apartment tower is nearby, but the Army chose not to repair it after the earthquake. The weather is fairly dreary three fourths of the time and rumor has it that alcoholism is rampant. "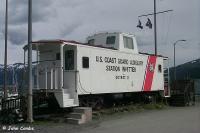 The Coast Guard caboose was our first stop. Caboose 1076 was donated to the Whittier Coast Guard Auxiliary in September 1999. The Coast Guard refurbished and painted the caboose and then opened it to the public in July 2001. I was dismayed to find it uninhabited and the doors locked. We took some photographs of it and then headed to the rail yard.
As we approached the Whittier shuttle, we saw engineer Billy Hightower reclining in locomotive no. 2002 and reading a newspaper. He was killing time until his 6:00 p.m. return trip to Anchorage. Billy plans on heading to Montana when he retires in four years. This is one of the typical retirement plans for a lot of Alaskans. Either retire in the mountains (Montana, Colorado, etc.) or to the closest milder climate (Washington) or to someplace where they never have to see snow again (Nevada, Arizona, Florida).
Railroad employee John Kennedy (no relation to our past president) and his crew was also in the yard. They were neither reclining nor reading the newspaper. Instead, they were cutting weeds along the tracks to satisfy the visiting Federal Railroad administration folks. I asked him if he had any good stories he could share with me for posting on my web site. "I've got a lot of good stories, but I can't share any of them with you."
The railroad exchanges freight with the lower 48 states via ocean barges. As part of the new Lynden barge delivery contract, the railroad is building a new dock. Randy and I stopped by to get a few pictures of it and found there wasn't very much to see yet.
To satisfy my "land of the lost" urge, we paid a visit to the abandon Buckner building. We pulled in at the back of the building and found a small garage with two mattresses in it. This must be quite the teen playhouse on weekend nights! Since we didn't see any "No Trespassing" signs, but admittedly we weren't looking for any of them, we entered the building. There was a lot of spray painted graffiti on the walls, broken glass, tetanus infested metal on the floor, and stalactites having from the ceiling. Some of the rooms (including the basement) were inaccessible due to deeper water and/or total darkness. Water dripped from the ceilings of many of the rooms and I assume the roof probably doubled as a pond. We eventually found the old movie theater and did the best we could on getting a few photographs in the pitch black room. We carefully explored all six floors looking for remnants of the operating room, bowling alley, officer's lounge and hobby shop. From the top floor you get a great view of the whole town. The rest rooms still had some sinks, urinals and toilets. The mess hall offered a fine selection of grass and moss on the floor. One room even had the original green paneling on it. All and all, the building appeared structurally sound. Not too shabby for a building that survived one of the world's largest earthquakes plus nearly 40 years of utter abandonment. Next time I explore this gem I will be wearing boots and carrying a retina melting flashlight.

| | | |
| --- | --- | --- |
| | | |
| Buckner bldg. housed troops in WW II | Interesting graffiti adorn the walls | Seats are still intact in the movie theater |
| | | |
| Some walls gone, but paneling's still there | Mineral stalactites having from ceiling | Grass and moss on the dining hall floor |
By now we had definitely worked up and appetite so we stopped at the Anchor Inn for some fish (Halibut) and chips. The chips (French fries) weren't very good, but the lightly breaded Halibut was far superior to that which I got at fancy Ray's restaurant in Seward and was almost half the price.
Before getting back in the car, we walked around taking pictures of the old fire station, Lynden trailers, flat cars, an old mechanical reefer and the Begich Towers building where the vast majority of Whittier residents live. We also paid a visit to the new pedestrian tunnel which enables people to walk under the railroad yard instead of through it. Since the area gets tens of feet of snow in the winter, I wonder what will keep massive amounts of snow from drifting shut the entrances to this tunnel.

Whittier Pedestrian Tunnel

| | | |
| --- | --- | --- |
| | | |
| Walkway, Anchor Inn and GP38 2002 | Entrance | Interior |
As we were leaving Whittier, we stopped one more time at the Coast Guard caboose. The fickle finger of fate once again blessed us with good luck as the caboose was open and guard member Steve Sterling was inside. Steve and I had been communicating over the past couple of years via email. I provided him with historical information about the caboose while he provided me with photos in its new Coast Guard paint scheme. He showed us an historical display he created using my information and photos from my web site as well as stuff from other sources.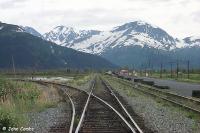 At 5:00 p.m. sharp we were at the Whittier tunnel portal just in time for immediate departure through it. Emerging on the other side, we took photos of the track, rail bridge and portal in Bear Valley. I got the crazy idea of photographing the train as it crossed the as it crossed the small rail bridge in Bear Valley. Randy pointed out that our time would be better spent photographing the train as it crossed Twenty Mile Bridge. This had been a goal of mine so I readily agreed. Since we'd have some spare time on our hands, we stopped at the Portage yard and hiked approximately two miles down the line to photograph some on box and tank cars.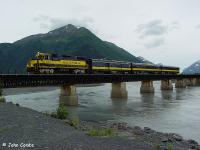 Arriving at Twenty Mile Bridge, I set my video camera on the hood of the car and got my digital cameras ready. About twenty minutes later the train crossed the bridge and I had my prized shot. I just wish it had been a sunny evening! [Note: My video of this can be found on my videos page - #01] We chased the Whittier shuttle up the line snatching pictures of it along the way. At Bird Point it met a south bound freight and I captured the moment on both video as well as digital stills.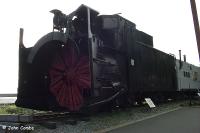 We made a brief stop at Potter for photos of the station house, snow rotary (at left), troop sleeper, gas powered MOW car and some new interpretive display boards. We returned to Don's condo around 9:00 p.m. He was anxious to hear tales of our adventures so we spent a couple of hours hitting the highlights. After Randy and Don headed for bed, I sorted my digital photos and added to my journal until midnight.