Chapter VI: McKinley Explorer Railcar to Denali
Sunday, June 25th, Anchorage.
With just a tinge of excitement, I was up before the alarm at 6:15 a.m. I had been sent two free passes for a McKinley Explorer railcar and was anxious to see what it was like to ride in one. Furthermore, today would be my first meeting with Randy Thompson, my long time email buddy and creator of the Alaska Railroad calendars. Frank took me to the Anchorage depot where I discovered a major mistake, I had been sent free passes for the McKinley Explorer bus ride! Frank spoke with the Westours folks who sympathetically said there was nothing they could do since all seats were already taken. My first meeting with Randy Thompson may just find me on the receiving end of a punch.
As Frank and I headed out of the depot, we crossed paths with Randy Thompson. Randy immediately spoke with the Westours folks who straightened out the mess and got us on a dead (empty except for railroad employees) car, 508. Randy, the man of many connections! The train left at 8:15 a.m. under the smooth, capable hands of engineers Phil Shibe and Tim Gobbi. Lynn, our railcar manager, was very cordial and pleasant and made us feel right at home. Although the weather started off cold and rainy, the sun soon popped out, making for an incredible photography day.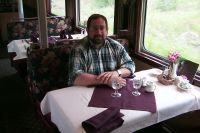 Randy and I spent time getting acquainted and planning our days together. Lynn informed us breakfast was being served in the dining car. Two pancakes plus a link of reindeer sausage was a costly $7.00, but it tasted great and rounded out our experience. We roamed all the passenger cars including those of the Alaska Railroad, Kenai Fjords, Westours and Princess. While exploring one of the Princess cars, we went up the staircase marked "Down". This annoyed car attendant Ann who said we now had to sing a song into her microphone for the entire car. Putting passengers on the spot and embarrassing them in front of a crowd is a very poor practice. We declined her request, but she became more insistent and slightly belligerent. Randy and I gave in and sang a short rendition of "Row, Row Your Boat" which received a smattering of applause from the audience. We continued roaming through the cars, but were more careful about which staircase we used. The trip ended with incredible mountain views and enough curves to satisfy any photographer haunting the vestibules.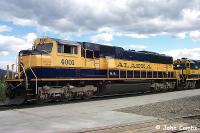 Getting off the train, Randy and I dodged tourist and baggage forklifts to get photos of the locomotives and some of the passenger cars. The London babe, SD70MAC #4001, was heading the train so I couldn't resist taking a bunch of photos of her. Through a previous arrangement, Randy (the man of many connections) had a rental car waiting for us at the depot.
We piled our luggage into the car and headed for our first photo op, Usibelli Coal Mine (UCM). Since UCM employees don't work on Sunday, we had free roam of the premises. Randy spent a few minutes explaining the basic operations at UCM. First, low sulfur coal is strip mined nearby and brought by truck to conveyor system across the river. The conveyor system then transports the coal to the tipple where it is crushed and sorted by size. Finally, the coal is sent to a nearby yard where it is stored until being loaded into train hoppers for distribution to various customers in Alaska as well as Korea. I shot half a roll of film of the conveyor system, coal tipple and outside storage yard. I also took a small coal sample as a souvenir. Hopefully, they won't miss this.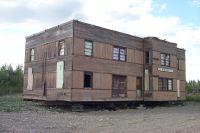 On the way back to Healy, Randy turned into a small gravel lot. There in front of me was the old Healy depot resting on wooden blocks. It was built in the 1930s, surplused by the railroad in 1986, purchased by an unknown individual and moved to the current location. The building was old and dilapidated, but I went in anyway and took a look around. Everything from the original building had been removed and vandalism was rampant. Broken glass was everywhere, a mop was used to splatter paint on the walls and trash littered the floors. Still it was intriguing to walk through this piece of history.
Randy drove a short distance to the Healy Yard and roundhouse. Sitting in the siding was locomotive crane LC110 and caboose 1084. We went into the old roundhouse and saw a tamper and an old gas powered MOW car. Randy (the man of many connections) showed me a large junk pile out back and said he had been given permission to take anything he wanted. I immediately homed in on a railroad crossing sign, but didn't have the tools to remove it from its stand. We agreed to return tomorrow and retrieve it.
With our stomachs growling, we pulled in the Smoke Shack restaurant. Our waitress Nacole, a very cute bubbly spirit and old friend of Randy's, made us feel right at home. We ordered BBQ beef sandwiches and soaked in the relaxed atmosphere. Refueled and refreshed, we headed to Randy's mountain cabin. Randy's little hideaway is a one room home built by he and his wife. It has no running water or indoor toilet, but is very comfortable, extremely well built and has one of the best views in the area. Unfortunately, Randy has to sell this little slice of paradise now that he has relocated in the Seattle area. Any interested buyers?
Today's lineup: SD70MAC 4005, GP40-2 3011, Baggage 101, Dome 501, Coach 209, Diner 401, Coach 210, Dome 521, Coach 203, McKinley Explorer cars 508, 510, 513, 507, 554, 551, 50 and Princess cars 7086, 7080, 7081, 7088, 7084