Chapter V: A Day with Frank
Saturday, June 24th, Anchorage.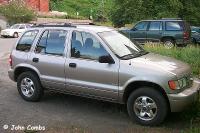 What a day! After putting the Scouts on the plane at 1:01 a.m., I rented a Kia Sportage 4x4 for 24 hours and headed to my hotel for the night. Locomotive Engineer Frank Dewey called me at 5:30 a.m. and said he had some free time. We decided to meet between 10:00 and 11:00 a.m. We met at the Anchorage yard around 11:15 a.m. After a heart felt greeting, Frank took me to his apartment and showed me around. We made a brief stop at the ARRC general office building for Internet access plus checking out the dispatcher's station. The dispatcher sits in front of five color monitors and coordinates traffic along the line while keeping their stress levels in check.
If you love good food, Arctic Roadrunner must be on your list of Anchorage stops. Frank and I ate hamburgers, onion rings and fantastic blackberry shakes while listening to a local Blue Grass band. Frank then drove us to the Anchorage yard and I soon found myself in the cab of SD70MAC number 4010. After a brief dog and pony show by locomotive engineer Bob Yost, we got back into Frank's truck and tooled around the yard, snapping photos of MACs, switchers, cranes, snowblowers plus much, much more.
Heading down to the Anchorage docks, we followed a switcher jockeying a cut of tank cars. Locomotive engineer Jim Bell showed me around an MP15 switcher number 1554 and told of the pleasures of working in the yard. He still is doing this job at age 63 because he truly loves it. Frank and I wrapped up the day photographing the McKeen and real estate cars.

| | |
| --- | --- |
| | |
| Number 1554 pushing tank cars | McKeen Car |