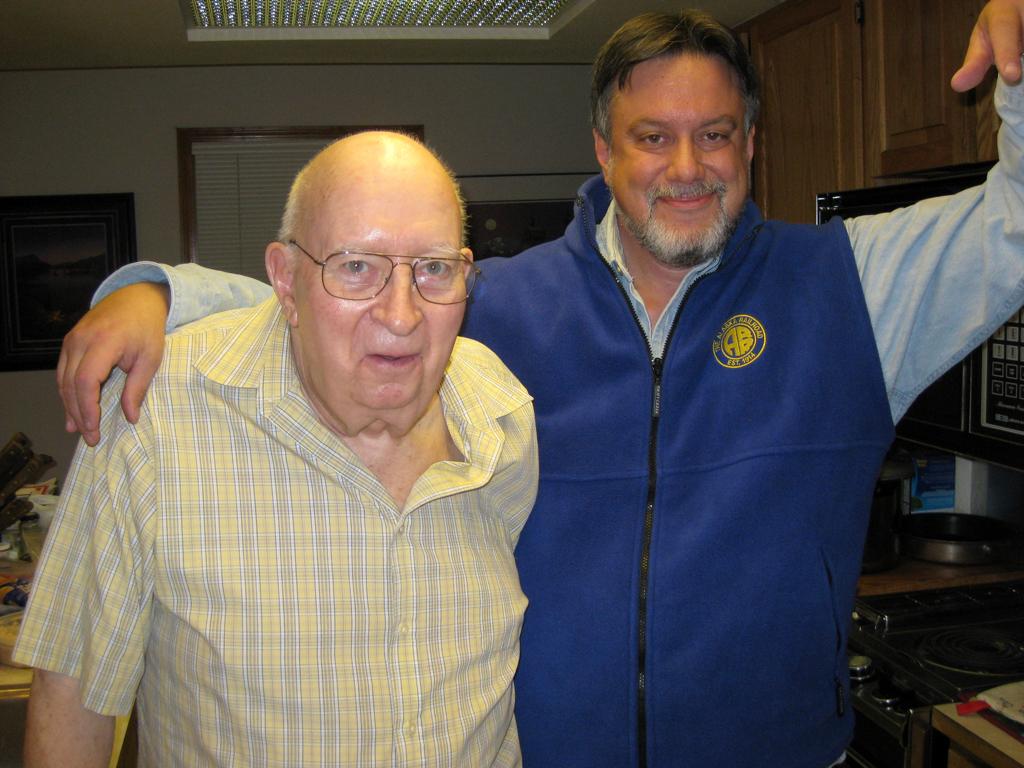 What is it that I will remember when I think of Don Prince? I think everyone who knows him well would agree it was his generosity. Don was the kind of guy who would give you the shirt off his back.
It was almost ten years ago when Don first insisted that his condo become my Anchorage home. It was absolutely useless declining his fire hydrant flow of hospitality. He gave me a house key and told me to come and go as I pleased. "My house is your house," he would say.
In the early years of our friendship, he served as my airport limo driver, greeting me eagerly as I got off the plane. He would celebrate my arrival by fixing massive amounts of deep fried beer batter halibut. Most days he packed me a double-sized lunch including a hearty helping of salmon. He knew I didn't like salmon. However, he also knew I would give it away to the railroad employees who in turn would become instant "friends." That was just the type of guy Don was.
However, his greatest act of selflessness was the gift of his time. Due to his affliction with Parkinson's disease and his later hip surgery he was unable to accompany me on any of my excursions. So every evening when I returned, he conducted a debrief. He looked at the day's photos, listened to my stories and provided his own commentary and historical knowledge in return. We then sat for hours swapping stories, sharing our lives and placing bids on eBay.
I will never forget my 2008 trip. Don was very, very sick and in the hospital. Tough old Alaskan bird that he was, he pulled himself out of it just two days before my arrival. His main concern was not for himself, but that I would have a place to stay and anything else I might need. I hope someday that I can be half as unselfish as this man.
On my last few trips, my wife would accompany me with the sole purpose of spending time with this dear old man. Even in his declining years, he was so full of life and laughter. Many is the hour the two of them spent trying to best the other at the cribbage board. The icing on the cake was both of us coming up for an early 80th birthday party. It indeed was an exciting time to remember. Through it all, Don richly proclaimed that he had worked for the Alaska Railroad for 30 years and now had enjoyed 30 years of retirement. Who could hope to do better?
The sands in the hourglass drained out much too soon for me. Don passed away five days before my July 2010 trip to Alaska. It really knocked the breath out of me. We still had so much left to say and do together. I will miss him greatly. He truly was a "prince" of a man.
John P. Combs
7/6/10
P.S. to Don - Thanks for the fillet mignon, chocolate, salmon and all the wonderful times we had together.
Don Prince links found on this site:
And dozens of historical additions and corrections throughout the website
---
Donald Prince
Don Prince, 80, died peacefully at home July 4, 2010, in Anchorage.
A service will be held for Don at 10:30 a.m. today at Evergreen Memorial Chapel, 737 E St., with a celebration of life afterward at the Millennium Alaskan Hotel, 4800 Spenard Road, noon-3 p.m.
Claude and Gladys Prince welcomed Don into the world on Dec. 4, 1929, in Alhambra, Calif. He was the youngest of the Prince children. His father, Claude, was a school principal in Alhambra. In 1938, the family moved to Charter Oak, Calif., and in 1947 Don graduated from Covina High School, Covina, Calif.
At the urging of a friend, Don headed north to Alaska in 1949. They drove in a 1941 Ford, in December, and often had to leave the vehicle running overnight due to extremely cold weather ("minus 70 below F"). Initially Don worked for the Alaska Housing Corp. doing maintenance work, and he was later joined by his close friend, Charles Drum.
On July 10,1950, Don hired out on the Alaska Railroad. He worked for the railroad for 30 years until his retirement in 1980.
Don held numerous positions within the railroad, from conductor to general yard master. The Alaska Railroad and his railroad family were always of the utmost importance to him. In 1953,
Don joined the U.S. Army and served as a sergeant in the rail battalion at Fort Richardson. He was honorably discharged in 1955.
In 1960, Don married Lucile Jean Benedict and adopted his son, Jon Prince. In 1987, Jon and his wife, Leah, blessed Don with a granddaughter, Alyssa Marie Prince, and then, in 1991, a grandson, Brian Compton Prince. The grandchildren were the joy of Don's life.
Don's family remembers him as "Papa," an extremely generous and kindhearted man who knew how to let the good times roll.
Don is survived by his grandchildren, Alyssa and Brian; daughter-in-law, Leah; sister, Mariam; numerous nieces and nephews; and many close and dear friends that he called family.