Tuesday, August 14, 2012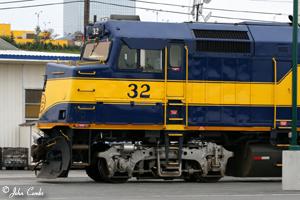 When God closes a door, somewhere he opens a window. My early morning call to Jim Somerville was a huge disappointment. The clouds had descended and the ceiling was less than a thousand feet so there would be no flight today. So I began looking for my window. I headed down to the Anchorage depot to check out the morning passenger train. Due to the overcast skies, my photos were less than dazzling. However, I was sort of pleased with a close-up of F40 unit #32 which I snapped from near the front of the headquarters building. On a lark, I placed a call to the Anchorage Operations Center's yard tower and was pleased to find someone there was looking for me. Although I didn't know it at the time, I had found my window.
After gaining access to the yard tower, I asked permission to go outside to the cat walk to photograph various items of interest in the yard. I was told this was not a problem and I should keep my eyes open for something unusual heading out of the shop building. From this bird's eye vantage point I took photos of tank cars, hoppers, a few SD70MACs, the old ballast hoppers and....hmmm...there are a bunch of guys in hard hats and orange vests beginning to gather. I wonder what they are up to? Then I saw it. GP30 #2002 was slowly pulling steam locomotive #557 through the yard. Well, little old me would be lucky enough to have an unfettered view of the old girl being loaded onto a flat car in anticipation of her trip to Wasilla for restoration. Not that I am bragging or anything!
Let me backtrack a bit by providing some background information. This saga began a long, long time ago. Baldwin 2-8-0 #557 began life in 1944 as U.S. Army #3523. Eventually, the Alaska Railroad took possession of the unit and used it for many years. Number 557 was surplused in 1964 and Monte Holm became its new owner. Monte ran the unit on a small stretch of track in Moses Lake, Washington until liability issues forced him to put it on permanent display at his company's site. When Monte passed away #557 was put up for sale by his grandson. She was purchased by Jim Janssen, President and CEO of Lynden in 2010 who in turn sold it to the ARR for one dollar in 2011 with the proviso it must become operational in eight years or less. The unit was shipped up to Whittier by barge in December 2011 and moved by rail via flat car to Anchorage. Number 557 had been in storage ever since.
Although I was blessed to have been asked to maintain the website for the restoration of #557 I had no idea I would be lucky enough to witness its journey from Anchorage to the restoration location in Wasilla. Below are a few of the photos I took of the unit being loaded onto a flat car in preparation for the move.
| | | |
| --- | --- | --- |
| | | |
| GP38 #2002 pulls #557 from the diesel shop into the yard area in preparation for loading. | It has been a lot of years since #557 traveled though this yard! | Although she is 68 years old she looks great for a woman of her age. Monte took good care of her! |
| | | |
| Approaching the loading area. | The loading area is ready. Lynden graciously donated their resources to move #557. | Special rails were fabricated to roll the unit right onto the flat bed. |
| | | |
| Management also used this effort as a teaching moment for its junior employees. | The Trackmobile tested out the rigged rails before doing it for real with #557. | The Trackmobile did not have enough horsepower to push her onto the flatbed. |
| | | |
| Standing by was a front loader ready to assist if needed. | The Trackmobile pushing her up the ramp. | The Trackmobile did not have enough power so the front loader was added. |
| | | |
| Number 557 began slowly inching up the ramp as the crew watched for any signs of problems. | Smooth as glass she slid in place. | Nicely done! |
With #557 safely loaded and secured on the flat bed, the railroad put security personnel in place to guarantee she would not be disturbed until she made her trip to Wasilla the next day. My escort then spent a few minutes driving me around the Anchorage yard in search of a few interesting photos.
| | |
| --- | --- |
| | |
| Number 3015 is my favorite locomotive of all time. She took my wife and I to Denali N.P. during our 1985 Alaska trip. It looked like she needed one of her number board replaced. | Caboose 1084 was built by Pacific Car and Foundry Co. in March 1948. Over the years the railroad has been eliminating all its cabooses and it looks like this one is not long for this world. |
| | |
| These ballast hoppers were built by MK Co. in 1953. Today they are only used in maintenance of way service. I've always liked them because of their unique funnel flow graphic at the left end. | Only three locomotives are left in the black and yellow freight paint scheme. They are numbers 3001, 3003 and 3006. How much longer will they keep these colors? |
With all the excitement I completely forgot about lunch. I recalled during one of my past visits, railroad employee Dwight West had taken me to nearby Burger Jim's so I decided to return. On the way I noticed the weather had perked up quite a bit so I took a few photos of familiar landmarks such as the Headquarters building and the Anchorage depot. I also took the opportunity to stop by the Alaska Railroad gift shop to purchase two bags full of souvenirs.
After a quick meal I stopped by to visit the home of Jack Klingbeil. Jack builds beautiful 1/8 scale locomotives as well as being the big cog for the Alaska Live Steamers. He was currently working on a GP39 and a half in BNSF ("Smurf") paint scheme. After showing me a few of his other projects Jack invited me to stop by the Live Steamers new facility in Wasilla for a train ride. Due to the expansion of the Wasilla Municipal Airport the Live Steamers had to abandon their 1.5 mile track and move to a new location. Jack said trains were currently operational, but the track still had a long way to go. I agreed to pay a visit before my trip was over.
As I was leaving Jack's house, my cell phone rang and a friend (who cares to remain anonymous) asked me to stop by his house at my earliest convenience. I always like to strike while the iron is hot so I told him I was on my way. During our visit he gave me a significant number of historical photographs and railroad memorabilia. On the way back to the hotel I grabbed some dinner as well as a fair number of geocaches.