Monday, August 13, 2012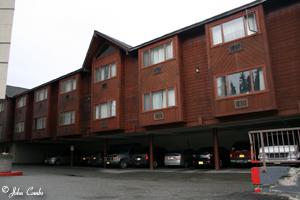 The clerk at the front desk of the Quality Inn informed me the restaurant serving the continental breakfast could be accessed via a tunnel under the road. I appreciated knowing this as the road that separated me from the restaurant had numerous lanes full of fast moving traffic and the whole scenario reminded me of the old Frogger video game. However, this time I would be the frog.
I must admit the quality and quantity of the breakfast caught me pleasantly by surprise. Admittedly, I was hungry enough to eat day old cardboard. They had my favorite item which was the now popular "make your own waffles" gizmo. There was also bacon, eggs, cereal and bagels as well as typical continental items. Furthermore, one morning I arrived towards the end of the breakfast time and was ecstatic to find homemade chili.
Alaskans are the most wing-worthy of the 50 states given that 1 in 60 have pilot's license and 1 in 70 own a plane. Unsurprisingly, the Lake Hood/Lake Spenard complex is the busiest float plane base in the world, averaging almost 200 operations a day. To add to the excitement, a narrow canal connects the two lakes and many pilots will take off and land right before your eyes. Retired locomotive engineer Frank Dewey first brought me here (N 61 10.711 W 149 57.745) in 2012 and I was anxious to return and watch the show. Even though the skies were bleakly overcast I was still able to get some great photos plus loved watching the skilled pilots maneuver their aircraft. The good news was I captured one good video clip (click here for the 6 MB movie). The bad news was I captured the clip using my wife's camera (it's a long story) and it was set on an option that made everything black and white except the grass. Just pretend you are watching an old time movie! Before my next Alaska trip I promise you I will purchase an HD video camera.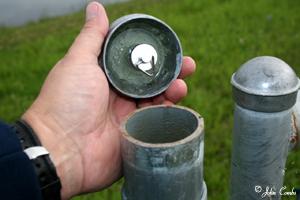 Prior to leaving the area I checked my handheld GPS unit to see if there were any geocaches in the area. Eureka! There was one a mere 300 feet away. I followed the GPS unit's pointing needle down the fence line. When I was 100 feet out I knew exactly where the hide would be. After geocaching for five years I had become very adept at finding these hidden containers. I pulled off the cap of the fence post and found the container glued inside of it. Been there, done that. There were three other caches in the area and I had just enough time to snag them before heading to lunch with Matt Leistico.
Matt is an Alaska Railroad railfan who for the past eight years had been sending me various railroad photographs and information snippets. I had visited him in his workplace before, but not since PDC Incorporated had moved to their new location.
Once I arrived at his office he took me on a tour of his floor and shared information regarding his current projects. Eventually Matt asked me where I would like to go for lunch. I told him I wanted to try some place I hadn't been before. He took me to Sara's Sandwiches and found the place to be absolutely packed. We gorged ourselves on some pretty darned good "make your own" sandwiches and I was impressed with the size, quality and price. I was also impressed with the cashier's plethora of tattoos.
Matt then took me on a driving tour of the area industries that were serviced by the Alaska Railroad such as Unique Machine and Alaska Technology Center. We made a brief stop to check out operations at A.S. & G. The only movement was coming from a side track where two workers were perched on top of a cement hopper. When they saw I got out my camera they immediately stopped their loafing and got to work. Apparently some of the powdered mixture had caked at the discharge chutes of the hopper and they were using buckets to empty it out by hand. Yuck! Before taking me back to my car, Matt stopped by his home to let his dog out. Unique sightings in his home were his autographed Star Wars cast members photos and his gigantic goldfish.
| | | |
| --- | --- | --- |
| | | |
| The tattooed lady and the sandwich shop | Asleep on the job | Fishzilla |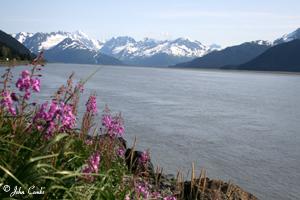 Just as I got back to my rental car my cell phone rang. An anonymous informant let me know the DEX (Princess cruise line's Denali Express) as well as the Glacier Discovery were getting ready to head down Turnagain Arm. Let me tell you that when I am in Alaska there are two things that quicken my pulse; a phone call like this one and the sound of a train horn. Having no other plans today I immediately pointed my car in the direction of Cook Inlet.
I don't care how many times I've driven the Seward Highway, it still made my jaw drop open. Once the driver reaches Potter Marsh they are continuously serenaded with mountains, water, flowers and snow. It was truly hard to keep my eyes on the road! The sun as well as fireweed were out in all their glory and I had to stop several times to capture the moment. Just another day in paradise!
I was afraid that I had missed the DEX so I stopped at several of the numerous pull-offs and asked people if a train had come through recently. Nada. Timidly I headed back up the arm and encountered it just south of McHugh Creek. Although the DEX is not much of a train it was still quite a rush chasing that rascal all the way to TwentyMile River. Anticipating a one-two punch I headed back up the arm. Indeed I caught the Glacier Discovery around Rainbow and followed it all the way to Bear Valley (click here for the 12.5 MB movie). You couldn't have asked for better weather!
| | |
| --- | --- |
| | |
| Princess cruise train roars through Girdwood. The overpass now has fencing to prevent people from throwing things at the train. | The Princess cruise train crossing TwentyMile Bridge. This is one of my favorite train photographic spots on Turnagain Arm. |
| | |
| The Glacier Discovery heading south to Whittier. The almost setting sun made for some great lighting. | Glacier ice floating near the Portage Glacier visitor's center. Check out that killer blue sky! |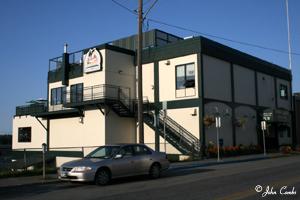 After an invigorating afternoon of train chasing it was great to slip into the Snow Goose Restaurant for a tasty bite to eat. I met Alaska Railroad Superintendent of Transportation Dave Blazejewski and his lovely wife for dinner as well as to discuss my trip plans. The restaurant itself overlooked beautiful Cook Inlet as well as the industrial port of Anchorage so there was plenty to watch while we ate. My phone rang during the meal and it was Jim Somerville asking me to call him in the morning to find out if the weather would cooperate for an Alaska Railroad flight seeing trip. I have done this almost every time I've made a trip to Alaska and was desperately hoping it would work out.
After the meal concluded and I left the restaurant, I checked my handheld GPS unit and found there to be a geocache within 150 feet of the front door. This one took me about five minutes to find and I must admit I felt a tad bit uncomfortable skulking about in the alley with numerous people peering in as they passed by. Feeling lucky I went to the location of another geocache and found it quickly as well.
Back at the hotel I posted a number of my photos to my Facebook page. If you would like to see any of those photos then make sure and send me a friend request!