Sunday, July 18, 2010
People ask me why I love the Alaska Railroad so much. Well, it is days just like today. Someone had arranged a tour of a TOTE Ocean Trailer ship for me and I was pretty darned excited about it.
While Alaska is rich in oil, it lacks the production of clothing, automobiles, building materials, books, food and many of the basic sundry items. All this must be shipped from the lower 48 states. If gauged by weight, 99 percent of everything exported to Alaska arrives by water.
Although a lot of the Alaska Railroad's freight comes via the rail barge out of Whittier, some also arrives on ocean vessels from Horizon or TOTE. Why two different methods? Barges are slower and therefore cheaper. However, ships make the 2,900-mile voyage from the Port of Tacoma to Anchorage in a mere 66 hours. So do you want it fast or do you want it cheap? Produce can spoil so it needs to be shipped quickly. However, non-perishable goods such as Tupperware bowls and ping pong balls can be shipped slowly (and cheaply). Another limiting factor is quantity. If you have 100 brand new cars to ship, the barge is going to be too small to meet your needs. A ship's hold is also better able to protect those cars from the weather as they cross the seas.
TOTE's operation, which began in 1975, is basically roll-on/roll-off (RO/RO) in that the vessel has a ramp which allows cargo to be "rolled on" and "rolled off" when in port. It can handle automobiles, RV's, construction equipment, trucks, semi-trailer trucks and trailers. In contrast, Horizon is strictly containers. TOTE operates two Orca class cargo ships which provide twice-weekly service.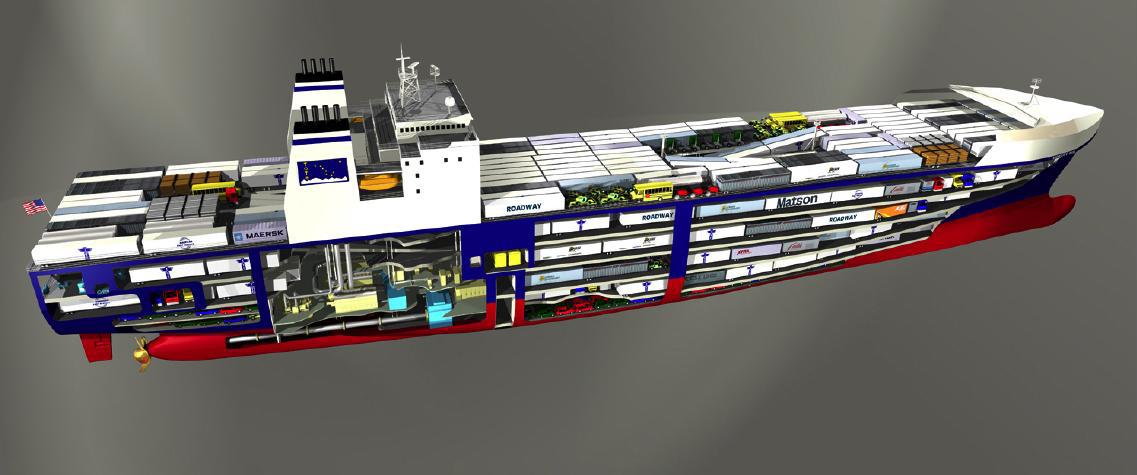 I began my visit by checking in with the guard at the security shack who in turn directed me to the visitor center. After checking in there, I met my guide, Patrick Kilgore. After brief introductions and a safety briefing, I hopped into his truck and began a driving tour of the dock area. Patrick explained that all four levels of this 839-foot long ship must be unloaded in less than a 12-hour docking window. TOTE pays a wharfage fee which is based on the tonnage of the freight. Customers include Sysco, Carlisle, McDonalds, American Fast freight (AFF) and their largest customer, Lynden. Patrick pointed out some of the items already unloaded - two classic automobiles on a flatbed trailer, a wide variety of brand new pickup trucks and lots and lots of semi trailers.
| | | |
| --- | --- | --- |
| | | |
| TOTE vessel | A very special car shipment | Brand new pickup trucks have arrived! |
Patrick then used his radio to notify the other drivers that he was coming aboard. He drove up the ramp and onto the massive ship all the while keeping a watchful eye for other traffic. As I watched the steady stream of off-loading traffic, I commented on how expertly the truck drivers steered their large semi-trailers through the ship's tight interior. Patrick explained that all drivers go through very specialized driver's training before working on a cargo vessel.
Patrick then explained the off-loading process.When the vessel arrives at the dock, "car gangs" (car drivers) are transported on board via bus. They locate their automobile, drive it off the boat, into its assigned lot and then catch the next bus back. Tractor trailer drivers have an extra step to contend. The semi-containers have a special mount on the front. This mount fastens onto a special connector called a "roll lock box" on the ship's deck (see photo below). This connection ensures the semi-trailer remains in place during rough seas. Patrick referred to this operation as roll-on/roll-over. Today, he said they had 487 trailers coming in and 450 going out. Maximum capacity is 600-plus trailers and 300 automobiles.
| | | |
| --- | --- | --- |
| | | |
| We're coming aboard! | A very big truck in a very tight space | New cars waiting to be unloaded |
| | | |
| Preparing to drop to another level | Yet another level | Lynden semi-trailer being unloaded |
| | | |
| Whaleback forecastle to shed seas | The bridge | Roll lock box |
| | | |
| Red mount connects trailer to roll lock box | View from the bridge | View of the storage lots |
Patrick parked the truck and we then began the walking part of the tour. Our first stop was the bridge, the area from which the ship is commanded. Looking around I could see digital technology had come of age on vessel operations. An integrated bridge system controls all steering machinery, communications, three collision avoidance radars, weather monitoring and autopilot. There were also wing bridges complete with separate controls so the captain could step outside for an unobstructed view and guide the vessel.
| | | |
| --- | --- | --- |
| | | |
| The bridge | Steering controls | "Even with high tech, we still use maps." |
We took the elevator down a few floors and entered into the crew's area. Patrick explained it takes a crew of 27 to keep this vessel operational. There was everything from mechanics to electricians, a cook, a doctor and yes, even good old fashion Able Bodied Seaman. They work ten weeks on, ten weeks off. In the engine room, Patrick showed me the four main and two auxiliary engines that turn two 20-foot diameter propellers, each with an in dependant rudder. Top speed is 25 knots and the captain can take one or more of the engines offline to save dollars. Enormous blowers were used to propel the exhaust out of the vessel.
| | |
| --- | --- |
| | |
| Dining room | Chow line |
| | |
| Electrical and power management room | Engine |
As we headed back to the visitor's center, I asked Patrick to tell me about the times he had interfaced with the Alaska Railroad. "The big moves load here" he said, pointing to a nearby rail siding. He said the railroad sends piggy packers out of Anchorage to load the containers onto flat cars. During one military deployment alone, they moved over 1,000 pieces of equipment.
As I got back to my car, I heard my cell phone beeping. It was a text message from Orbitz telling me my flight home would be delayed about an hour and a half. Hey, that would give me a little bit of extra fun time!
I met Dave Blazejewski to get one last brief glimpse of the Anchorage yard. We checked out GP40 #3006 with its new plow as well as the other locomotives who were lucky enough to have the day off. We walked through the diesel and passenger car shops as well as drove through the passenger car sidings.
When I returned to the condo, Don's friend "Little John" was there doing some cleaning. I told him my flight was delayed, but he advised that I still go at the originally designated time. Boy am I ever glad I listened to him!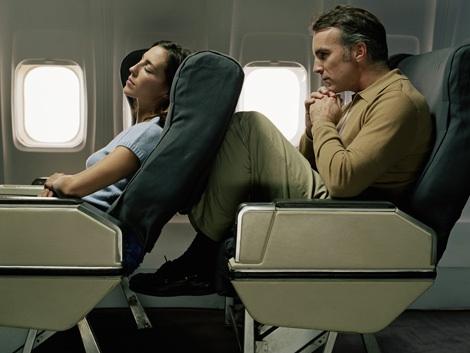 After returning the rental car, I headed to the check-in area. I was absolutely stunned by what I saw. There were over 75 people in line! They had coolers of fish, tubes of fishing rods or ski poles, camping gear and huge duffle bags. Just in front of me were two younger girls who were traveling to a hockey camp. They were trying to cram as much as they could into their duffle bags. A third member in their group cut the line and joined them. While talking to her friends she discovered she had not prepaid for her bags and had no money with her. She called her father and asked him to bring money, a sleeping bag and a pillow. Ah, the ignorance of youth. When they got to the front of the line, the attendant discovered their bags were overweight and their hockey sticks needed to be taped together. As they repacked and taped, the attendant asked them to move aside. They acted like they hadn't heard. So the attendant came around the counter and moved their gear to the side for them. Fortunately, I was next in line and thus would not have to wait out their next check-in attempt.
By the time I got through security screening, I heard the call for final boarding of my flight. If Little John had not been at the condo and given me his opinion, I would have missed my flight! I'm sure some of those behind me did. Since I was one of the last aboard the plane, there was no room in the overhead storage bins for my bag. Of course, the plane could not take off until my bag had been stowed. Eventually, I gave up looking for an open spot and asked the stewardess to help. It took her awhile, but she finally succeeded. A passenger in the row in front of me complained aloud to no one in particular about my bag stowing episode holding up his flight. So I complained aloud to no one in particular that I bet there were a few people who had brought on an extra bag. I knew passengers sometimes did this to avoid paying the checked baggage fees. Fast forwarding to the end of the flight, two of the three people in front of me took two sizeable pieces of luggage off the plane with them. I just don't understand why the attendants let them get away with this.
I hate overnight flights. Unfortunately, most extended legs out of Anchorage are overnight flights. So I had no choice. I have problems falling asleep sitting up. To complicate matters, I had a disectomy in 2006 and now have a lot of pain whenever I sit for more than an hour. So I gave up on trying to sleep and instead stayed up all night watching the free movies offered by the airline. Ah, how I miss traveling on the rails!