Saturday, July 17, 2010
Dave Blazejewski, Alaska Railroad Superintendent of Transportation, has two hobbies, railfanning and photography. So it goes without saying that he really loves what he does for a living. Although his personal passion is the orange and black Denver and Rio Grande Western, he readily admits he has an obsession for chasing the blue and yellow as well.
I must admit that I was one lucky guy in that Dave had graciously agreed to spend part of his day off doing foamer type things with me. We started our day with a hearty breakfast at the City Diner, an adorable 1950s retro style restaurant which features some great morning eye-openers. While we waited for our food to arrive, we chatted a bit about railroad operations and Dave's vision for its future. Dave is yet another example of what draws me to the Alaska Railroad like a moth to the flame; he absolutely loves what he does and his excitement is extremely contagious. Even though it was his day off, he still answered his cell phone and provided assistance and guidance for various snafus. He apologized for these interruptions, but I welcomed them as they gave me insight into day-to-day operations on the railroad.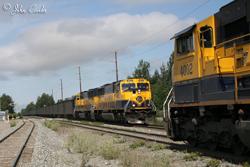 Our first stop was to check out a train meet. The spot was just south of the Raspberry Road crossing (68th). A southbound AS&G gravel train headed by #4012 roared through while the QAP gravel train headed by #4002 sat in the Coastal Siding. I had my camera in rapid fire mode and captured about 25 sequenced photos of the brief encounter between these massive lumbering giants. Reminder note: I was wearing all required personal protective equipment (PPE) and escorted by a railroad employee while taking this photograph. Railfans are reminded to stay 100 feet away from all railroad tracks.
We then turned our attention from the living to the dead. At Alaska Metal and Recycling (N 61 07.983 W149 52.652) we found counter cafe 300 (built 1959) and diner 400 (built 1949). The railroad had surplused them in June and now they were waiting for their turn to die. Both cars had Head End Power (HEP) and seemed in reasonable shape so it was kind of sad to see their demise. Number 400 still had its 75th anniversary logo on it.
Side note: A dial on my camera got bumped, which unbeknownst to me, changed one of its settings. You will notice some of my photos below are too light or have strange colors. Sorry! Maybe it gives them kind of an artsy appearance? I finally corrected the problem right before I took the photo of the CN box car.
And then we turned our attention from the dead to new life. Yes, the Alaska Railroad still sees growth despite a faltering economy. One new customer is Unique Machine, LLC, Alaska's largest machine shop, which handles manufacturing, welding and fabrication. Dave was very excited about this new industry, explaining they do a lot of work coating and threading pipe for oil and gas wells and lines. We took photos of the siding (CP1072) which is 1500 feet long and can hold approximately 18 railcars. As a side note, Unique Machine, in conjunction with Orange County Choppers, built a special 50th Anniversary of Statehood motorcycle. You'll find the YouTube video for this here.
Have you ever wondered what Frederick Mears, Chief Engineer of the commission for originally building the Alaska Railroad, would have thought of operations today? Just think if we could have transported him about 95 years into the future and he would have popped out at say, Anchorage Sand and Gravel today, what would he have thought about those monstrous SD70MACs pulling a seemingly endless string of hoppers dumping tons and tons of gravel? Yes, he would have experienced quite an adrenalin rush! I also bet he would have returned to his era with a renewed spirit knowing the railroad was still going great guns.
Anchorage Sand and Gravel is the bread and butter commodity for the Alaska Railroad. Since a lot of Alaska is fairly boggy, it needs gravel to use in roads, parking lots and building foundations. The railroad hauls between 2-3 millions tons a year for such projects. Dave was kind enough to provide me with a ring side seat to view the dumping operations. I love watching stuff like that. If I worked for A.S.&G., I would probably sit here every day and eat my lunch while watching the gravel drain out of the hoppers like sands through an hourglass. And for those who love watching videos: dumping gravel #1 (5.3MB), #2 (7.1MB), #3 (1.9 MB), #4 (9.7MB)

My time with Dave was quickly drawing to a close. He had this crazy idea that spending time with his wife, who was being deployed tomorrow for two months, was more important than railfanning with me. Imagine that! With the time remaining, I had him drive me through the yard to see what unusual items might pop up. We first spied caboose 1084 which was patiently waiting for a future trip to Spencer to become an office/cabin for the U.S. Forest Service.
Dave needed to stop briefly at the scales house to fix a computer snafu. This was fine by me since I hadn't seen the railroad's new scales up close before. After 50 years of usage, the old scales were finally replaced in 2007. You might wonder why the railroad needs scales. Dave himself explains, "For two reasons. One, for billing purposes. Some customers are billed on a per ton rate so we need to know how much their load weighs so we can charge them. Other times customers are billed on a per car rate but they bill their customer on a per ton rate. For example, we might charge a flat rate to haul a gondola load of scrap to Seattle, but a shipper might be billing the mini-mill per ton. If he doesn't have his own scale the railroad can scale the car and compute a net weight as a value-added service for which we could then charge. The second main reason is for safety. We need to ensure cars are not overloaded for the track structure and the car itself. Each car has a maximum gross weight based on its age, constructions, dimensions, etc. Our railroad has axle loading limitations and no standard 4-axle cars are permitted to exceed 263,000 pounds. So even when we aren't billing we always scale outbound loads to ensure they are safe. Loads coming from interchange are always scaled because all the big yards weigh cars every time they pass over a hump at a big classification yard."
Dave pointed out P-30 on a side track explaining it had a dead prime mover. What is a prime mover you ask? In a diesel-electric locomotive the prime mover refers to the diesel engine that rotates the main generator responsible for producing electricity to power the traction motors that are geared to the drivers. So now you know. The P-30 power car has quite a long history being a former Burlington Northern E8B built in 1957, now converted to a HEP power car with its six axle trucks replaced by four axle trucks. My guess is P-30 is not long for the ARR world. I remember being told that the railroad had been sending an electrician on each of the special trains P-30 served, just in case anything goes wrong. It sure seems to spend a lot of time in the repair shop.
| | | |
| --- | --- | --- |
| | | |
| 1084 will soon serve another master | Covered hoppers | Tank car infinity |
| | | |
| Scale house | Freight scales | A truly "mobile" home |
| | | |
| A valuable target for vandals | I'll have three big MACs with fries please | P-30 dead on its axles |
| | | |
| MACs and diesel shop | SD70MAC at the racks | |
As Dave dropped me off at my car, he mentioned (with a huge grin on his face) that the Princess train and Coastal Classic would soon be on Turnagain Arm. As if on cue, I heard the blast of a locomotive horn. Once again I headed out on the "Arm" in search of the perfect picture. I just wish I could have had Frederick Mears along with me.

| | | |
| --- | --- | --- |
| | | |
| Just starting down the arm | N 60 59.074 W149 36.114 | N 60 56.616 W149 10.224 |
| | | And click here for the 5.4 MB video of the Princess train taken from the Girdwood overpass |
| N 60 53.203 W149 03.036 | N 60 50.937 W148 59.756 | |
| | | |
| N 60 56.669 W149 10.667 | At TwentyMile bridge | N 60 47.218 W148 49.491 |
Returning to Anchorage, I went through my now familiar ritual of dinner and Wi Fi at Wendy's. I also had a few extra minutes to snag a couple of geocaches as well.
Life in paradise had to end sometime. I returned to the condo to pack my bags for the trip home. I once again thought of Don and wished we could have shared one final adventure together.