Friday, July 18, 2008
It was chocolate cake for breakfast again - a good way to start the day. And yes, it was raining again. Obviously, not a good way to start the day.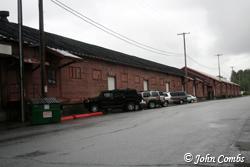 I headed down to the Anchorage shops to meet up with Dwight West for a much anticipated tour of the Denali railcar. On the way I made several stops. First, I caught the Glacier Discovery train at the Anchorage depot and snapped off a dozen or so photos. Next, I dropped a few more dollars at the Alaska Railroad gift shop. A man can't have too many Alaska Railroad items! I then drove by the historic Alaska Railroad freight sheds along Ship Creek to get photos before the renovation begins. If you haven't heard, the railroad is renovating 36,000 square feet of space for use as Comerical office leasing. An additional goal is to make the sheds energy efficient and get them certified under the U.S. Green Building Council's Leadership energy and environmental (LEED) program. When that happens, it will be the first historical building in the country to receive this certification. The railroad hopes to have the restoration completed by the fall of 2009. Furthermore, this project will kick off the railroad's overall vision of revitalizing the Ship Creek area. The ultimate goal is to redevelop this entire area for shops, hotels, restaurants and housing.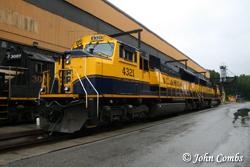 It was still spitting rain as I pulled up beside Dwight at the locomotive shops. We strolled around outside for a minute or two so I could get a few photos of nearby cool stuff. Several of the new SD70MACs were at the fueling racks and I grabbed a few quick photos. After a short walk through the passenger car shops we arrived at our exciting destination - the Denali railcar. If you hadn't heard, the Denali was pulled out of storage in 2005 and sent to Colorado Railcar Manufacturing in Colorado for total refurbishment. The car was completely stripped to the metal structure. Now it was time for a first class rebuild. To quote Jody Moore, a railfan friend of mine, "The car was then given modern electrical systems, updated climate controls, larger windows, a new generator, new liquid storage tanks, and a thorough overhaul of it its trucks and mechanical systems. The rebuild was topped off with a new interior floor plan and an elegant decor. In its present configuration, Denali's observation lounge has been enlarged to take up almost a third of the car, and shares room with a spacious mid-car dining area. An executive bedroom with lavatory and shower sits behind the dining area, and the cars modern galley sits at the end." The Denali return to the Alaska Railroad in November of 2006.
A private railroad car is not an acquired taste. One takes to it immediately. As I entered the railcar, I must admit I let escape an excited "Wow!" The interior must be seen to be believed. Without a doubt, it is the most elegant railcar I have ever laid eyes on. Even the ceiling had some very intricate woodwork. Dwight and I checked out every nook and cranny and were very impressed. Maybe a bunch of us railfans could get together and rent a trip on this someday?
I returned to Don's and spent the next four hour swapping stories and playing the online slots. I really miss not being able to see Don on a regular basis and wanted to soak up as much of him as I could before my departure tomorrow.
I'm sure horses were glad when the steam locomotive was finally invented. Having been beasts of burden for centuries they could finally shout, "Get off my back!" The first steam locomotives were a one person operation and designed to move only one or two cars. They eventually grew bigger and more powerful. Yet there are some here among us who yearn for those simpler days gone by. Meet with Bob Yost. He owns a standard gauge 0-4-0 HK Porter. Of course it still needs a lot of work, but that is all part of the fun. Bob has spent the last five years restoring it and will undoubtedly spend many more. However, he is in no rush and truly loves working on it.
| | |
| --- | --- |
| | |
As I checked out Bob's efforts, he told me a bit of the history behind his little Porter. It was built in 1916 and originally owned by Hartford Electric power company. They sold it to Fred Bennet in 1955. He moved it to Warehouse Point (trolley museum). In early 1970s they wanted to overhaul it. Unfortunately, there was a lack of funds and it went derelict. In 1998 Craig Adams bought it and brought it to Medford, Oregon. He wanted to convert it from coal to oil, standard to narrow. Sadly, he never finished. When Bob finally purchased it, he was even able to locate some of the discarded parts in a nearby swamp. As you can see from the photos, the unit looks pretty darned good, but still has a long way to go.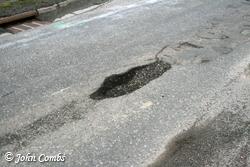 Running late for my next appointment, I bid Bob farewell and headed out the door. As I drove down Potter Road, I swerved to miss a large pot hole, but still hit the mark and received a teeth-jarring jolt. Normally, this would not be a big deal, but this monster was over six inches deep! After a few seconds, the car's steering started getting a little quirky and I knew the tire was going flat. I limped into the parking lot of the Century 16 theater and backed into the first available parking space. I called my next appointment and told him I would be running late. Retrieving the Owner's Manual from the glove box I read the proper procedures for putting on the spare tire and got to work. Unfortunately, the spare tire was completely flat. Fortunately, I am a member of AAA. I called them via my cellular phone and they said a tow truck would be out in less than an hour. While I waited, I called my next appointment and rescheduled things for the next morning. Sigh.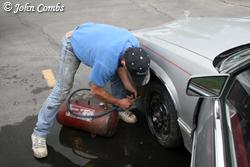 Forty-five minutes later a tow truck squeezed its way into the parking lot. The mechanic from Alyeska Towing put air in the spare and mounted it on the car. All set to go! Or so I thought. The mechanic pointed out that the tire had gone flat not because of a hole in the tire, but due to a bent wheel rim. Oh no! He offered to take it back to his shop to repair it. Not wanting to screw up another day with this mess, I agreed to follow him to his garage.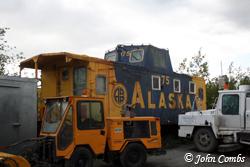 Alyeska Towing resembled something more like a junk yard then a service station so I was a little apprehensive. The mechanic took my offending tire and rim and disappeared into his shop. I killed time by checking out the large variety of discarded vehicles in the lot. As I wandered around to the business next door, I spied caboose 1075. What a surprise! I took a closer look and then snapped a few photos. Every dark cloud has a silver lining.
By the time I returned, the mechanic was putting my original tire back on the car. He replaced the wire rim hubcap, mounted the spare back in the trunk and put away my jack. Efficient. I liked that. He walked over and began reciting to me the long list of all he had done including balancing the tire and towing several miles past my allotted AAA coverage. I knew the bill would be steep. Back in Dayton, Ohio you had to pay $60 just for having a mechanic look at a problem. However, when he informed me it would be $250, I was so surprised that I was unable to answer. The broad grin on his face convinced me that he was taking advantage and I was basically over a barrel. As I reached for my billfold to retrieve my credit card, he burst out in laughter. With laughing eyes he told me he was just kidding and that the bill was really $25. I was almost too stunned to answer. I had totally misjudged this man, his business and his neighborhood. For me it was yet another defining life lesson - never judge a book by its cover. I thanked him for his hard work and integrity, gave him $50 and wish him a great day.
Back at Don's condo, I ate a late dinner, gave him the daily debrief and headed to bed.