Saturday, July 19, 2008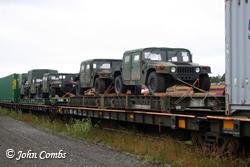 At 9:00 AM sharp I met with Bob Railsback. I had been emailing Bob over the last six months and it turned out he was quite an expert on Fort Richardson's railroad history as well as the Alaska Railroad. We spent several hours discussing various topics including last May's $8.7 million contract awarded to Frawner Corp. to upgrade an ammunition supply depot at Fort Rich to allow faster deployments of troops and equipment. This project will be completed in November 2009. Additionally, Bob commented on all the recent rail traffic at Fort Rich including military equipment movements and troop deployments. Bob also talked about the Alaska Railroad's whistle stop service in the Chugach national Forest using the two self-propelled rail cars (DMUs). The USFS funded $4.7 million to purchase a double deck DMU which is slated for delivery before the end of 2008. Proposed whistle stops include Luebner Lake, Spencer, Bartlett Glacier, Grandview and Trail Creek. The ARRC is also developing a 10-acre quarry site at Curry which will provide ballast, riprap, etc. for construction and maintenance of the railroad's track. The ARRC continues to implement its Collision Avoidance System (CAS) in phases. The whole project will be comprised of Computer aided Dispatch (CAD), an on-board computer system, VHF radio technology and GPS locators. Finally, as part of their bridge upgrade program, the ARRC will be replacing five old timber trestles with culverts and three with concrete or steel decks. As our visit came to an end, Bob predicted that with all the tunnel daylighting the railroad has done, double stack containers can't be far behind.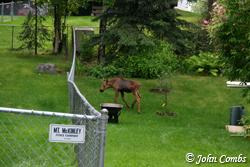 One of my favorite parts of maintaining my Alaska Railroad website is the interesting and friendly people I meet. One of these is Dan Garvey. For this year's trip, Dan invited me to his house for a home cooked meal. I eagerly accepted the invitation. Little did I know that it would also be a dinner show. As I pulled into Dan's driveway, he immediately instructed me to follow him across the street to his neighbor's yard. As I did, I saw something that is forever burned into my memory. There in the back yard nibbling on some low hanging tree leaves was a cute moose calf! Now I have heard the numerous tales of moose wandering into downtown Anchorage or some suburbanite's yard, but never had I dreamed that I would be part of the story. I kid you not, he was 50 feet from me. Trying not to make any fast movements that might frighten him away, I made a quick dash back to the car for my camera. Note to self: always carry your camera wherever you go.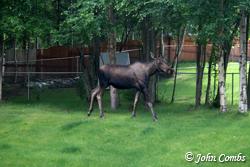 Although I didn't have my long lens with me, it turned out it was unneeded. I returned to the calf and began blazing through photos from a mere 30 feet away. Dan was close by my side and warned me to keep my distance since the mother moose might be close by. And he was right. There she was in the yard next door. With my adrenalin surging I moved slightly in her direction and took another bizillion photos. I must admit I could have watched these massive mammals for an hour or more, but felt I should retreat in the event the mother's unconcerned mood might change. What a show! As I entered Dan's home and met his wife Roberta, I commented on how great it was to have moose in your own back yard. In response to this the Garvey's brought out a stack of photos showing how a moose had knock over part of their privacy fence. I guess one man's treasure is another man's travesty.
Roberta brought out lunch to the dining room table and I sat down to a truly wonderful lunch. I continued to babble about the moose pair and eventually the talk turned to bear. It seems like every Alaskan I met had a bear story. Since Roberta works in a hospital, she has some very horrific ones. Recapping a recent tragic attack, I had to finally declare a truce or risk losing my lunch. I must admit I admired Roberta for not only being able to stomach such sights, but to help victims in a time of great need.
Life in paradise had to end sometime. I returned to Don's condo to pack my bags for the trip home. I spent the rest of the evening with Don, soaking up his friendship and continually expressing my gratitude for all he had done for me despite his condition. At 10:00 PM Derek gave me a ride to the airport. As I gazed out at the lights of Anchorage for one final time, I smiled as I recalled the abundant adventures I had experienced during my trip.
This time I was actually looking forward to getting on the plane. To make a long story very short, I would have the privilege of flying first class. Even if the gargantuan man set next to me, I should be relatively safe. I presented my first class boarding pass to the TSA agent and she directed me to the left lane. As I walked down this empty lane, I noticed the one on the other side was packed with people giving me a hostile look. I arrived at the X-ray scanners and found no one was in front of me. Sensing some mistake had been made, I returned to the agent and inquired if I was in the correct lane. "Yes, you are in the lane for those who have a first class ticket," she replied. No freaking way! I danced my way back, knowing I had just been spared 20 minutes of standing in line. Indeed, this was an unexpected bonus.
Yes, I also got to board the plane first. Everyone knows that. And I got this nice big comfy seat too. What I did not know is they started serving FREE food and drink (including alcoholic beverages) while the rest of the passengers are boarding. Free food and drinks! And they weren't served in plastic either. They use glass, china and stainless steel. I apologize to the reader if I am going on too much, but I really had no idea and was plenty excited with the experience. As our plane readied for take-off the stewardess asked if I wanted her to wake me when dinner was served. Heck yes! I didn't want to miss a thing.