Sunday, July 13, 2008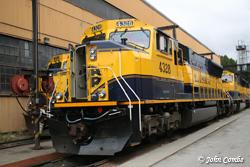 Pat and I spent the morning going through many of his train books and checking out his current HO scale modeling projects. Pat has a goal of creating one locomotive of each type that ran on the Alaska Railroad. It absolutely blows my mind to not only see each of these numerous projects, but to know the countless hours invested in each of them. He currently has kit bashed over 25 locomotives, numerous freight cars and buildings plus created static displays for museums and even one for a senate conference room. Pat has interesting and funny stories for all the miniature people that appear in the display. People love hearing these stories and Pat always gets a lot of compliments and warm handshakes afterwards. Soon the time came for me to bid my gracious hosts good-bye. The Durand's dropped me off at Don's condo just before lunch time.
Once I walked in the door, Don immediately asked how my mini trip had gone. I spent the next hour or so eating lunch with he and Derek and giving my executive trip synopsis. I frittered away the afternoon doing many mundane tasks such as laundry, updating my trip journal, repacking my luggage and yes, taking a nap. In the evening, I visited with a few friends and did a little bit of sightseeing.
Around midnight I picked up my wife Terry at the airport. She would be spending the next five days railfanning with me! I was pretty darned excited to see her. Her flight was originally scheduled to arrive just after 9:00 PM, but airplane mechanical problems and flight delays had drawn her trip out an extra two hours. By the time we returned to the condo Don and Derek were asleep. We quietly headed to bed.