Saturday, July 12, 2008
Ever the gracious host, Pat cooked a full breakfast for us. We then spent an hour or so looking through boxes of older Alaska Railroad slides he had on hand. I marked many of these to be scanned and hopefully you will see these online someday. A person can't have too many Alaska Railroad photos!
No Alaska Railroad trip is complete without a little bit of train chasing. Armed with a plethora of cameras, memory cards, camcorders and such, Pat and I headed out the door to catch the Denali Star. After arriving at the Wasilla train depot, we spent a significant amount of time and energy trying to find the best view for the train's arrival. Just as we found the choice spot, a sharp SD70MAC whistle blast cut through the air. This sound always quickens my pulse and prompts an ear-to-ear grin. I am definitely someone who could never be accused of siderodromophobia!
The train was led by SD70MACs numbers 4323 and 4317 and pulled a wide variety of passenger cars, GoldStar, Montana Rockies Rail Tours (MRRT), Holland America, Princess and Celebrity. [Side note: The Alaska Railroad has decided to lease the MRRT diner #323 for another three years. It is the only remaining MRRT unit.] My heart was really thumping as we hopped in Pat's van and chased the train out of Wasilla. As we gave chase, we entered into a target rich environment. Heading south was a tank train with a tail end of freight cars. Life is full of tough decisions. We bid the passenger train goodbye and began tailing the tank train. After chasing this to the underpass at the Parks and Glen Highway interchange (see photos above or this 11.8MB video), we encountered yet another passenger train. It was like an Alaska Railroad buffet.
| | |
| --- | --- |
| | |
Driving back to Wasilla, we made a stop at the Museum of Alaska Transportation and Industry. On the left was a new exhibit, a big red barn. I later learned this was the Breeden Barn that had been moved from Matanuska Valley and now was being renovated. We then made brief stops numbers at locomotive numbers 1718, 1000 and 1500.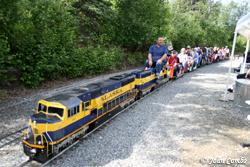 The Alaska Live Steamers were right next door, so we strolled over to check out the action. We found Jack Klingbeil sitting on one of two beautiful 1.7 scale SD70MACs and pulling a number of railcars loaded with happy passengers. Jack built both of these MACs himself. The lead unit is fully powered and weighs 1150-pounds while the second unit is a 950-pound dummy. Construction of the first unit began around December 2001 and both were completed by June 2003. Jack took a quick break from operations to shake hands and tell a few stories. He also had some bad news. The bordering Wasilla Municipal Airport is expanding and the Live Steamers will have to move. Thus, they will soon lose their 1.5 mile track which they have operated since 1993. [Webmaster's note: In August the Wasilla City Council agreed to lease 20 acres of land to the steamers for a bargain price of $1,200 per year. The group hopes to have operations at the new location by 2009.] Returning to Pat's home we spent several more hours reviewing slides. After a quick email check and PB & J sandwiches, we headed to Marty Quaas' for his monthly operating session.
Marty has converted his basement into an HO scale model train layout for his beloved Consolidated South Western Railroad. This mammoth double level layout features 350 feet of double mainline, a huge roundhouse, dozens of industries, trestles, a helix and a sophisticated digital command control system. It must be seen to be believed! It takes a minimum of ten minutes to get a train around the entire layout. Marty also has very elaborate operating sessions once a month. During these sessions a dispatcher can give orders to multiple people running their own locomotives, consists and delivery assignments.
As the evening progressed, a steady stream of locomotive engineers arrived and began working their consists. Things finally reached a crescendo as ten engineers worked with the two dispatchers in a frenzy of wrinkled brows, shouted commands and bellowing laughter. The final challenge came when a 42-car train had to call on two helpers to get it over the hill. Although they say money cannot buy happiness, I didn't see one single frowning face among any of these train owners.