Friday, July 11, 2008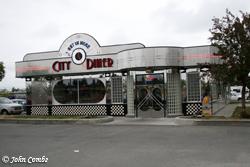 For the next several days, I would be the guest of historian and model railroader Pat Durand. It was a great change of pace to pack a piece of luggage and not worry about the Perils of TSA. I left my unneeded items in a corner of Don's condo, bid everyone farewell and walked outside for pickup in Pat's van.
We began our adventure with an impressive breakfast at the eye-catching City Diner. This business stands out like a shiny beacon in the surrounding monotonous landscape. It portrays a 1950s decor and the menu is expansive as well as reasonably priced. I enjoyed it so much that I vowed to make a return trip.
As we headed for Whittier, Pat gave me a driving tour of a wide assortment of Alaska Railroad line side industries such as CPP, AS & G, Spenard Builders, Northern Commercial and Caterpillar. As we left town, the familiar sight of Turnagain Arm came into view. No matter how many times I have seen this wonder of nature, it still takes my breath away. It was absolutely gorgeous despite the gloomy cloud cover. The dazzling drive down the arm was interrupted by only one sight more majestic, an Alaska Railroad passenger train with GP40 #3015 on the end! [click here for 3.7MB video] Since we didn't have a schedule to keep, we chased and photographed it back up Turnagain Arm for several scenic miles.
| | | |
| --- | --- | --- |
| | | |
| Caboose at turn off to Whittier | New steel bridge in Bear Valley | Entrance to the Anton Anderson tunnel |
There are only two ways to get to Whittier: tunnel or boat. If you choose to drive through North America's longest railway-highway tunnel then you need to get to the entrance on the half hour. Of course, we just missed the cut-off by minutes so we now had 45 minutes to kill. Remember that song on the TV show Hee Haw? "Gloom, despair and agony on me. If it weren't for bad luck, I'd have no luck at all." Thus, we went to the Begich, Boggs Visitor's Center to view the remnants of the receding Portage Glacier and kill some time in the museum. I made a quick walk through the building and was truly surprise to find a real live geocaching container across from the gift shop. For a geocacher, this is a rare find indeed and I must admit I had a broad smile on my face as I signed the log.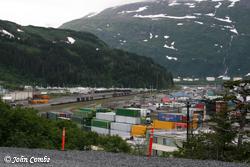 After driving 2.5 miles through Maynard Mountain, we arrived in the city of Whittier and went off on a special mission. Upon completion, we drove to the Begich Towers to meet up with City Manager, Alaska Railroad railfan and modeler Mark Earnest. I always enjoy spending time with Mark and looking over his enviable collection of HO scale brass SD70MACs and cabooses. Mark also spent some time telling us about various city projects such as Shotgun Cove and the new East Boat Ramp. He also gave me a bunch of Alaska Railroad slides and prints to scan in for my website. Hopefully, I will get all these online for you soon.
As is my long-standing tradition, I stopped by the Anchor Inn for a delicious lunch of beer batter Halibut and an always amusing view of the many colorful local patrons who dine there. I was not disappointed.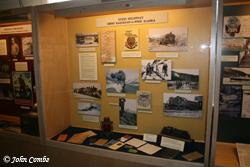 Pat and I then stopped next door at the museum of local history. I was anxious to see this in that I had played a small part in providing photographs for one of the railroad/military displays. Since the town of Whittier's mother was the U.S. Army, virtually all the exhibits display the many facets of military life from its birth in the early 1940s. Before heading back out of Whittier, we did the Shotgun Cove drive, watched barge loading on the DeLong Pier and photographed the drive on, drive off ramp.
The drive from Whittier to Wasilla was fairly uneventful with the exception of a stop for Chalupas at Taco Bell to satisfy my unhealthy addiction. Our next stop was the weekly meeting at the Northern Lights Model Railroad Club at Russian Jack Springs Park. The clubhouse itself occupies 900 square feet of HO scale fun and boasts a 272 feet long main line that crosses hand built wooden trestles and passes by a glacier. What impressed me the most about this club was its friendly acceptance of children. Pat's grandson Aiden stood on a step stool and maneuvered HO scale automobiles all over the scenic laden layout. Any other club I have attended would have shooed him away, afraid that he would damage the scenery or track. Fortunately, this club feels differently and thus will be able to foster in a new generation of model railroaders.
| | |
| --- | --- |
| | |
After the business portion of the meeting ended, we headed for Pat's new home. A little over a year ago, Pat and Nancy Durand bought a brand new home in Wasilla. When we arrived, Pat excitedly gave me the executive tour of their new estate. The Durands have always been very accommodating hosts and their new home truly fosters this long standing tradition. The evening ended with Pat setting me up with computer access so I could check the mountains of email I had been accumulating.