Monday, July 14, 2008
Every rose has its thorn. Viewing coal ship loading operations today in Seward would be a real kick, but getting up at 5:30AM (after finally falling asleep at 1:00 AM) to drive to said location would be brain jarring painful. After grabbing a quick bite to eat, Terry and I quietly slipped out of the condo and headed to the car. With traffic fairly nonexistent, we quickly escaped Anchorage and headed down Turnagain Arm. Again, the overcast skies made for some very subdued scenery and the earliness of the hour meant we wouldn't encounter any train traffic.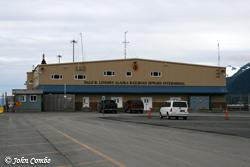 Dale R Lindsey joined Andy's Oil Delivery in 1956 as a truck driver. After many years of hard work, he rose to become the owner of Harbor Enterprises, Inc., Alaska's largest independent petroleum marketing firm. He also served on numerous public service boards and commissions including the Board of Directors of the Alaska Railroad for 12 years. On November 21, 2007, at the age of 71, he lost his battle with cancer. Today I stood in front of the Dale R. Lindsey Alaska Railroad Seward Intermodal building which honors the man and his contributions to the state of Alaska. It was here I was to meet with Louis Bencardino, Alaska Railroad Dock and Real Estate Manager for a tour of coal loading operations.
Now Louis is quite a character. You just can't help but love him. His enormous collection of colorful stories will bring a smile to your face. He has served as Police Chief at Nome, Palmer and Seward as well as Mayor of Seward. He calls Alaskan politicians by their first name. He has pictures of himself posing with prominent Alaskans scattered all over the walls of his office. He also has a dog named Star. As I approached Star for the first time, he would bark and growl as if he would chew my arm off. Louis assured me he was just putting on a big show. He was right. Star and I soon became fast friends.
The Seward Coal Terminal is truly a wonder to behold. Construction began in 1982 and the first ship loading of coal took place during December of 1984. Aurora Energy Services, LLC operates the facility for the Alaska Railroad Corporation and the operation includes 11 full time employees. Louis took us out to the end of the dock thus enabling us to get some close up photos of the coal shipping currently being loaded. He explained a tug boat brings empty vessels into the Port of Seward and places it into position for the coal conveyor. Now the fun begins.

Alaska Railroad trains have been delivering coal from the Usibelli coal mines in Healy for several weeks now. With the ship in position, the loading operations can finally commence. Coal is scooped up [click here for 5.1MB video] and transferred down the 6,590 foot conveyor at the rate of 12,000 to 15,000 metric tons per day. Thus an average loading schedule of 5-6 days is required to load 70,000 metric tons. Coal can be loaded 24 hours per day. As a final treat, Louis took us to see the brains of the operation, the control room. One of the employees explained the current ship in port had a 52,000 ton capacity and that it would take three days to load. It was the sixth ship loaded this year. He also added the largest ship ever loaded at this port was 92,000 tons. And for those of you who are still craving statistics, he provided me with this coal terminal spec sheet. Back at the Dale R. Lindsey building, Louis gave us a brief tour of the passenger terminal facilities.
With our tummies growling, we looked around Seward to see what our options were. I thought it would be pretty clever to eat at a restaurant that bore the same name as my wife (Terry's). The food was tasty, but would be nothing compared to the treat we would have for dinner that night. We made a brief stop for a geocache at a nearby waterfall and then caught the passenger train coming into town.
| | |
| --- | --- |
| | |
With no time commitments for the rest of the day, we began a leisurely drive back to Anchorage. Terry fired up the GPS and we snagged five geocaches. These were all fairly easy to retrieve and we encountered almost no mosquitoes! One of the most clever of the hides was at a guardrail. Those new to geocaching probably would not have found it. More experienced folks (like us!) knew that looks can sometimes be deceiving. As I gave the guardrail a thorough physical, I heard Terry yell, "Found it!" This person had created a very clever hide. He had attached a tube (cache) to a bolt and washer and placed it in one of the predrilled guardrail holes. Pretty darn cool! We signed the paper log inside and put it all back exactly as we found it for the next unsuspecting geocacher.
| | |
| --- | --- |
| | |
Making a quick stop in Moose Pass, we snapped a few photos of float planes on the lake. Although flowers abound along the roadside, Terry found one particularly dazzling display and we spent some time photographing and enjoying. As we traveled along Turnagain Arm we saw several pieces of Maintenance of Way equipment heading south. [click here for 3.8MB video] and a Princess passenger train. [click here for 6.5MB video] You guessed it. We had to turn around for a photo op or two.
As we walked into the condo, Don and Derek had the deep fryer full of beer batter halibut. We spent the evening swapping stories, eating halibut, ice cream and huge store bought chocolate chip cookies. Before heading to bed, I put the final touches on my trip journal while Don played Texas Hold 'em online. Personally, I think two of his computer opponents were cheating!