Sunday, August 14, 2005
Although it hadn't rained for two weeks, it chose my day of departure to bless me with a little liquid sunshine. The weather the day before was a scorching 93 degrees with stifling humidity. The hour and a half drive to the Cincinnati/Northern Kentucky International Airport is idyllic with light traffic and unconscious children.
Even though Dayton International Airport is a mere 15 minutes from my house, I chose the Cincy airport for its $433 fare versus the $610 wallet buster rate at Dayton. Once I arrive at the airport, I am stunned and pleasantly surprised to find I am the only person at the check-in booth and security screening area.
I catch a puddle jumper to Chicago and then kill the three and a half hour layover by watching hot chicks, ah I mean watching interesting people. Finally, it is time to meet my arch nemesis...the airline seat. From previous journals you may remember I always took the window seat so I could lay my body against the fuselage and catch some much needed shut-eye. However, after the gargantuan man nearly crushed me during my March 2004 trip, I decided to fly first class from then on. While making my flight reservations for this trip I discovered first class fare is three times the cost! Holy smokes! Where is Robin Hood when I need him?!? So I then asked the travel agent if I could buy two coach seats and occupy them both myself. Hah! The gargantuan man wouldn't be able to reach me! She said this was fine, but wanted to know if I had ever tried an isle seat. So here I am trying an isle seat. It's not the perfect solution as I keep getting hammered by isle roaming passengers and runaway serving carts, but it is better. And I am neither lame nor damp when I get off the plane.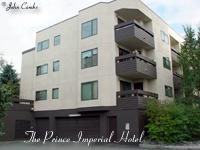 Randy Thompson, my Alaska Railroad traveling companion, is waiting for me at the baggage claim area. The best I can do is croak out a weak greeting since the dry airplane air has practically robbed me of my voice. After I retrieve my bags, we get into our rented Kia Sorento and head to Wendy's for a quick sandwich. As we eat, Randy tells me he spent his afternoon taking photographs in the Anchorage yard. Unfortunately, he had not received his yard pass yet and was subsequently captured by a hired Purcell security officer who was obviously a bulldog in his previous life.
We arrive at the Prince Imperial Hotel (actually Don Prince's condominium), stow our bags and spend some time catching up. Don is a big-hearted man who will give you the shirt off his back. He has already stocked up on groceries and soft drinks and has our beds ready. He gives us the keys to his condominium so we can come and go as we please. Weary from travel fatigue, we soon head to bed.