Monday, August 15, 2005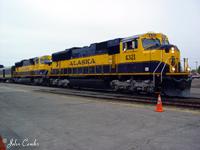 Today is my first full day in Alaska and there is definitely a spark of excitement in the air! After a quick shower and breakfast, Randy and I hit the road. Our first stop is the Anchorage depot and there waiting for us is our first sighting, the northbound Denali Star. It is my first view of the new SD70MACs (with striking canted radiators) and even though the sky was gloomy, I take a ton of photos. Also on the "new born list" is ultradome #652, one of a pair of Alaska Railroad's Goldstar service railcars. These cars were built by Colorado Railcar at a cost of $3.4 million each and are designed to pamper passengers as well as compete with the cruise line's ultradomes. Also in tow are two Wilderness Express and four McKinley Explorer railcars.
We max out the parking meter with quarters and stand on the doorstep of the National Archives and Records Administration (NARA) building minutes before it opens its doors at 8:00 am. An ARRC Vice President once told me NARA retains almost all of the existing historic paperwork of the Alaska Railroad and thus I want to peruse it for myself. Archivist Matthew Mobley unlocks the door, checks us in and helps us fill out the form necessary to get a free Researcher Identification card and thus access to all the cool stuff.
So where does one start? Picking a topic, Randy fills out the request slip and soon there is a box of documents in front of us. While I sort through the box looking for the document, I stumble across an even more interesting find. And so it goes, the search for one gem reveals a more stunning gem which leads to another box that reveals another gem which... The hours literally fly by as we gleefully scan such gems as historic rotary and Russell plow information, proposed Wonder Lake Lodge drawings, a 1922 letter to Assistant Chief Engineer William Gerig describing the usage and conditions of the buildings at Curry, architectural drawings of all section houses and bridges and an undated memo to Washington regarding real estate reports and drawings complete with the actual signature of Frederick Mears.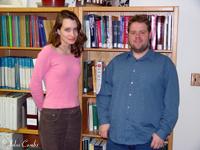 Back in the day when I was a high school student, if I could have looked into the future and saw me sorting through boxes of historical documents, I would have laughed my butt off. Yet here I am sorting through boxes of historical documents and loving it. And not only that, but Randy and I are paying money to get photocopies of them! Pages up to 11" x 17" cost 50 cents and anything larger are $2.75. Matt continues to pull requested documents while Sharilynn makes copies. We continue to feed the parking meter and eventually take a break to eat the sack lunches we brought. As soon as the last bite is gone, we're back sorting and reading and copying. Closing time comes much too soon and the staff informs us they will have to finish copying the remaining documents tomorrow. I am not an archive research assistant, nor do I have a degree in library sciences; and yet I have just spent almost a solid eight hours sifting through an archival mountain. Who would have thunk it? Yet I know I will return some day and do much, much more.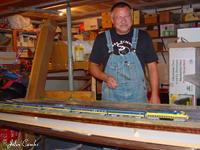 We make a quick photographic drive-by of the Anchorage Yard, eat sandwiches and bottomless fries at the Round Robin and head to Pat Durand's home in Eagle River. Pat, a master model builder in his own right, has reached a new pinnacle in his model-building career. He was commissioned to create an Alaska Railroad passenger train diorama for U.S. Senator (and Transportation Committee Chairman) Ted Stevens' conference room in Washington D.C. Taking us to his garage, Pat shows us the passenger train diorama complete with an assortment of miniature people - a family posing for a photo next to the train, a security agent patrolling his beat, a conductor calling out "All Aboard." Characteristically, Pat tells us clever stories that correspond to each of the little scenes taking place around the train. Moving into the house, Pat shows us other modeling projects in the works. Finally, we return to the Prince Imperial Hotel, share our day's adventures with Don and are in bed by 10:30 pm.