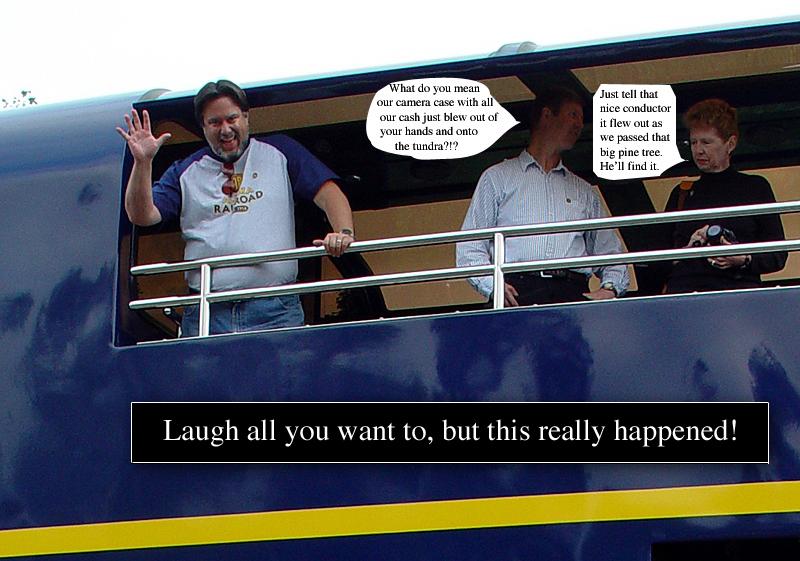 Prologue
It's hard to pack logically for Alaska when the outside temperature here in Sit-and-Sweat, Ohio is 93 degrees with 85% humidity. Long pants? Hooded sweatshirt? Rain gear? It just doesn't make sense when the heat index formula indicates it's so hot that the trees are whistling for my dogs. Yet here I am cramming my suitcases with cold weather clothing for trip number five to the Great Land.
This journal is about the 17 days I spent railfanning in Alaska. Currently, it contains 208 photos (excluding thumbnail photos) and thousands of words that occupy 22.6 megabytes. Additionally, there are 18 Quicktime videos which chew up another 38.6 megabytes. I assume you are here reading this because either:
a) you are a foamer/dedicated railfan, or

b) you are an Alaska Railroad railfan, employee, groupie, etc., or

c) you are my eighth grade English teacher who continues to haunt me by correcting everything I write

d) you have nothing better to do with your time.
If a, b or c applies then feel free to drop me an e-note and let me know what you think. If your answer was d then you may want to eventually go here.
Each one of my Alaska Railroad trips are special. However, I secretly hope that each new one will be better than the last. After a fabulous 2002 trip with Randy and a phenomenal solo winter 2004 trip, I figured there would be absolutely no way the 2005 trip could top them. I am thrilled to report I am wrong! You'll know exactly what I mean after reading the entries for August 16, 23 and 26. Pssst. No reading ahead is allowed!
And now my standard warning - Please be advised that all Alaska Railroad track, yards, section houses, tunnels, access roads, etc. are posted no trespassing and that entering them without permission is a violation of law. It can also be very dangerous. Furthermore, I also found that security has tighten incredibly following the July 7, 2005 London underground train bombings. I won't be foolish enough to list all their enhancements here. However, on one occasion we entered a rail yard and were stopped less than a minute later and this was before we had even exited our vehicle or picked up a camera! In some ways the railroad is even more secure than the military base where I work.
Additionally, don't expect railroad or other industry employees to drop everything they are doing just to give you a tour or escort you. Being the ambassador for Alaska Railroad got me a lot of special privileges. Hey, just visit my web site instead. Enjoy!
John Combs
10/1/05