Sunday, August 4, 2002
It was very, very, very tough getting out of bed after only three hours of sleep. I got up at 5:30 a.m. and headed into the bathroom. I looked the way sandpaper felt. I splashed water on my face and arrived at the Anchorage Depot by 6:00 a.m. I was here to meet Harold Emerick for the first time. Harold and I had been swapping emails for several years and he had sent me photos and video from his previous Alaska trip.
I waited and waited and waited. I began to wonder if a few of the guys in the depot were Harold and we were just not connecting. I really was in no mood to go around asking every guy there, "Are you Harold?" He and his girl friend finally showed up at 6:25 a.m. They were running late due to flight delays and rental car difficulties. We talked on and on about modeling and railfanning. Although their train didn't depart until 6:45 a.m., I could see the anxiety in his girl friend's eyes. After they boarded, I hung around and took photos of the train until it departed.
I returned to Don's and took a quick shower. This was enough to pry my eyes open the rest of the way plus help fade the dark circles under my eyes. I drove to the Hilton Hotel Restaurant and entered at 7:50 a.m. I had made arrangements with a railroad employee to buy them breakfast there at 8:00 a.m. as a small token of my appreciation for all the information they had given me over the years. I waited for forty minutes before I finally gave up. Since I was to meet Jim Somerville at Peggy's Restaurant at 10:00 a.m., I decided to eat breakfast there.
I slid into a seat behind the messy counter and was immediately given a menu. That was the last quick thing I got there. The restaurant seemed understaffed and the waitress moved with the speed of a asthmatic snail. A group of three men walked out the door when they did not even receive menus after five or so minutes. The wait was indeed long, but the waffles and reindeer sausage were pretty good.
Jim Somerville walked into the restaurant at 10:00 a.m. sharp. After a brief greeting, I followed him to Merrill Field. Now I told you already that I have motion sickness problems. Well, they get even worse when I am short on sleep. Therefore, I was fairly certain I would see my breakfast again. I warned Jim about this, but he didn't seem the slightest bit concerned.
Trivia: On August 2, 1909, the Army formally accepted their first airplane, the Wright Military Flyer, called signal Corps Airplane No. 1. The plane cost $25,000 and the Wright Brothers received a $5,000 performance award because the machine exceed the 40-mph speed requirement.
After logging his flight plan ("so they know where to look for us if we don't come back."), we drove over to his plane. He untied it from the hooks in the ground, cleaned the windows with Pledge furniture polish and helped me into my five point seat harness. We were airborne at 10:30 a.m. and soon put the city of Anchorage behind us. Turnagain Arm was just stunningly beautiful from the air. Jim asked me how low I wanted him to fly while I was taking train pictures. "How low can you go?" I asked. "Fifty feet when I'm over water, higher if I'm over land." Fifty feet! Whoa! No, the current altitude of 300 feet was fine.
Our first train sighting was the south bound Whittier shuttle using the two RDCs as passenger cars. In less than two miles, we encountered the north bound Coastal Classic. I was certain we were about to witness a head on collision. However, the south bound Whittier shuttle continued on until it passed a siding and then backed in. I realized the north bound Coastal Classic was moving at a crawl to give the other train time to get into the siding. Silly me! I bet they do this all the time.

| | | |
| --- | --- | --- |
| | | |
| Jim Somerville's Super Decathlon | Whittier shuttle with RDCs | Twenty Mile Bridge |
Spiraling over Portage, I was able to get some pretty good photos of the "Y". From this angle, it is easy to see how the earthquake had dropped the level of the land and allowed sea water to pour in, thus killing all the trees. Furthermore, it was obvious how much the railroad had to build up the roadbed to rise above the new water level.
We followed the line and encountered that same work train that had been following me since Healy. I snapped a photo or two of it just before it reached the five tunnels. Jim began to set me up for an excellent photo that showed four of the five tunnels in a row. He told me to let him know when I had the shot so he could pull up before hitting the mountains. When I finally said, "Okay, I got it!", he sharply rolled the plane to the left and pulled up. The contents of my stomach began to stir violently. I began sweating and my mouth began to water. "You better not do any more of that!" I announced. It took almost all my concentration to keep my breakfast down.
Soon we were hovering over the old Loop District. I got some great aerial shots which showed the old railroad grade. We then went through Grandview and Moose Pass. As we approached Seward, we could see it was socked in with heavy fog so we set our course for Whittier. As we got close to the top of the mountain that separated us from Whittier, the plane began to shake violently from the wind gusts pouring over the peak. I told Jim I didn't want to see it bad enough to lose my breakfast so he turned the plane around.

| | | |
| --- | --- | --- |
| | | |
| The "Y" at Portage | Remnants of the old Loop | Scars from the old grade |
| | | |
| four of the five tunnels are visible | Looking back over the old Loop District | Snow River Bridge |
After leaving Tunnel, Jim said we would return to Anchorage via a different route. We traveled through a rugged wilderness area that provided good views of backpackers, moose and Dall Sheep. Once back in Anchorage, Jim provided me with opportunities to photograph Anchorage Sand and Gravel, the airport, Elmendorf Air Force Base and Fort Richardson Army Base. Much to the relief of my stomach, our plane touched down at 1:05 p.m.
I paid Jim for his services by buying his lunch at the Snow Goose. We got a seat out on the balcony. The warm sun felt good and we enjoyed the beautiful view. The bacon cheeseburger I ordered tasted great and helped settle my stomach significantly. I took Jim back to his car and thanked him for a fantastic experience.
Returning to Don's condo, he reminded me that we still needed to look at his 8 mm films. After retrieving his projector from the basement, we watched films of the 1964 earthquake, the rotary throwing snow, a moose having a tough time running through deep snow and steam locomotive 557 under power. He also told stories of a train wreck he had experienced and the tank car fire at Houston. We could have talked all day.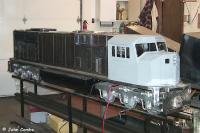 Through a previously arranged appointed, I pulled into Jack Klingbeil's driveway at 6:00 p.m. Leading me into his garage, I saw his inch and a half scale SD70MAC. I am always amazed at people who can make things with their hands, but this was an absolute marvel to behold. Not only that, but he was making two of them. Maybe one of them is for me for Christmas? No, I guess not. We then went to his office and looked through his extensive collection of old photos, negatives, historic documents and other stuff. The time just flew and I left at 8:30 p.m. It was unfortunate that I wasn't able to connect with him earlier in the trip. It would have given me more time to spend looking through his photos plus getting the opportunity to ride some of the inch and a half scale locomotives at the track next to the museum in Wasilla. It was just another indication that I needed two or three more days to pack it all in. Actually, I should probably just consider moving here.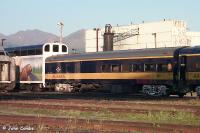 On the way back to Don's, I stopped at the Anchorage yard and discovered passenger car number 300 was there! By the time I got out of my car with camera in hand, it was blocked behind some other cars. It was agonizing watching the train going forward a few feet then backward a few feet, over and over again, keeping No. 300 just beyond my view. I kept looking at my watch, calculating the time it would take me to get to the airport and muttering, "Come on, come on!" And then it appeared for a brief moment. Admittedly, it wasn't the best looking photograph, but I had it. I took two photos, leaped into the car and then high tailed it out of there.
I entered Don's condo and declared I now had photos of every Alaska Railroad passenger car. He congratulated me as I grabbed my bags. I felt bad about saying a quick good-bye; bad because it was so rushed and bad because I would indeed miss my friend.
I filled up the rental car with gasoline and returned it. Amy took me to the airport all the while telling me what a great time she had had on her road trip. The line at American Airlines was terribly long and it took me half an hour to make it to the front. As I headed for the plane, I noticed the line was twice as long as when I had initially entered it. For a change, airport security was a breeze.
As I waited at the gate, a voice came over the loud speaker declaring, "We will have a passenger on board this flight who is highly allergic to peanuts. They are even allergic to the smell of peanuts. If you have anything that contains peanuts, even a Reese's Cup, please inform an attendant immediately." I repeated out loud, "We will have a passenger on board this flight who is highly addicted to the Alaska Railroad. They even get high at the smell of the Alaska Railroad. If you have anything with you that deals with the Alaska Railroad, please bring it to that passenger immediately." The passengers seated around me were not amused.
We boarded the plane late and the flight was packed full. I was glad I had a window seat so that I could rest my head against the wall. The plane took off at 12:15 a.m. As I glanced at the man in the seat beside me, I noticed he resembled Jeffrey Dahmer.