Saturday, August 3, 2002
Sad to say, this was the day for Randy to fly home. We awoke at 7:00 a.m., ate breakfast and swapped stories with Don. I called Jim Somerville and found that he could indeed take me flight seeing tomorrow morning! We went to Wal-Mart to get a container for Randy to ship home his souvenirs and picked up his prints at Cosco.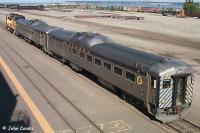 Stopping by the Anchorage Depot, I was shocked to find GP40 2002 and 2 RDCs in the lineup. We would later discover that the Alaska Railroad was short on passenger cars so the Whittier shuttle would utilize two inoperable RDCs instead. Strange, but true. We took a few photos and then headed for the rail yard.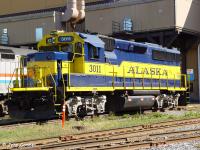 Since it was Saturday, a lot of unused power was sitting idle in the yard. We were able to photograph several of the locomotives from above from an oil disposal platform. I was also able to get photographs of the two Amtrak diners 321 and 322. Randy took the opportunity to check the roof of caboose 1086 and thus kill the Overland HO scale caboose roof color controversy. The caboose roof was indeed blue and yellow. We continued to shoot photos until Randy ran out of film.
While returning from picking up Randy's slides, we stopped by the McKeen car. Although owner Pat Hickey was not in, the tenant that leased his building was. We talked with Ron about the McKeen car and then entered his office. It was covered head to toe with model cars. Ron was a car nut and he took the opportunity to show us his shop and all the cars he is refurbishing.
We went to Hooters for lunch. I was shocked to find the place totally deserted. The food was fairly good and Mel our waitress was friendly and fun. Before we left, we discovered that one of the other waitresses was her fraternal twin, born just one minute earlier.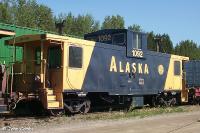 Finding ourselves with a little bit of extra time, we stopped by a store to get Randy some more film. We headed out to the switching yard and found a few worthy subjects to photograph. Caboose 1087 and 1092 were there as were MP15 1554, cement hoppers and a bunch of container on flat cars (COFC). While photographing, Vicki with Purcell Security (contracted by the ARR) stopped by to interrogate us. Fortunately, we had our yard pass close at hand. However, she did not recognize the signature at the bottom of the letter and had to call it in. All ended well as we never did see her again. Trespassers be warned! [Note: My video of a piggy packer loading a trailer at the yard can be found on my videos page - #06]
At 3:00 p.m. I dropped Randy at the airport and we said our final farewell. In search of gifts for the members of the Combs Family Unit (CFU), I headed downtown and visited Trapper Jacks. Next, I stopped in at Charlie's Alaska Trains to pick up a custom made item or two. As I brought my purchases to the counter, Charlie not only recognized me, but remembered my name. That was pretty cool!
Finally I had some free time to spend with Don. I returned to the condo and made a call home. Don made a fabulous dinner of roast, salad and baked potatoes. This was only the second home cooked meal since I was on the trip and it made me a little anxious to get back home to my wife, Betty Crocker. Don and I spent the evening sharing stories and pictures. We looked through his old time tables, news articles, historic documents, etc. We spent over five hours together, but it still wasn't enough time. I enjoyed his friendship as well as his many stories.
I met carman Bob Focht at 11:30 p.m. at the car shops. He has worked for the railroad for less than a year and loves it. He has worked for several companies (Montana Rail Link, Bell Helicopters in Houston, etc.), but now thinks he has found his home. As we passed through a break room, I mentioned to him that I had taken photos of every passenger car on the Alaska Railroad except number 300. He pulled out some papers and saw that it would be in the Anchorage yard tomorrow around 9:00 p.m. I decided I would try to squeeze it in to my already tight schedule. We continued to talk and tour until 2:00 a.m. I returned to Don's condo and was in bed by 2:30 a.m. A twenty hour day! Boy am I beat!