Tuesday, July 30, 2002
You can't call a trip like this a vacation when your alarm is blaring at 5:30 a.m., but you might call it a working vacation. I wouldn't have it any other way. We took quick showers and Pat fixed us eggs and waffles. We headed to Denali National Park under a cloudless sky.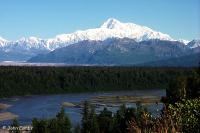 Once again the fickle finger of fate was favoring us as we encountered a south bound oil train at one of our many train crossings. Leaping out of the car, we were able to catch it just as it crossed the road. Further down the road we were rewarded with stunning views of Mount McKinley (elevation 20,320 feet), something that is only possible about 30% in the summertime. Even former Alaska resident Randy Thompson was eager to pull off the road and snap a few pictures of this snow capped wonder. The sun felt so good on my skin that I stretched my arms outward and declared, "I'm recharging my solar panels."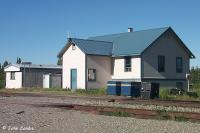 We made a brief detour to the Hurricane section house. The area looked pretty much the same as when we were here in the summer of 2000. To the south of the section house are trailers owned and inhabited by the section employees. These hard working folks supply their own housing (i.e. trailers) and food, receiving per diem and minimal wages. Summer is short so these maintenance crews use the additional daylight hours to accomplish as much work as they can. Predictably, the entire area was deserted.
The gas gauge's needle came to rest on the big "E" and I had a sneaking suspicion we would become pedestrians before reaching the gas stations at Cantwell. Much to my surprise, a three story igloo appeared out of nowhere and with it a set of gas pumps. At this point, I'd have paid almost any amount of money for gas, but was delighted to find it somewhat reasonable.
Denali National Park is a little bit larger that the state of Massachusetts. However, we were only interested in about one tenth of one percent of it. Upon driving through the entrance, we immediately headed for Denali depot. It was evident that construction on the new depot was underway since the old depot was bordered by red barrels, plastic fencing and road graders. Randy made sure we arrived in time to catch the south bound passenger train comprised of four companies of passenger cars: Denali Star (Alaska Railroad), Wilderness Express (Royal Celebrity Tours), Midnight Sun Express (Princess Tours) and McKinley Explorer (Westours) railcars. After snatching a few lead end photos, we hiked ahead and grabbed a seat on a nearby hill. We were set up for the perfect photo. And then the fickle finger of fate proved that it was indeed fickle. Just as the train crossed Riley Creek trestle, a single stray cloud blotted out the sun. Although we were pretty angry, we took pictures anyway.

| | | |
| --- | --- | --- |
| | | |
| SD70MAC 4006 at Denali depot | Hey! Where did the sun go?!? | Oh well. At least the scenery is stunning. |
Returning to the depot, we asked several employees for a recommendation for the best lunch spots. We settled on half pound hamburgers and French fries at the Overlook Bar and Grill. Although the place was deserted, I'll bet it is really a jumping joint later in the evening. We returned to the depot and Randy called his friend Greg LaHaie (owner and chief pilot of Kantishna Air Taxi) to check the status of our flight seeing trip. Unfortunately Greg had to reschedule for tomorrow since the plane was not ready. We were a little disappointed. In search of other railfan opportunities, we headed north to Fairbanks.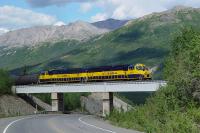 As we were leaving, we caught a south bound oil train. Randy had me back track so we could catch it on a bridge at milepost 346. Two SD70MACs pulling tank cars against a mountainous Alaskan backdrop was truly an awesome sight.
For beginners only: Williams Oil is one of the largest customers of the Alaska Railroad, shipping an average of about 100 cars per day of refined petroleum products from their North Pole refinery down to the Anchorage terminal. The bulk of the rail cars -- some 80 a day -- carry jet fuel for use at Ted Stevens Anchorage International Airport. The Alaska Railroad last year set daily, weekly, monthly and annual records moving more than 710 million gallons of fuel along its rail line without incident. Petroleum makes up most of the freight revenue for the railroad, about $35.7 million last year.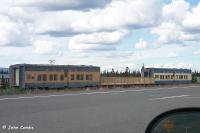 After two hours of driving, we found ourselves in Fairbanks. We made only one stop which was the Denali Park Hotel. In July I had posted a Picture of the Week using a Matt McCullor photo of a pair of troop sleeper cars with a "For Rent" sign in them. He had asked what these cars were for and I was unable to find an answer. I immediately recognized them and pulled in to the Denali Park Hotel to make an inquiry. We discovered a third troop sleeper car another two hundred feet off the road that served as an office. I walked inside and was met by a young man in a neck brace. He informed me that the two cars were purchased with the intent of letting businesses rent them. "So they could become an ice cream stand or real estate office." Mystery solved.
We immediately headed to the rail yard and checked in at the office. Venturing into the yard, we were disappointed to find that activity was almost nonexistent. I had the feeling I was in the morgue. We took pictures of about everything we could find and then headed to Wendy's for a quick dinner.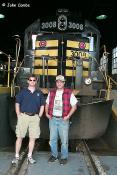 By appointment, we met car shop employee Wayland Ferreira at the Fairbanks car shop for a brief tour. One interesting tidbit is Wayland and his associates built two ballast plow cars that have made spreading ballast a whole lot easier. We were soon joined by locomotive engineer Brett Brown who added additional spice to the tour. I asked Brett which type of train he preferred to run, freight or passenger. Short and to the point he replied, "Freight don't complain." [Photo at left shows Brett (L), Wayland (R) and GP40 3008 in freight paint scheme (C).]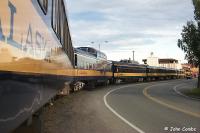 In the middle of our tour, the north bound passenger train came roaring through. Being the rude folks that Randy and I are, we said quick good-byes to our tour guides and raced to the Fairbanks depot. I was able to beat the train to the depot and video taped it as it arrived. [Note: My video of the this can be found on my videos page - #07] It always quickens my pulse when I am standing within six feet of a slow moving SD70MAC, the mighty roar of its engines and clanging of its electronic bell in my ears. At the front of the train, I met hard core Alaska Railroad railfan Mike Ferguson. He told me he is here about every night watching the arrival of this passenger train. My companion also mentioned he had applied for a job with the Alaska Railroad. [Mike sent me an email on August 23 and said he did indeed get a job as a Baggage Handler. Cool!]
After expending some digital camera electrons and burning up some film, we bought a few groceries and began our drive back to Denali. A long drive seems even longer when you are worn to a frazzle. We pulled into Greg LaHaie's guest cabin just after midnight. We carried in our stuff and collapsed into our soft beds by 12:30 a.m. The end of a nineteen hour day!