Chapter VIII: Fairbanks
Tuesday, June 27th, Fairbanks.
When the alarm woke us up at 7:00 a.m., we recognized the smell of smoke. Looking out the window of the cabin, we could see a heavy haze throughout the valley. Later, we would learn there were several forest fires near Clear Air Force Station. This would make for some interesting photographs.
We drove for over an hour through a heavy smoke fog. At 8:48 a.m. we arrived at the Nenana depot and took photos of it from all angles. As I set up for a final front shot, I noticed a woman opening up Moocher's bar. This must be some kind of town for bars to open up at 9:00 a.m.! Walking up river, I saw two old Alaska Railroad passenger cars. These cars were previously used as supplemental hotel rooms at the Denali Park Hotel. They were later deemed fire safety hazards and were sold off for $1.00 each. Someone bought these two and placed them here on an empty lot. I could not find out if there was any future plans for these cars, but vandals and Alaskan weather were already working on one. At 9:55 a.m., the southbound passenger train came roaring across the hazy Mears Memorial Bridge. I took several photos of it plus a few more as it passed the Nenana depot.

We reached the Fairbanks yard around 11:20 a.m. and bumped into John Darneille. John had agreed several weeks earlier to give us the grand tour. We visited the locomotive shop and found it empty since all the rail power was functioning properly. Next, we checked out the car shop where a large tuscan red cylindrical hopper was being repaired. John took us through the yard and showed us a wide variety of freight including a gondola which they were modifying to work as a ballast spreader. He was proud of all the work and ingenuity the workers had displayed. The tour finally came to an end and we thanked John for taking us on the tour. Before leaving the yard, we photographed a set of six Halliburton cars.

| | |
| --- | --- |
| | |
| Randy Thompson and John Darneille | "At Your Service" trailer |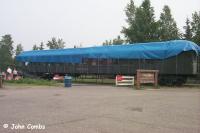 We grabbed a quick lunch at Burger King. I called home to wish my son a happy 8th birthday and expressed regret for not being there in person. Although he said he did not mind, I could hear the disappointment in his voice. Next, we drove to AlaskaLand to visit the passenger car that transported President Harding while he was here commemorating the completion of the railroad in 1923. Unfortunately, a huge blue canopy had been placed over the top of the car to protect the carpet from a leaking roof. This made for a very diappointing photograph.
Continuing our travels, we made a trip to the Forget-Me-Knot Lodge. We stopped in at the lodge and met Mike and Sue Wilson. We told them we had come to see the cars passenger they had converted into hotel rooms. Mike agreed to serve as our tour guide and we followed him down a gravel road. As we rounded a corner, we saw GP40 #3021, two passenger cars, a 1920 tank car, caboose 1068 and two more passenger cars. Mike was in the process of converting 3021 into a bedroom and predicted it would be ready next summer. He showed us the interiors of two passenger cars and caboose 1068 which now contained many elegantly decorated rooms. He then took us through a passenger car that he was converting into a dining room for all the guests on the property. Mike talked a mile a minute with an enthusiasm that was very contagious. Randy and I both agreed that any future trip to Alaska must include several nights in these train cars!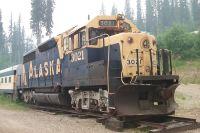 Running late, we rushed to Pike's Landing restaurant to meet Sue, an Alaska Railroad coworker and friend of Randy's. This restaurant seemed too elegant for denim jeans, but we threw caution to the wind. I chose Filet Mignon while Randy and Sue feasted on New York Strip. After the meal, Sue took us out to her truck and showed us her painting of a passenger train being pulled by an SD70MAC and a GP40 through Healy Canyon. She proudly announced she was submitting it for the Alaska Railroad 2000 poster. Good luck Sue!
We finished the day by heading to the Fairbanks depot. The Tanana Valley model railroad club lives in part of the depot so we stopped in to check it out. I met Alaska Railroad historian, modeler and photographer Curt Fortenberry at the door. Club member Dave Shewfelt also greeted us and gave me a great tour of the huge layout. The tour was soon interrupted by the arrival of the northbound passenger train. Randy and I hurried out the door to get some smoky shots of the train. We watched as it took over 45 minutes for the baggage car to be unloaded.
Through a previous arrangement by Randy, we would be the overnight guests at Curt's home. As we headed down the road to his house, we came upon a northbound oil train. Curt led us to the crossing on Badger Road where we got a few dim, foggy shots.
Once at Curt's home, we immediately headed for his train domain in the basement. He showed us his Alaska Railroad photos, slides and models. Randy and I were both stunned at the quality and preciseness of Curt's model building abilities.