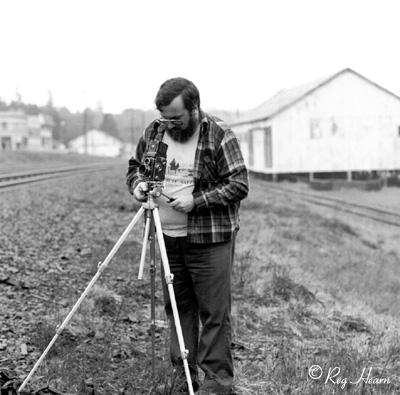 JOHN P. HENDERSON
1945-2007
John Henderson was born at Ft. Benning, Georgia on August 12, 1945. Three days later the Imperial Japanese forces surrendered and world peace broke out. Some have attributed this to other factors, but the connection is obvious. As an infant, John moved with his family to Port Angeles, Washington and in 1961 to Great Falls, Montana. In 1963, the Hendersons moved to Fairbanks, Alaska. That same year John started as a freshman at the University of Alaska. While at the UofA his life long interest in the Alaska Railroad developed. After two years in Alaska he transferred to the University of Idaho where he earned a degree in Music. After graduation he taught school at Soldotna, Alaska for three years.
As the family moved around John developed a love of trains, photography and odd places. John's brother Jerry Henderson once told me that their father could not pass up a roadside historical marker. Shortly before they left for Alaska they drove half way across Montana to see one more marker. While at the University of Idaho John met noted modeler and photographer Ivan Ergish and they became life long friends. Through Ivan and other bad influences, such as John Cummings, John's interest in logging and short line railroads began to mature.
I first met John at the Puget Sound Railway Historical Assn. in Snoqualmie, Washington shortly after he came south in 1973. At first he struck me as a loud, opinionated smart aleck. After I got to know him, I found that he was a loud, opinionated smart aleck and we became fast friends. Four years later he was best man at my wedding. We both loved poking into obscure subjects and back roads. On one of his trips, John found that the cranberry bogs around Grayland, Washington contained a large number of railroads used to harvest the berries, each with its own home built motorcar. Other discoveries included the Mount Vernon Terminal RR, the Boise-Cascade paper mill at Steilacoom, Washington and a vast number of taverns and roadside diners.
One of John's prize possessions was his old red van known by one and all as the "Big Muddy." Along with his brother Jerry Henderson, Eric Jordan, Reg Hearn, myself and many others John roved the land looking for obscure railroad operations, good photo locations and hole in the wall eateries. Trips were made to such places as ITT Rayonier's logging railroad north of Hoquiam, Simpson Tbr. Co.'s operations out of Shelton, an aluminum smelter at The Dalles, Oregon and the obscure Great Northern Mansfield branch in the middle of eastern Washington. Eastern Oregon, northern Vancouver Island and the Yukon also saw John and his cameras. With maps in hand and lunch in the cooler, John was up for anything. He could be off the road, out of the van and over a fence with his camera to get a good shot faster than anyone I know. No Smoking (spelled "Trespassing") signs did not hinder his quests.
John also excelled at research. Some of his larger projects included going through the Alaska RR records at the Seattle branch of the National Archives, copying the Pacific Car & Foundry builder's photographs, documenting Simpson's logging railroad and transcribing the Washington Iron Works and Willamette Iron & Steel Works steam donkey records. The purchase of Ivan Ergish's photographs added greatly to his historical research collection.
When his health failed two years ago we all thought that the end had come. Being the contrary person that he was John made it out of the hospital and eventually was back living on his own continuing his love of music, good books, puns and driving back roads. At this time he decided to disperse much of his collection and sold the Ivan Ergish and Pacific Car & Foundry photographs to Oso Publishing where they will be shared for years to come.
On March 1, 2007 John Henderson passed away and left his many friends much poorer. All of us who knew him over the years miss him and I for one still expect to get one of his messages with one of the off center political quotes or bad jokes he was famous for.
Reg Hearn said it best: "Goodbye old friend."
John A. Taubeneck
John Henderson links found on this site: