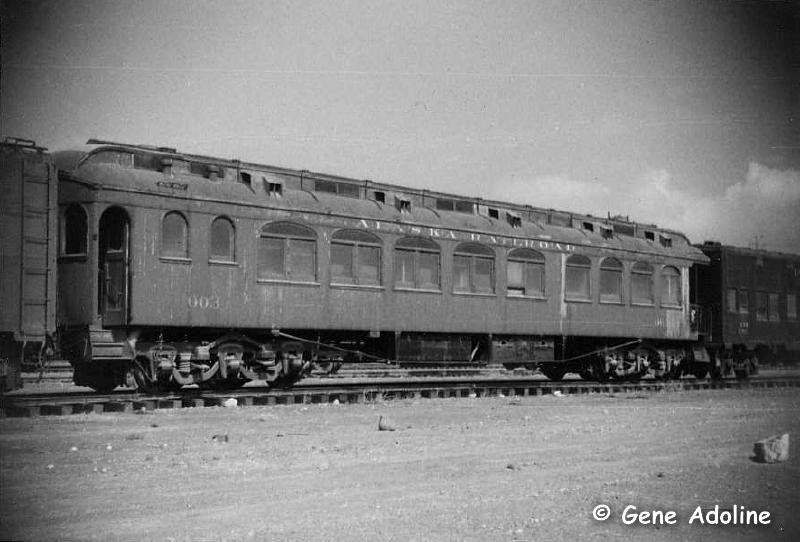 Photo courtesy of Gene Adoline
"Since I am now in my 70th year, I thought that I might start to make available to others, some of the pictures of Alaska - circa 1954 - that I and my deceased friend had taken there while we were enlisted in the Army at Ft. Richardson. Our time was spent on the Army RR 7714th trans. battalion, and we both had experience in RR1s - My friends was a ground man with the SP out of Sparks, Nevada and mine was an Engineer with the Toledo Terminal RR of Toledo, Ohio - and fire man on NYC Airline Div/Toledo West. Where I had the pleasure of firing one of the 6000 series 4-8-4 Niagara . Pictures were taken of these RR1s also. As an attachment, please find an old passenger car sitting on the rip track at the Pass. Station yards." Gene Adoline (5/12/01)
Alaska Railroad historian Pat Durand adds, "Car #003 does not appear in any of our rosters, but is consistent with MOW numbering for an outfit car. That in turn indicates this is a photo of the Denali Observation Car (the Harding Car), now on display in Fairbank, taken about 1945 when it was relegated to work service. The following is all gleened from the restoration study for the Harding Car prepared by Samuel Duff Combs, AIA back in 1985.:"
Pullman built as Compartment Observation Car in 1905. From lot no. 3205 and is car no. 760. It contained four compartments (staterooms), one drawing room, a buffet room, card room, and observation room. Car was sold to Great Northern Railway Sept. 21, 1905. and it saw service between Saint Paul and Seattle. GN sold it to the Alaska Railroad in 1923 and they christened it "Denali". President Harding had a train consisting of a baggage car, two business cars -"A 1" and "B 1", three sleeper cars the "Fairbanks" the "Talkeetna" and the "Anchorage", the diner car - "Seward" and the compartment observation cars the "Kenai" and the "Denali". These were all at the driving of the Gold Spike at Nenana on July 15. 1923.

"Unspecified modifications were made in 1928, and Pat Durand believes this is when the buffet room and card room were removed to expand the observation room resulting in the change of two window configurations on the left side of the car. The car remained in service until it was converted into an outfit car in 1945. From 1945 to 1959 it was retired to a siding near Nenana. In 1959 and 60 the car was renovated and donated to the Pioneers of Alaska Igloo #4 in Fairbanks. From 1960 to 66 it was kept in storage until its paint was blistered in a warehouse fire in August of 1966. During the 1967 Alaska Centennial Exposition in Fairbanks it was installed at Alaska Land where it underwent yet another renovation. It resides there today. This is my analysis and will stand as fact until some one offers a better story."
Also see Harding car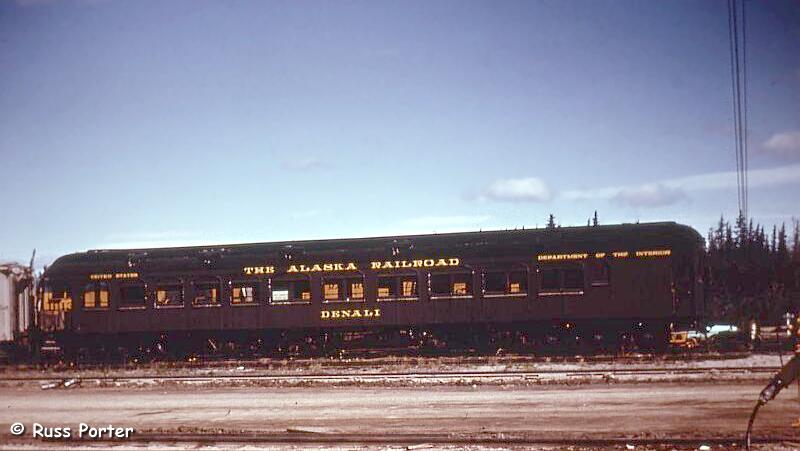 Anchorage, October 1974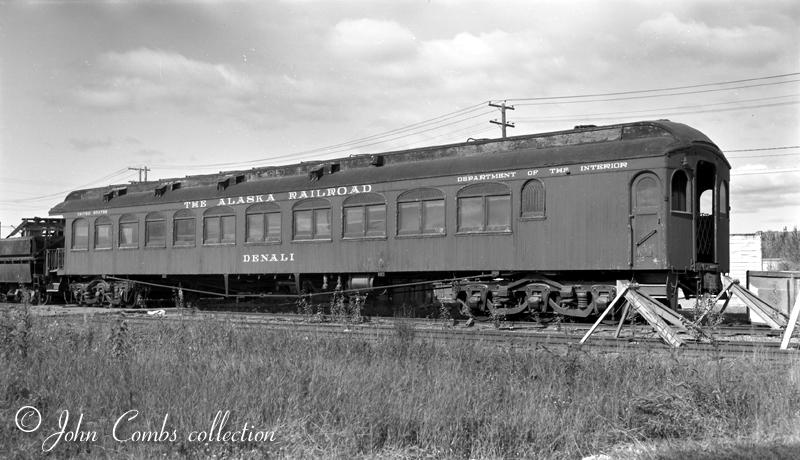 Fairbanks, September 2, 1966
Added 8/29/13 by Daniel Osborne: On your page you have a picture submitted by Gene Adoline, that is supposed to be the Denali Car. It can not be so. The Denali car has 10 large windows and three small ones on the side shown. There is not enough car length to to put in the windows in the Adoline image. The Denali has two small windows in the toilets, and one for the Buffet, in addition to 5 large divided windows (4 compartments and 1 drawing room) and 5 undivided windows, one short large window for the card room and four for the observation room. However the Adoline image may picture the compartment-observation car "Kenai" its right side as much as shown in the Adoline image is very similar.