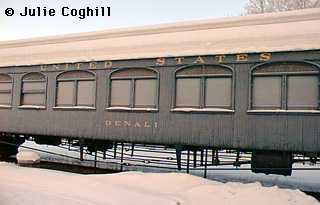 The Denali (Harding) Car has six axels and is 81 feet overall. It was originally No. 762 built by Pullman (Lot 3205, Plan 2082B), and received by the Great Northern on 9/24/1905 was renumbered to No. 9002 on 2/29/1908 and sold to the US Government 12/27/1922 for Alaska RR.
The Harding car is currently at Pioneer Village in Fairbanks, Alaska. President Harding's party was made up of 23 government officials and their wives, 32 members of the press (representing Fox Film Co., International News Reel Co. and a full spectrum of print reporters and Western Union) and 30 railroad employees (including 8 traincrew - Mr. G.L. Jenkins is listed as the Conductor). The train's consist included: baggage car, Business Car B-1, Coach (smoker), Sleeper "Fairbanks" (14 sections), Sleeper "Talkeetna" (10 sections), Sleeper "Anchorage" (10 sections), Compartment Observation Car "Kenai", Diner "McKinley Park" and Compartment Observation Car "Denali". The train was powered by locomotive #618, a 2-6-0 steamer. President Harding took the controls and operated the train, under the direction of Engineer F.W. Brayford, between Wasilla and Willow
For more information, see car #3.
Also check out the photos in the historical section.
Photo courtesy of Julie Coghill