Hoppers are a very common type of freight car and come in a variety of shapes, sizes and purposes. They can be open or covered. They can be made of steel or aluminum.
Open hoppers carry heavy bulk commodities which can be exposed to the weather. For unloading, the commodity will flow or pour through the hopper discharge chutes into underground pits.
Covered hoppers are designed to handle dry bulk commodities which require absolute protection against the weather. They have a permanent roof with hatches to facilitate loading. A hopper's interiors is shaped into bays (hoppers) with discharge doors which allow unloading from the bottom either by gravity, pneumatic (suction) or airslide functions. Airslide hoppers force air between the fabric lining and slope sheets of the car, loosening the product so that it flows easily through the outlets.
The ARR uses open hoppers to haul mainly coal, gravel and ballast while covered hoppers are mainly for cement, chemicals and grain. Here is an example of a hopper utilization plan.
Click here for the hopper roster. Also check to see if they have any leased.
Randy Thompson also has a PDF chocked full of scans from the ex-BC Rail pressure hoppers.
| | | |
| --- | --- | --- |
| Series | Capacity | Comments |
| 14400 | 80 ton | 3 pocket, boxcar red, Pullman-Standard |
| 14700 | 70 ton | 3 pocket, black, ex-C&O cars |
| 14900 | 70 ton | MK ballast hoppers, boxcar red |
| 16000 | 100 ton | 4 pocket, 45 degree slope sheets, black |
| 16100 | 100 ton | 4 pocket, light blue, ex-AS&G |
| 16400 | 100 ton | 4 pocket aluminum |
| 16800 | 125 ton | Johnstown, aluminum, bottom discharge, rotary, (sold August 2016) |
| 7100 | 70 ton | ballast/coal doors, boxcar red, Greenville Steel Car Co. |
| TNM 20000 | 100 ton | 4 pocket, rotary dump, black with 1-yellow end (leased and returned August 2016) |
| 49599 | 100 ton | HPJX Helm Pacific Leasing (leased and returned August 2016) |
Click on the pictures below for a larger view and additional information.
---
As you know, I work on the "North-end" (Healy/Fairbanks). Although I have taken quite a few Hyundai (Seward) trains from Healy to Anchorage, I have never gone south of Anchorage with one. The only thing that comes to mind is "Yellow-Bands". The Seward Coal or "Hyundai" Trains and many of our gravel trains are made up largely of "TNM" series, 100 ton hoppers. If you don't know already, "TNM" series coal hoppers have one end painted yellow. This is because the knuckle on that end spins 360 degrees on a rounded drawbar. Down South (in your neck of the woods), many coal and gravel trains are unloaded 3 to 5 cars at a time by a section of track equipped with grabbers that physically holds the cars on a section of track and flips the TNM cars upside down while they are still attached to the train. This is a much quicker (and a more expensive) way to dump a train. We lease those hoppers for our coal and gravel operation but we don't have any "flipping" tracks up here, we simply use the doors in the bottom of them to dump them.
Anyway, TNM hoppers cannot be coupled with the yellow ends together because of the rounded drawbar. If you hooked them up with the yellow ends together, the knuckles could rotate to a horizontal position, causing the train to come apart in a curve. We try to keep all of the yellow bands facing one direction, either north or south to help keep this from happing when making trains. If they weren't, making up a train is aggravated because every time you came across yellow ends facing opposite directions, you have to either loop or wye the cars, or find a "non-TNM" series hopper to stick between them. If cars are ever looped or wyed during the unloading operation, then they would have to be looped or wyed again to get them in the same orientation for arrival in the Anchorage yard in case the train was to be broken up to build other gravel or coal trains.
Brett Brown
Alaska Railroad locomotive engineer
4/28/02
8/25/16 Update: These leased units were returned August 2016 due to the downturn in the coal market.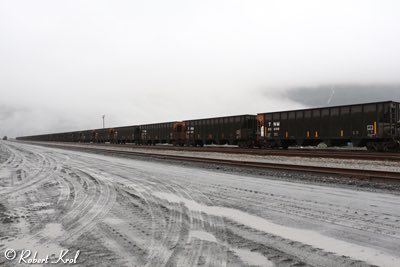 Thirty TNM hoppers in Whittier waiting for the barge. These leased units
are being returned due to the downturn in the coal market. (8/25/16)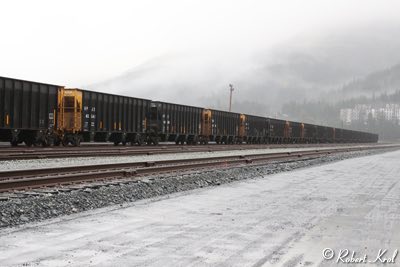 Thirty HPJX hoppers in Whittier waiting for the barge. These leased units
are being returned due to the downturn in the coal market. (8/25/16)
---
| | |
| --- | --- |
| | ARR covered hopper at Alaska Mill and Feed. |
---
| | |
| --- | --- |
| MK ballast hopper. | |
---
| | |
| --- | --- |
| | New aluminum hopper with ARR herald. |
---
| | |
| --- | --- |
| Quad hopper with stencil lettering. | |
---
| | |
| --- | --- |
| | Quad hopper with large "Alaska". |
---
| | |
| --- | --- |
| ARR coal hopper | |
---
| | |
| --- | --- |
| | Old three bay ribbed hopper. These are nearly extinct on the Alaska Railroad. |
---
---
| | |
| --- | --- |
| | Ballast hopper with normal "Alaska Railroad" lettering style. |
---
---
| | |
| --- | --- |
| Hopper #14607. Click here for more information. | |
---
| | |
| --- | --- |
| Bob Garner says, "These Ortner rapid discharge hoppers were leased for a while, but were not suitable for both coal and gravel and were returned." | |
---
On 4/17/04 Jason Kuehn adds, "The Alaska Railroad leased a string of these - 60 cars I think - from RailTex back before RailTex was a shortline operating company and they were mostly into car leasing particularly for the aggregates business.

These are Ortner (now Trinity Industries) rapid discharge cars designed primarily for handling aggregates. They are the best car on the market for this type of commodity. The 60 degree slopes sheets provide for a fast clean unloading of commodities like sand and gravel without using a car shaker. Unfortunately the ARR the gravel season only lasts 4-5 months due to the weather.

These cars have a cubic capacity of only about 2,000 cubic feet (plus or minus 10%). So they only can handle 60-65 tons of coal when used in coal service in the winter as much of the ARR fleet started doing when the Seward coal move started. But they weigh nearly as much as a standard hopper so they are not very efficient cars for coal handling.

You will also notice the long platforms on the ends of the cars and the relatively short car body. This is a major pain for loading in motion like is done with the Usibelli tipple and the current gravel terminals in Anchorage. It is really easy to start the loading early or end late in trying to fill the car as full as possible and spilling material on the end platforms.

So these cars were not well suited to the evolving needs of the ARR for a flexible hopper car fleet. The ABI blue rapid discharge hoppers worked much better for handling coal in the winter and flood loading both coal and stone. I think the ARR had the TRAX cars on lease for three years in the mid-1980's and then returned them, opting for more conventional hopper cars. Being a specialized car designed specifically for stone they had a fairly high lease rate as well.

There are a couple of photos in the Nicholas Deely book of one of these cars in a freight train (probably handling coal) in the winter time.
On 11/16/04 Pat Durand adds, "Some years ago the Alaska Railroad leased a string of Ortner Three Bay Rapid Discharge hoppers. Here are two views showing both ends of the cars. Modelers note: Microtrains has just announced an N scale version Item #125010.
---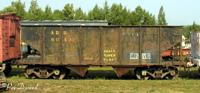 The Alaska Railroad has rostered a variety of hoppers over the years. On the 1931 Equipment Register 12A there is only reference to Coal Cars not hoppers. I believe these were Hart Convertible Gons dedicated to coal service.
On Equipment Register 12G of 1963 there were four different number series of Twin Hoppers. At the Museum of Alaska Transportation and Industry is Hopper 60432 which through the weathered paint shows original number 6043 in white. This car was dedicated to the Alaska Railroad Power Plant in Healy and thus made the short trip from the Suntrana Tipple to the ARR power plant along side the main line in the Healy Yard.
There were only five cars in the series 6041 - 6045 as of 1963 and they were rated at 100000 lbs or 50 ton. The car body is 30'8" long and 10'10" high with internal capacity of 1817 cu ft. Modelers note: Stewart Hobbies Fishbelly 55 ton 6 panel 2 Bay Hopper in HO is a dead ringer for 6043. Accurail also produces a very nice kit for the 2500 Series USRA Twin Hopper that matches this car.

Prepared by Pat Durand
---
---
| | |
| --- | --- |
| Anchorage Sand & Gravel (ASGX) #606 in Nenana. Paccar built this car only for this one time. They were ASGX 601-680. ARR managed the cars and eventually took ownership in the late 1980's in exchange for favorable rates for ASG. 4/83 | |
---
| | | |
| --- | --- | --- |
| | New (actually used) ex British Columbia Railway cement hopper, numbers 14850-14859. 5/13/04 | |
---
| | |
| --- | --- |
| The following information is from The Official Railway Equipment Register of October 1974: The 14216 has an AAR Mechanical Designation of HT in the Equipment Register. However the 14216 has GA-3 painted on the lower right hand side of the car where typically the railroad applied the mechanical equipment designation. Either definition is accurate. Both the GA and the HT are open top car, having fixed sides and ends and drop bottom, consisting of doors hinged crosswise of car, to dump between the rails. The HT contains the additional specification that there are three or more divided hoppers with doors. The 14216 was of the second largest class of cars on the railroad with 208 cars in the group numbered from 14000 to 14279. In October 1974 this group of cars represented 14.3% of all cars on the railroad. (208/1454 total cars) The 14216 was 41'5" long. It had a capacity of 2700 cubit feet or 140,000 lbs., whichever was less. In this picture the 14216 has been retired and is awaiting the scrappers torch. Fairbanks, June 1983 | |
| | |
| --- | --- |
| | This car displays the HT AAR mechanical designation in the lower right hand corner above the right hand truck. Since this class of cars were added to the roster some time after April 1975, it is assumed they were purchased second hand by the Alaska Railroad. Fairbanks, June 1983 |
| | |
| --- | --- |
| The following is per The Official Railway Equipment Register of October 1974. The 6016 has an AAR mechanical designation of HM. An HM hopper is an open top, self clearing car, having fixed sides and ends and bottom consisting of two divided hoppers with doors hinged crosswise of the car and dumping between the rails. The 6016 has an exterior length of 33' 6". It can hold 1883 cubic feet, or 100,000 lbs. whichever is less. As of October 1974 in was in a 19 car class from 6011 to 6030. Fairbanks, June of 1983. | |
The railroad's newest hoppers are series 16800-869 and were obviously purchased used. (Update: All 70 units were sold August 2016)

8/19/16 About 7 pm, I watched a train coming in from the Eielson Branch to the Fairbanks yard. Empty coal train pulled by a single engine. 70 cars, +/-, one of the longest I've seen pulled off that branch (sometimes cars are stored on Ft. Wainwright, the assembled and pulled out in big trains). Completely uniform train--all newer appearing, presumably aluminum sided cars. I don't think I've seen a coal train on the Alaska Railroad with completely matched cars. - Eric Schneider, Fairbanks, Alaska

Those are the aluminum hoppers that were stored at Wainwright, 70 in all. They have been sold and will be headed outside in the near future. - Frank Keller
| | |
| --- | --- |
| Coal hopper at MP12 between North Pole and Ft. Wainwright. 4/26/15 | |
[7/25/06] AOK hoppers being used between the Pitman pit & Anchorage. Many of them were heavily worn & had major patch jobs on the inside sheets.
---
Added 8/26/11:
- 70 used hopper cars, builder Johnstown, year built 1999/2000, aluminum, quad hopper bottom discharge, rotary, 3770 cubic foot capacity, all due in Alaska by early October
Photos:
8/25/16 Update: These units were sold to the Strata Corporation in Montana on August 2016 due to the downturn in the coal market.
Also sold were the 20XXX units. Jonathan Fischer says of his photos, "Yesterday, Sunday, October 2, 2016 there were a number of TNM hoppers spotted on Harbor Island, in West Seattle. These hoppers had previously been in coal service on the ARR and were part of the group of cars unloaded from this week's southbound barge."
---
Added 7/20/12: Casey Durand's photos from July 2012
---
See also
Engineering drawings:
© 1999-2016 John Combs unless otherwise noted
Page created 2/15/99 and last updated 11/9/16