Poll Archives: 2002 | 2003 | 2004 | 2005

---
Poll Date: December
Total Votes: 9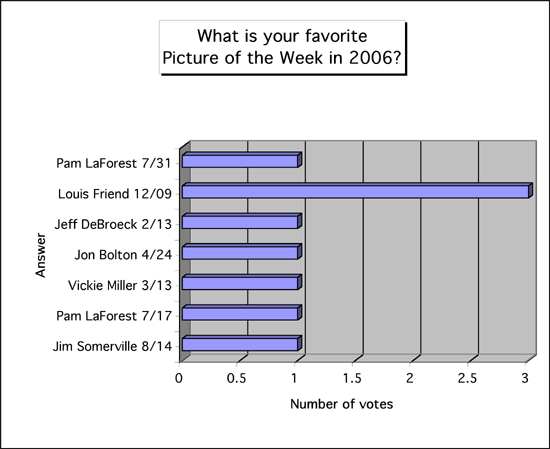 ---
Poll Date: November
Total Votes: 5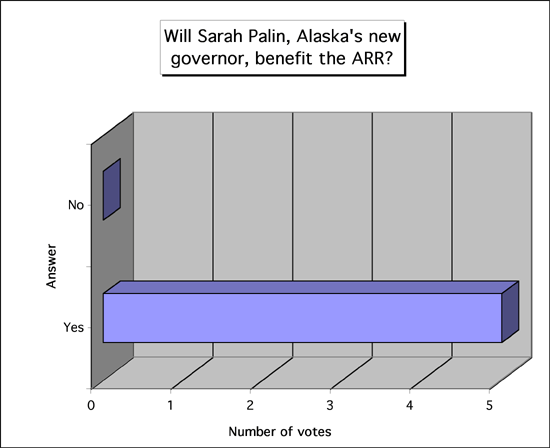 "Yes, but it's too early to tell how much or little Gov-elect Palin will support the Alaska Railroad. Of course, the soon-to-be-former Gov. wanted to connect ARR to the rest of North America by land through Canada. My hunch is that she will continue to strongly support the capital and operating programs, but probably without the megaproject-driven approach." - Anonymous, Alaska
---
Poll Date: October
Total Votes: 7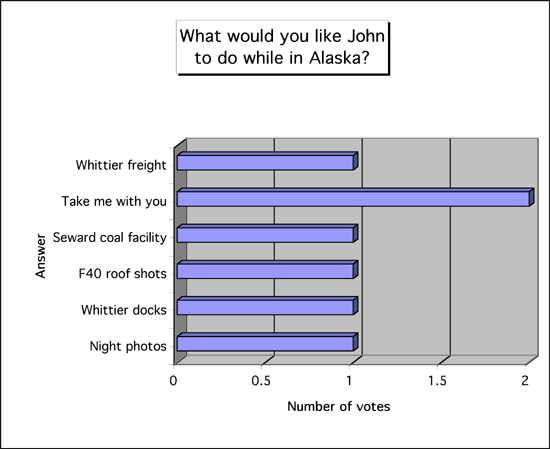 ---
Poll Date: September
Total Votes: 16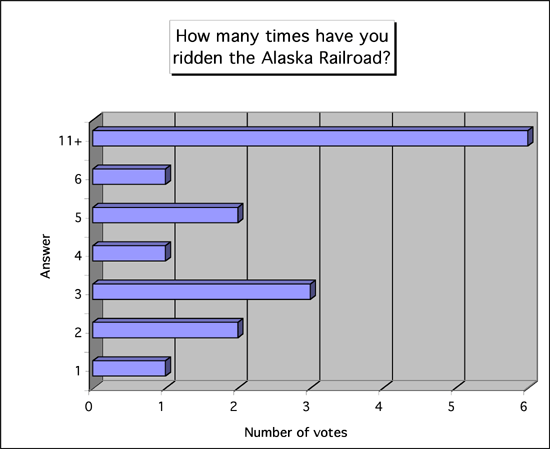 "To the fair in 1968. A basketball game in Palmer in 1969." R.D.
"Ridden ARR 22 times beginning in 1966 and most recently in 1998. Once or twice on freight and several times on RDC when they went from Anchorage to Fairbanks in off-season." S.S.
"My wife and I have ridden the Alaska RR three times that I remember. Denali National Park to Anchorage Wednesday, June 27,1979. Whittier to Portage on flatcar Monday, July 2, 1979 Fairbanks to Anchorage Friday, July 11, 1980" W.P.
"Six, but never on the fancy cruise rail cars. Need to do that once." F.P.
"Rode it once from Fairbanks to Anchorage over four days" M.P
"Three times....not enough times however, I need at least 30 or 40 trips to make me happy."
"I lived in Whittier for 27 years and always rode out on the shuttle. Also, Princess would send me out on the train several times a week on the shuttle. Probably close to 2,000 times." R.K.
"59 round trips so far for just the year of 2006 mostly on princess cruise train WHT-DEN and ANC-FBK-ANC. And once this summer on the Glacier Discovery and as a regular PAX on the Denali Star, and once on the Fair Train, and one on the old "Fun Train" from WHT-TAL-ANC, and also to the Ted Stevens Airport. If you really like trains go work for Princess next year and apply in early February www.princessjobs.com <http://www.princessjobs.com> and apply for onboard steward (its a mechanic/janitor job) and its great for any rail buff, plus HUGE overtime hours!!! Work an average of 72 hour work week on rail from May to September." S.K.
"I guess we made use of the ARR three times... Anchorage to Denali, then back, tagging along aboard the Explorers... With a trip into Seward on the Classic a following day. I'm saving my retirement money to go do it all again in a couple of years. I'll certainly stay longer next time!" P.H.
"I have ridden the railroad dozens of times!! Most were when I worked for the railroad!! I have run trains from Anchorage to Healy. Anchorage to Whittier and Seward. I worked the extra board in the mid-70's during the pipeline times. Have ridden the trains as a passenger at least 10 times."
---
Poll Date: August
Total Votes: 12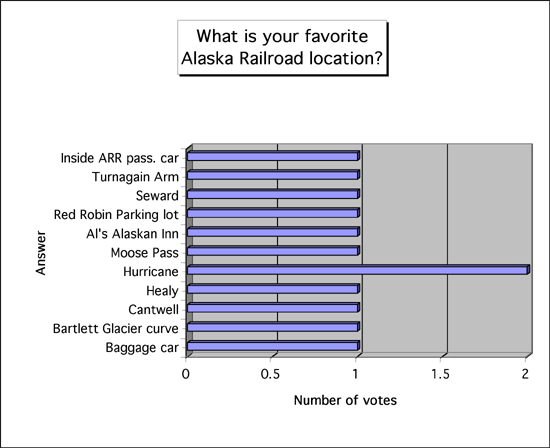 "Whittier, of course. It has it all: bridges, tunnels, passenger service, a crossing, pedestrian tunnel, freight yard, ro-ro barges, spectacular backdrops (including mountains, glaciers, and cruise ships), and one of the best indoor railroad viewing platforms on the planet. Need I say more? Honorable mention goes to every other mile of Alaska Railroad track system." M.E.
"Bartlett Glacier curve between Tunnel and Grandview. I took this poll location as for the meaning as the spot for the best photo opportunity for subject and scenery. There is nowhere else in the country like it." S.S.
"Red Robin Parking lot at Dimond – because I can walk to it."M.L. [Webmaster's note: "Been there, done that. Thanks for sharing your favorite spot with me!."]
---
Poll Date: July
Total Votes: 40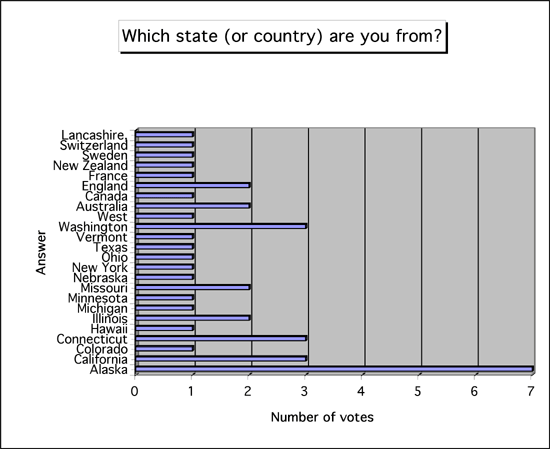 ---
Poll Date: June
Total Votes: 10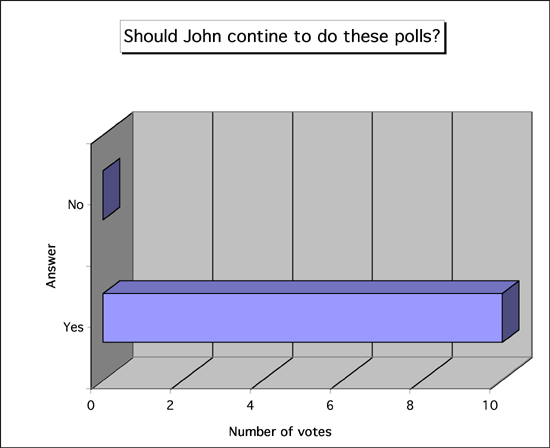 ---
Poll Date: May
Total Votes: 13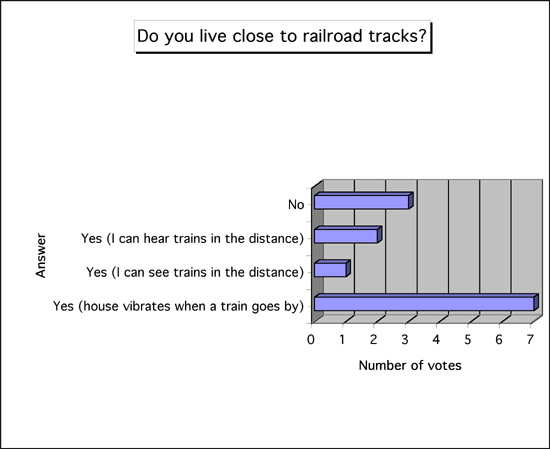 "My bedroom is 75 ft from the rails." J. Carson
---
Poll Date: April
Total Votes: 17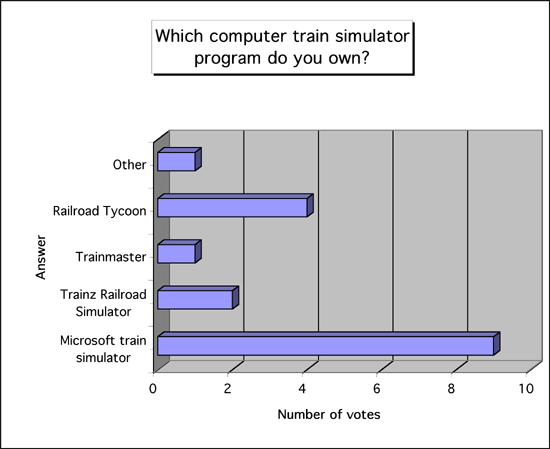 ---
Poll Date: March
Total Votes: 12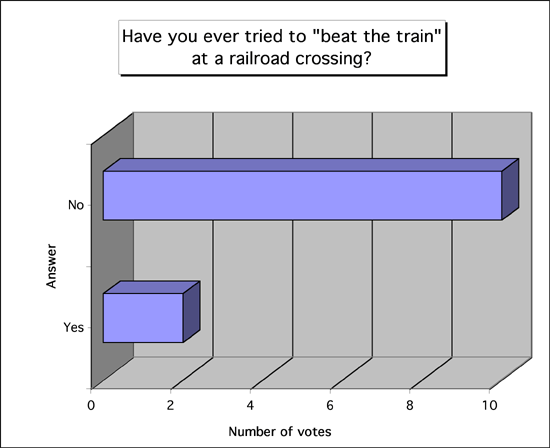 Comments:
"I'm always happy to sit and watch a train go by." P.Z.
"That would be a big no. I've pulled over to the side of the road to time my arrival to coincide with the crossing gate or lights on many occasions. Of course, the trick is to safely and seamlessly time the arrival to be in first position for optimum viewing!" M.E.
"Yes, of course – that way you get to the crossing first – so you can stop and watch the train go by without having other cars in front of you." M.L.
---
Poll Date: February
Total Votes: 11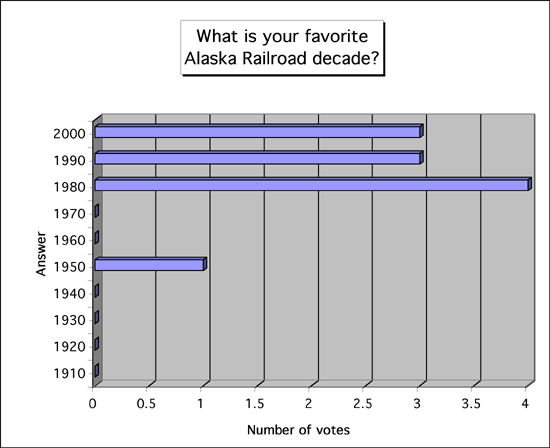 ---
Poll Date: January
Total Votes: 9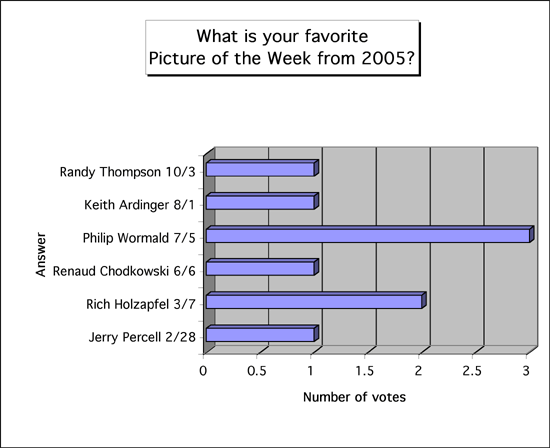 ---