The Wreck of the 801
by Charles L. Drum, retired ARR Trainmaster

The 801 was a steam locomotive built by Baldwiin Locomotive Company and was received by the Alaska Railroad in 1932. On August 23, 1950, it was in Work Train Service on the Nenana Sub-Division hauling gravel from the Clear Gravel Pit at Mile Post 392.2 to Dunbar the Standard area to raise the track and widen the road bed.
On August 23, 1950, Extra 1076 North left Healy headed for Fairbanks. The train consisted of three Alco locomotives, 68 cars and a caboose. The train had left Anchorage that morning. The Anchorage crew had brought Extra 1076 North to Curry, a crew change point at that time. A Curry based crew then handled the train from Curry to Healy. We were the third crew to handle Extra 1076 that day. It was a bright sunny day when we left Healy and it looked like we would have another uneventful trip. According to our train orders the Work Trains in the area were protecting against us, which meant we could run at track speed. Anyone in our way would have to flag us down.
Leaving Healy we had two deadheads riding in the caboose (ARR employees). A Road Foreman of Equipment and a Roadmaster who wanted off near Browne, where they would go Moose hunting. Conductor Lee had a message from the Superintendent authorizing them to ride the caboose. We stopped near Browne and helped them unload their gear.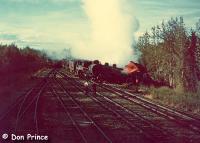 As we passed the Clear Gravel Pit we saw the Work Extra 801 and its crew in the pit loading gravel. One of the crew members rolled (inspected) our train, as we passed by and gave our caboose a highball signal as we went by. It is all down hill between Clear and Nenana so we had no trouble running at track speed, which was 49 MPH in that area. We passed Julius Section House as we headed for Nenana. I remember it was a good year for Rabbits and we could see them running in all directions on both sides of the track. Once in awhile we would see a Lynx (Wildcat). The Lynx would sit real still until the Rabbit would run close by, then it would grab the rabbit and eat it. As we approached Nenana, the Nenana agent called on the radio and told us we had a reefer car (an insulated box car with ice bins on both ends to keep the car cold) in our train that had to go back to Anchorage. He instructed us to set the car out on track one when we got to Nenana. He said the southbound freight would pick it up. It turned out the car was located toward the middle of the train. Because we were over tonnage we would have to double the hill out of Nenana to North Nenana (meaning we would take one half of our train to North Nenana the next siding, leave it and then come back with just the engines and pick up the rest.) Conductor Lee, because of tonnage restrctions, decided we would make the cut five cars north of the car to set out, ARR 11728. Then when we came back from North Nenana we would switch out car ARR 11728 and put it in track one. Our engines were stopped at the red board at the depot, I walked up inspecting our train on one side with Conductor Lee on the other. When we reached the last car that we were going to take on our first run to North Nenana we made the cut. Walked on up to the engines, we got our train orders from the agent and pulled out of North Nenana, leaving Conductor Lee in Nenana.
At that time the Nenana Depot had an agent and freight house. Freight was unloaded from rail cars and shipped down river by tug and barge. We had to cross the Nenana River Bridge, where on the north end President Harding drove a golden spike on July 15, 1923 to complete the Alaska Railroad from Seward to Fairbanks. In previous years the freight was ferried across the Nenana River in the summer and tracks built on the ice in the winter. The approach to the bridge is a 1 to 2 % grade so the engineer had the throttle in the eighth notch (wide open) as we left the Nenana yard. It was about four miles up to North Nenana where we would set out the cars we had and come back to Nenana with just the engines. The whole trip took about an hour.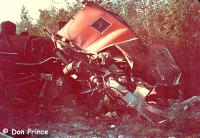 When we got back to Nenana we coupled to the rest of the train. Conductor Lee was there to make a cut on ARR 11728 and we pulled it out to place it into track one. Conductor Lee asked me to ride the car into track one and tie a hand brake on it. While I was doing so, I heard short repeated blasts from a steam engine whistle, a brakeman from a near by work train crew yelled at me to get down from there (at that time hand brakes on box cars were mounted at the roof level.) When I hit the ground I looked back toward our caboose just in time to see it take off and fly out into the nearby woods, away from me. It was followed by steam engine 801, which was pulling 30 cars of gravel and a caboose. The first two tank cars of jet fuel right ahead of our caboose were smashed on the ends and leaking fuel. I ran back to see if the engine crew was all right and met the engineer of the 801. He was concerned about who was in the caboose. I assured him that when we left the caboose over an hour ago no one was in it, but to be sure we had better go look. The caboose was a good fifty feet off the track and smashed so bad it never recovered. We did not find anyone in the caboose wreckage. Conductor Lee's suit case was smashed and most things broken, but mine was unharmed. The fireman had jumped before the impact so he was not injured, but the fireman's side of the 801 was crushed. The engineer had stayed with the whistle until the second before he had jumped. Some of the gravel cars suffered minor damage. The engine did not blow up, but steam was coming from the boiler and it was badly damaged. It was taken to Anchorage and scrapped.
Epilogue
My first 40 days on the railroad had been uneventful. I had worked the Anchorage Extra board for three days, working mostly troop trains to Whittier and back. I was then forced assigned to the 7:00 A.M. Seward Yard. There was no Seward highway at this time, I caught the mroning Brille car to Seward (a self propelled car with passenger seats, baggage area and engineer's cab.) In Seward I worked wih a very experienced crew. They were helpful in teaching me the Seward yard (track numbers, warehouse names and what to do. Especially engineer Dave Thompson. All have passed on to Railroad Heaven.
I was the flagman on Extra 1076 North even though I did not have the required amount of days on duty. I had one day more experience than the head brakeman. We had made the trip to Fairbanks and back to Healy about six times and were beginning to feel like old heads. After we found out no one was injured, the thought came to me the flagman's job was to protect the rear of the train. I first thought the wreck must be my fault. Then I remembered the yard limit rule. I remembered seeing the Yard Limit Sign coming into Nenana. We were inside yard limits, which should mean we did not have to protect the rear of our train because trains entering yard limits have to be able to stop short of any obstruction. I felt good I was not at fault, but felt bad for the engineer.
There were lots of rumors about the wreck of 801. One was the fireman was running the engine, another that the brakes on the gravel cars had not been adjusted as often as they should have. The federal inspectors from Seattle finally showed up and eventually blamed the wreck on the engineer. After an Alaska Railroad investigation, the engineer was fired. If I remember right, he was off about a year before he was allowed to return to work.
After much to do, we borrowed the work train's caboose, picked up the undamaged cars and departed for North Nenana where we picked up the other half of our train and went on to Fairbanks without incident. The head brakeman and I learned that railroading was serious business and one better pay attention to his job and the rules. We were not sure we would stay with the railroad, come winter. He quit and I stayed 28 years, left and then came back for two and a half more.
I enjoyed all my time on the Alaska Railroad. I worked the conductor's extra board for ten years straight and might work a different job every day which I liked very much. Yes, there were miserable times like packing knuckles and chains over the top of box cars at night in the rain because the engineer had pulled the train into by braking a knuckle or worse a drawbar. Fixing a hot journal at 50 below zero and hoping you could get to the next siding before it burned a wheel off. Running away on Jonesville hill (5% grade) with 50 cars of coal and a 15 MPH curve at the bottom of the hill. The section foreman from Palmer relined that curve every day. Feeling locomotive wheels lift off the outside rail at 43 MPH while you held your breath until you knew it was safe again.
Good things happened too. I met my wife while I was a conductor on the night passenger train to Fairbanks in 1957.

Charles Leland Drum
Seniority date as Brakeman July 10, 1950, Train Service
Drafted in Army, Army Rail Ft. Rich and Elmendorf AFB. March 1951 to March 1953, on base Yard Service and Yard Master
Brakeman again April 1953 Sept. 1954, Train service
Conductor Seniority date Sept. 1954, Train Service
Anchorage Yardmaster Seniority date, 1966
Anchorage Terminal Yardmaster 1972 until 1978
Federal Railroad Administration Safety Inspector 1978 until 1985. HQ Seattle covered eight western states and Alaska. Operating Practices and Hazardous Materials, retired 1985
Hazardous Materials Specialist Alaska Railroad Corp. 1985 to 1988. Resigned to retire.
37 years government service
You'll find additional photos here.



© 2002 Charles L. Drum