A Tour Guide's Most Funny or Embarrassing Moments
by Virginia Gray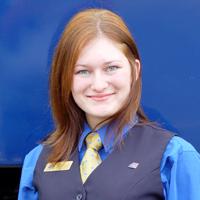 Misinformation
It was about June 2002, when all of us tour guides were still getting the hang of things. Katie and I were the tour guides that day on the Coastal Classic. We were heading South toward Seward when we came to Turnagain Arm. We looked out the window, and low and behold, there was Mt. McKinley! (or so we thought). Mt. Mckinley is the tallest peak in N. America at 20,320 feet. It is only visible 20% of the time, so this was one of the rare sightings. We announced over the PA that off to the right was Mt. McKinley, and gave some basic facts about the mountain. About ten minutes later, I was walking through C car and a passenger said "That's not McKinley, that's Mt. Redoubt." (third highest active volcano in Alaska). Mt. Redoubt is also rarely visible, and looks very similar to McKinley, so I asked Debbie in the gift shop and Harry the conductor, and they both confirmed our fears: We had misinformed the entire train! So...we got back on the PA and told everyone it was actually Mt. Redoubt and gave the facts on that, and mentioned how similar the two look, and if they wanted to, when they got home they could tell everyone the pictures were of McKinley.
Stay out of the conductor's office!
It was beginning of the season my second year, and it was one of the new tour guide's first trips on the Coastal. I'll call her Molly. The onboard supervisor wanted her to try saying one commentary story without her note cards at all, so she chose Kenai Lake. We were walking through the coaches checking on passengers when we looked out the window and saw Kenai Lake. We were in "C" car where the PA is in the conductor's office (I'll call him Hank.) It was Molly's first time doing the commentary without notes, and Hank kept making faces at her while she was speaking. She got through it ok, and he said jokingly, "Good, now will you get out of my office and leave me alone?" So I plopped down in the chair and proceeded to give the story of Nellie Lawing. (Short version: Nellie saves mailman from blizzard and becomes a hero.) During the story, Hank is making faces at me and commenting on my narration. While I was speaking, he was making comments basically implying that Nellie had a thing for the mailman and that's why she went to save him, things along that line.) I had to cut off during parts of the story to regain my composure, I was laughing so hard! When I had finished, the supervisor came rushing back and said "I knew you were back here! What happened? People thought you were being tickled to death or something!" We all had a good laugh, and learned exactly why tour guides are not supposed to be in the conductor's office!
You know you've got the commentary down when....
I'd say it was towards the end of July my first year tour guiding. I was working on the Denali Star, and that morning, I was very tired even though I'd had a large amount of coffee already. I had "C" car where the PA is located in the conductor's office. The conductor's office has a chair. :) I sat down to rest my legs while I proceeded to give the commentary for the Matanuska-Susitna Valley. It's one of the longer pieces we talk about, and about three fourths of the way through I dozed off. Not full-fledged sleep, mind you, but I was semi-unconscious so to speak. I startled a short time later, and it came to my attention that while I was dozing, I was continuing the narration! I "woke up" and finished up. Nobody mentioned anything odd about my speaking, so I assume I continued quite well until the end. I guess the saying "I can do it in my sleep" really is true!

© 2004 Virginia Gray