A Day in the Life of a Tour Guide
by Virginia Gray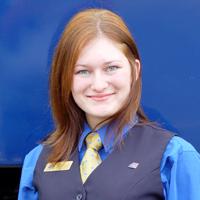 Coastal Classic (Anchorage to Seward and return)
6:00 am ~ Arrive at the depot. 1 of 3 jobs: Greet passengers at front doors, assist passengers at baggage check-in,or circulate inside the depot assisting passengers as needed and finding out if any passengers need a pre-board (wheelchair, mobility impaired, large tour groups, etc.)
6:20-ish am ~ One tour guide makes the boarding announcement once train is pulled up to the depot. The other tour guides put their belongings on their coaches.
6:30 am ~ "All Aboard!" Passengers board the train and find their seats. Some linger on the platform to take pictures of the train, each other, and the Anchorage Depot sign on the building.
6:45 am ~ Scheduled departure time. Introduce myself over the PA and give safety information and consist of the train (order of coaches). Walk through my assigned coach and hand out "On Board" magazines to passengers and answer any questions. Head to a dining car for some coffee!
7:15-ish am ~ Conductor makes the announcement he's coming through to collect tickets. Once tickets have been collected, the domes are opened and passengers can sit up there as they like. It's a first-come, first-served basis and we ask that they limit their stay to 20 minutes at a time so everyone has a chance to enjoy the view from up top. Dining car is usually open about this time.
9:00 am ~ I've probably downed about three cups of coffee by now. I think that'll keep me awake, alert and cheerful! Throughout the day tour guides give commentary on Alaska and Alaska Railroad history, points of interest along the way, point out any wildlife to be seen, and answer questions passengers may have.
11:00 am ~ Scheduled arrival in Seward. Deboard passengers.
11:30-ish am ~ Train crews turn everything around using a system of switches in Seward yard so we're facing northbound, ready to head back that evening. During this time tour guides are tidying up the coaches and restrooms. When my coach is clean, I change into "civilian" clothing and have the day to myself. My favorite place to have lunch was the Railway Cantina, just a couple minutes walk from the depot. Some of the best burritos I've ever had! If it's a sunny day (quite rare for Seward), it's nice to bike up to Exit Glacier, or walk around town/by the harbor, take one of the tours (Ididaride Sled Dog Tours was my favorite!) If it's a rainy day, it's fun to go to the Sea Life Center. The best part is the huge aquarium tanks with seals, sea lions, or birds. Usually, I'd just have lunch and take a nice little nap on the train.
4:45 pm ~ Wake up and put my uniform back on. Almost time to start boarding for the return trip.
5:00 pm ~ I'm at my step ready to greet passengers as they trickle back on board the train.
6:00 pm ~ Head back to Anchorage. Most passengers rode down this morning and like to sleep on the way up, so we do light commentary; just point out major points of interest (i.e. glaciers, wildlife) and give the shortened version of the major stories.
10:30 pm ~ Scheduled arrival in Anchorage, although the Coastal usually gets in a little earlier than that. Before pulling up to the depot, I give the deboarding announcement and tell passengers where to pick up baggage upon arrival. When train stops, deboard passengers and give further instructions as to where and how to pick up luggage. If anyone needs a hotel shuttle or a cab, I call the proper company and arrange that. Once everyone has a ride arranged, I fill out my timecard and go home, usually about 11:00 pm.
Denali Star (Anchorage to Fairbanks, or vice versa, with stops in Wasilla, Talkeetna, and Denali Park)
7:00 am ~ Arrive at the depot. Same jobs mentioned for Coastal.
7:30-ish am ~ Make boarding announcement as soon as train pulls up.
7:45 am ~ Begin boarding.
8:15 am ~ Scheduled departure time. Introduce myself, give safety announcements, pass out "On Boards", get my morning cup of coffee!
9:45 am ~ Scheduled stop in Wasilla. If no passengers scheduled to pick up, we go right through.
11:00-ish am ~ Scheduled stop in Talkeetna. We're usually stopped about 20 minutes or so due to the fact our pull contractors (Princess, Grayline, and RCT) do passenger change-outs. Our passengers usually ask why they can't get off here and get back on, but it's because we have no way of tracking who got off and needs to get back on, and it's too likely someone could be left behind! Scheduled departure is 11:25 am.
2:00-ish pm ~ We meet our sister train heading south from Fairbanks. The two trains pull up next to each other and stop. This is so all of us tour guides can hop onto the other train and get home tonight. The Fairbanks guides get on the northbound train and we get on the southbound train. Right now, the northbound train is about an hour and a half away from Denali Park.
4:20-ish pm ~ Arrive in Talkeetna. Another 15-20 minutes, then we depart at 4:40 pm.
6:05 pm ~ Stop in Wasilla if any passengers to drop off or pick up, then on to Anchorage!
8:15 pm ~ Scheduled arrival in Anchorage. Again, instruct passengers where to go to claim bags. When we arrive, direct passengers to baggage claim and call transportation for passengers as needed. When everyone is set up with a ride, etc. I fill out my timecard and go home!
Typical week is four days on and three days off, with a mix of Coastal Classic and Denali Star.


© 2004 Virginia Gray