Jason Kuehn's visit to Zurich
by Dieter Stehli

Strange, how things sometimes happen. On August 27 I sent pictures of two of my ARR diesel models to Randy Thompson and he suggested that I should send them to John Combs. On September 15 I sent an e-mail to John, introduced myself and attached those two pictures. John answered the same day, published the pictures on his website and copied Pat Durand in his mail. Pat in turn sent me a very nice message.
On September 16 Jason Kuehn saw the pictures in the internet and because he happened to be in Switzerland on business, he wanted to come to Zurich to see my models. Within just three days I had thus established contacts with three friendly ARR modelers, and of course I was keen to meet one of them in person.
Saturday morning I picked Jason up at the train station. How great to enjoy a full day of model railroading with somebody who could certainly answer many of my ARR questions!
We are fortunate to have three very well stocked American train shops in the Zurich area – yes, just American trains and better stocked than many a train shop in the U.S. – and I wanted him to see these. So we drove first to Feather Products and met owner Andy Dubs. Of the three, this shop is the one that has the largest selection of narrow gauge stuff. Jason was surprised to see how well stocked the shop is and to even find OMI drives in stock that he had not been able to find back home.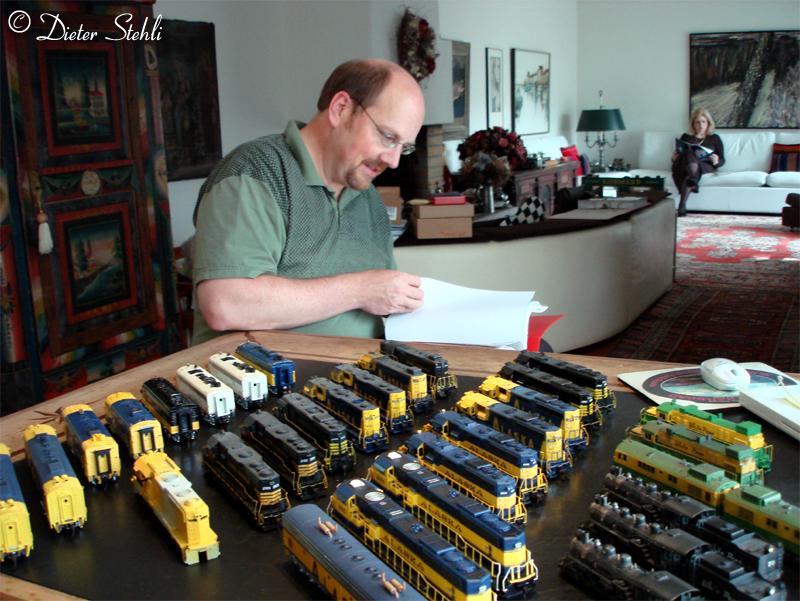 However, the purpose of Jason's visit was to see my ARR and WP&YR engines, so the next stop was at my home where I had set up an array of these models. Jason studied my documentation (two binders) picture by picture and compared them with my models. He gave me some valuable additional information, mainly regarding the roof configuration of certain models for which I did not have roof shots and where I will have to remove certain fans and/or the steam generator.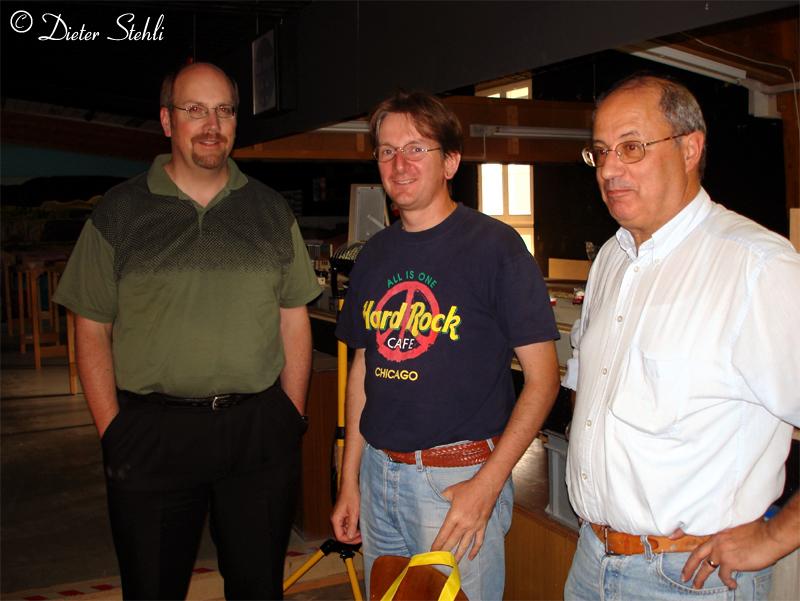 Then we drove to the layout room I am sharing with some friends, where we met two of my fellow modelers, Heinz Schindler (right) and Ferdinand Rat (center). Unfortunately the layouts are not in a presentation condition, as we are currently cleaning and retouching them, because three weeks from now a movie team of a German TV station might visit. Four years ago they already broadcasted a short report on our layouts and wanted to come back for taking additional footage.
Our next stop was at Old Pullman, certainly Number One in Europe for U.S. trains, where we met the owners, father and son Appenzeller. They have a very well stocked shop, but the bulk of their business is mail order rather than OTC.
To get to Trainmaster, a shop only open Saturdays and a regular meeting place for many U.S. railroad fans we took the car ferry across Lake Zurich. This shop always has quite a good selection of consignment brass. The owner of this shop, Werner Meer, is also the organizer of the monthly meetings of the American railroad fans and of the bi-annual "Convention for American Railroadfans in Switzerland", which this year already takes place the 13th time on October 14-15. If Jason's travelling schedule permits to attend, it would be great to see him back.
Meanwhile it was late afternoon and time to drive back to my home. My wife had originally intended to cook dinner for us, but Jason insisted to invite us to a restaurant (which permitted to leave the models on the dining room table and gave Jason additional time to inspect them). After a nice dinner, for which I thanked Jason I drove him to the station, where he took the train back to Basle. I have enjoyed a great day with him and hope he did too.
| | |
| --- | --- |
| | |
| Jason at at Feather Products | Jason at Trainmaster |
© 2006 Dieter Stehli