The Rail Grinder
by Richard Holzapfel, ARR Assistant Terminal Superintendent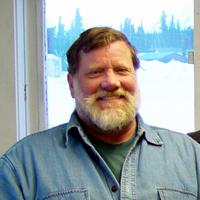 October 13, 2000
I picked up the RMS6 crew at the Comfort Inn in Anchorage at 8am. There were six crew members at this time, we drove to Bear Valley and waited for the tunnel to open for highway traffic at 9am. The weather was actually fairly nice for that area, it was only raining lightly.
At 9am the gates went up and the lights turned green and into Whittier we went. The barge was already at the slip so we went right to the slip to see how the RMS6 had survived its journey.
Everything appeared to have made the trip without any problems. The crew immediately started working on the equipment, undoing all the preparations that had been done in Seattle.
At about 530pm the tide was at the right height so we proceeded to roll the RMS6 off the barge and connect all three pieces back together. Of course by this time the weather had become real Whittier weather so it was raining horizontally, everyone was soaked in no time.
By 830pm we had everything ready so we got a track warrant and ran to Anchorage, we tied up the RMS6 on the Park Spur for the night and the crew moved in.

October 14, 2000
I had set up for a fuel truck and water truck for 8am to fuel all our tanks and water for the living quarters, as the grinder and its crew are self contained. After I got the fuel and water taken care of I told Gil the cook where he could go shopping for food, I gave him the keys to our hi-rail vehicle and I caught a ride to the airport and flew home to Fairbanks for one day off before we started grinding in Fairbanks on the 16th at 6pm.
October 15, 2000
On Sunday a train crew was called in Anchorage for 6am, and they took the RMS6 to Fairbanks, the trip went well with no problems of any kind, and everything arrived safely in Fairbanks and was tied up on the Coach track.

October 16, 2000
Tonight we went to work at 6pm, we had a job briefing with everyone who would need to be involved with the rail grinder. After the briefing, we ran the RMS6 to mile 17.8 on the Eielson branch to start grinding. After a few minor adjustments because of breakdown of the machine and reassembly we started grinding at 9:15pm. We ground without incident until 1205am when we stopped for a stone change. We stopped at approximately every 120 to 150 grinding minutes. When we would do a stone change the crew would only change the stones that were wore down to a certain point, we would change anywhere from 6 or 7 stones to 20 to 25 depending on wear. I guess I should mention that the grinder has a total of 96 stones that are grinding at all times when we are making passes on the rail.
Everything went well all night, we stopped again at 3am for another stone change and started grinding again at 4am. We ground to MP 11 on the Eielson branch and ran to the Bob Small runaround siding and tied up at 630am, we had ground for 372 minutes and ground 20.6 pass miles, I drove home to North Pole feeling like we had a successful day.
October 17, 2000
We had our job briefing at the Bob Small runaround at 545pm then we headed back to MP11 to start grinding again.
We started grinding at 645pm and ground until 910pm when we stopped for a stone change, start grinding again at 950pm, at 1205am we stopped at mile 6 for a small hydraulic leak, we started grinding again at 1210am, we ground to the north switch at the Bob Small runaround where we did a stone change while the 2008 oil train went by on his way to Williams refinery at North Pole. We started grinding again at 105am and ground until 435am when we cleared the 2007 on his way to the airport, so we changed stones.
We started grinding again at 515am and ground until 545am when it was time to stop for quitting time. We tied up on the Ladd Field main track. We had 395 minutes of grinding time, we did 23.93 pass miles, and we ground from MP11 to MP3.
October 18, 2000
Job briefing at the Ladd field main at 600pm, we started grinding at 625pm at MP3 on the Eielson branch. We ground right into the Fairbanks yard without incident, (except for many civilians who thought our train was on fire, and reported it to the authorities.), we finished the branch at 850pm and started south on the main line.
At MP 464 we had a moose come right out in front of us on the track so that was a thrill for John Redus the head end operator as he had never seen one before.
We changed stones at 915pm and again at 1250am, we finished grinding to MP 462 and returned to Fairbanks for the night.
We had setup for the next day before we left town to top off our fuel and water tanks on the grinder, this was one of my main concerns, to get fuel and water to us whenever we were close to road access areas.
We tied up on the coach track in Fairbanks.
October 19, 2000
Job briefing at 600pm, wait for south freight to leave Fairbanks, so we got rid of the used stones from our first 3 nights of grinding. At 525pm we left town, at 545pm we started grinding at MP 462, at 805 we stopped for our first stone change, at 825pm we started grinding again, at 1055pm, did another stone change at 120am when we cleared the 2006south at Dome, we went back to grinding after the passage of the 2006 and at 410am we tied up at Dome for the evening.
We had ground for 405 minutes, 23.95 pass miles, and stopped grinding at MP 453.
October 20, 2000
Job briefing at at 200pm, we've been moving our starting time up 2 hours at a time to get back on day shift since we are out of Fairbanks. We left Dome at 215pm to start grinding at MP 453, start grinding at 245pm. We ground all night with no substantial incidences, we changed stones 3 times and cleared the 4001 south at Saulich. The crew keeps asking me where all the animals are and all I can say is we must be making too much noise. We tied up at Standard at 210am. We stopped grinding at mile 438.8
October 21, 2000
Started again today at 200pm at Standard with a job briefing. I guess I should explain what a job briefing entails.
The job briefing lets everyone know what our plans for the day are, what kind of protection we have, i.e.. track warrant, form B, or flags, or both. It tells everyone who is taking care of the train traffic and about when we will have to clear trains.
Anyway we started grinding at 230pm, at 430pm we cleared the 4013 south and did a stone change, at 740pm we did another stone change and cleared the 3014 north, the coal train for Fairbanks.
My main goal today is to get close enough to Manley to be able to tie up there so I can get fuel and water to the RMS6.
Everything goes well and we stop grinding at MP 425, just what I was shooting for, Manley is at MP 421 so perfect!
We tied up for the night at 155am with 464 minutes of grinding time and 34.37 pass miles, our best day so far.
October 23, 2000
We took yesterday off while the RMS6 crew did maintenance and got fuel and water for their outfits.
Now we're on the day shift starting at 600am so we had our job briefing at 600am then went out to start grind again at MP 425.
Actually we had another uneventful day just grinding away, we are leaving a nice job behind us so everyone's pleased. We grind all the way to MP410 before we call it a day and tie up at Nenana, with 34.23 pass miles.
This is where I had to leave for a quick trip to the states on family business so I'll pick up again next time when I came back to the grinder on November 1.
November 1, 2000
I flew back into Fairbanks this morning with my family from South Dakota, I called the RMS6 as soon as I got into Fairbanks and was informed that they had made it all the way to Colorado in my absence. Also they could use my assistance immediately by bringing a vehicle and some parts from Fairbanks.
I left Fairbanks around noon with everything that was requested, the roads were in good shape for this time of year so I had a liesurely drive to meet the RMS6 at Hurricane as that's where they expected to tie up for the night. I arrived at Hurricane around 430pm and got setup with the water truck and fuel truck to top us off that night at Hurricane. The crew came in at 545pm and tied up, the fueling and watering began immediately, and I got the report for the day and drove to Talkeetna to spend the night there.
The rail grinder had done from MP 302 to M 285.6 and had gotten 36.73 pass miles.
November 2, 2000
Left Talkeetna at 400am to get to Hurricane by 600am. Again no problems on the drive up and we arrived at 545am just as we had planned. We had our job briefing and went back to grinding.
I can't remember anything special happening so it was an uneventful day. We ground from MP 285.6 to MP 271, and had 37 pass miles. We tied up the RMS6 at Chulitna, and again we drove to Talkeetna to spend the night. It was at this point in time that my good friend Lance Thompsen started working with me out of Talkeetna where he lives. I should mention also that now my helper on the RMS6 itself was another friend Jeff Casey, we worked well together and made a good team.
November 3, 2000
Lance and I left Talkeetna this morning at 345am via rail to get to Chulitna by 600am. The dispatcher helped out and let us get to Curry to meet the southbound so we wouldn't be late getting started grinding. We met the train at Curry perfectly and continued on to Chulitna to get the job started.
We had another good day with nothing unexpected happening. We ground all the way to MP 256 and had another 37+ pass miles of grinding. We tied up the RMS6 at Sherman for the night and headed for Talkeetna for the night.
November 4, 2000
We left Talkeetna at 420am this morning as we get closer to Talkeetna with the grinder we can sleep in!
We ran by rail all the way to Sherman and met the southbound right there, so we were able to go right to work behind them. We had another good day, but one interesting thing happened this morning. While Charlie Hibbler and I were back at MP 255.4 checking some curves we had already ground that morning two large wolves came across the Susitna river ice and came right up on the tracks in front of us. Charlie who worked for HTT the grinding company had never seen a wolf in the wild so he was impressed.
We ground to MP 240 today and got 38+ pass miles, we took the RMS6 on into Talkeetna for the night so we could take a maintanence day and get fueled and watered up.
November 5, 2000
The crew was on maintanence all day, I took our rail consultant ahead looking at curves we would do in the next few days. It was a beautiful day for November, it got up to 43 degrees so it was a nice day to be out.
To be continued...



© 2000-2001 Richard Holzapfel