Wednesday, June 11, 2014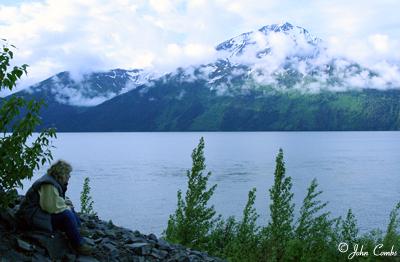 I don't do 5:30 AMs. It just isn't in my physical DNA anymore. However, there is an exception to every rule. Today would be that one exception. My goal was to mimic a June 4, 2013 Chris Paulhamus photo of a passenger train at picturesque Bird Point. Chris had agreed to meet my wife and I at our hotel at 6:30 AM and then take us to his super secret photo shoot point at Bird.
Terry and I first stopped at the hotel's breakfast bar and ate a hearty meal. Today I know that was a big mistake. The surgeon had used 18 inches of my intestine to create my artificial bladder and ultimately this would mean my digestive tract would be unable to handle my normal eating patterns for quite some time. I would pay dearly for this hearty breakfast later on in the afternoon.
We met Chris at precisely 6:30 AM and headed south for Turnagain Arm. As I have always been impressed by Chris's photos on Railpictures.net, I decided to pick his brain for Alaska Railroad photography tips and techniques. Rich Holzapfel, a retired ARR Section Gang Foreman, once told me 90% of a great photo is being in the right place at the right time. Through careful hunting and searching Chris knew the right places, but then utilized weather reports and sun angle software to determine the right time. Ah, the benefits of living in Alaska!
Once we escaped the urban sprawl of Anchorage I again felt those old familiar goose bumps. I don't care how many times I see it, Turnagain Arm never fails to make my eyes pop and my jaw drop. There is something spiritual about encountering one of the most beautiful places on the planet. Absent are the billboards, neon lights, concrete hulks and T-shirt shops. Motorists become immersed in mountains and meadows, whales and waterfalls, glaciers and green grasses, moose, Dall sheep, eagles and salmon. Indeed, there's enough beauty here to fill up several large capacity memory cards with digital photos. However, we had a train to catch.
As we pulled into Bird Point parking lot (mile 96) I immediately made my prerequisite rest room stop. Chris then led us quickly and quietly to his super secret photo spot. My agility still had not completely returned so I gladly accepted Chris's hand of support while cresting a particularly large boulder. It was then I discovered I'd brought the wrong focal length lens. Drats! Chris, the ever gracious host, loaned me his.
Having departed Ohio in 80-degree temperatures I found the "45 degrees in the shade" scenario to be a bit chilly for my liking. Terry kept herself warm by scampering like a miniature goat over the rocks and boulders to check out the various flowers, fauna and coastal scenery. I snapped a few photos of my guardian angel as she sat pensively on the talus slope.
Warmth immediately rushed through my body as the distinctive low rumbling sound crept in from the north. Within seconds the Coastal Classic passenger train came into view which was followed by the clicking and whirring sounds of our cameras. (Lineup - GP40 #3010, SD70MAC #4318, baggage car, GoldStar Ultradomes #656 and #656, coach 202, diner #351, coach 201, dome #502, coach #200). After catching the Classic we were surprised to see the northbound Cruise Train with my favorite locomotive #3015 leading the way! Chris suggested we follow #3015 back to Anchorage and grab a shot of her at the depot. We got there right at crew change time.
| | | |
| --- | --- | --- |
| | | |
| The Coastal Classic at Bird Point | Terry got a great photo from her pocket Canon camera | My fav locomotive stops by to say hi! |
| | | |
| Heading off the road to get a good (and legal) photo vantage point. | Chasing #3015 back to Anchorage | GP40 #3015 at the Anchorage depot |
| | | |
| Number 3015 was the locomotive that took us from Anchorage to Denali NP and back on our first trip in 1986. | Terry created this six part mosiac on the fly using her iPad. | |
Chris sure knew how to throw a railfan a good time as he suggested we achieve a trifecta and chase the Glacier Discovery as it headed south to Whittier. Spending our entire morning along Turnagain Arm sounded super to us plus it gave us plenty of car talk time to get to know Chris.
| | |
| --- | --- |
| | |
| Where's your lens cap boy? | Glacier Discovery south of Beluga Point |
| | |
| The Glacier Discovery crossing Twentymile River. I used a wee bit of Photoshop magic on this one. | Hanging glaciers and snowy mountain peaks at Portage Lake |
| | |
| The daily Glacier Discovery exiting Portage Tunnel and crossing Placer Creek at Bear Valley. | "There is something spiritual about encountering one of the most beautiful places on the planet." |
After thanking Chris for his gracious hospitality and dropping him off at his car we headed to the Alaska Marine Lines facility in Anchorage for a tour. Alaska Marine Lines offers twice weekly intermodal barge service from Seattle to Anchorage. They maintain a fleet that includes four 420' x 100' rail/container vessels fitted with rail tracks on the deck and 32 rows of overhead container racks. Freight is off loaded in Whittier and brought to Anchorage for storage and distribution. After finishing up, Terry had me check our handheld GPS unit for geocaches and there was indeed one at the end of the road. We parked within 30 feet of the final location and Terry found it almost immediately.
| | | |
| --- | --- | --- |
| | | |
| One section of Alaska Marine Lines | Mud flats and Alaska Marine Lines | Public road currently bisects Alaska Marine Lines |
| | | |
| Throwing in a Blazejewski drone photo of AML | Signing the log sheet of our first geocache of the trip | |
No trip is complete without a brief stop at the Alaska Railroad depot's gift shop. I bought two 557 pins while Terry did some serious window shopping. Our next stop was Wal-Mart to secure provisions for the entire trip. Every store I have ever visited had a greeter just inside the door. The Anchorage Wal-Mart had several greeters in the parking lot. They weren't friendly, but fairly aggressive and wanted us to share our cash with them. "Sorry, all I have on me is a credit card."
One of the greatest benefits of my alaskarails.org website is meeting lots of interesting people from all over the world. Two and a half years ago I began corresponding with Terry Douglas who had an interest in the Alaska Railroad, N-scale ARR models and the state itself. Eventually he moved to Alaska and based on his emails seemed to really love it. In January his wife Cynthia began working as a Business Systems Analyst (computer geek) for the Alaska Railroad so as far as I'm concerned they are both really living the dream. When Terry discovered my wife and I were coming to Alaska he orchestrated a dinner date at the Moose's Tooth (awesome pizza!) for the four of us.
Knowing there would be a substantial wait Terry and Cynthia were kind enough to go early to get a table. We spent our time chowing down on some delectable pizza and swapping stories. Terry shocked me by sharing one of the reasons he came to Alaska was my website. I admitted the benefit was mutual as the website enabled me to get to know fine folks like the Douglases.
Back at the hotel we caught up on Facebook, downloaded and uploaded the day's photos, checked email and made phone calls home.