Friday, August 12, 2012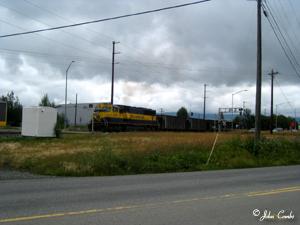 I slept in until 8:30 AM and spent my morning showering, uploading photos to Facebook and charging all my equipment for the plane flight. I did not have much time before catching my plane so I stayed around the Anchorage area and did a bit of geocaching. It was a dreary day with spitting rain throughout the morning and early afternoon. I found a half dozen geocaches, the last one of which had a special significance. Right after finding it I heard a nearby train whistle. Emerging from the woods I stumbled upon an SD70MAC pulling a string of empty hopper cars. My camera had already been packed away, but I had my cell phone with me. I grabbed it and took a token photo. It was a good way to end my time in Alaska.
My trip home was fairly smooth. I returned the rental car and the agents were incredibly friendly and fun. My trip through security screening was very fast and I didn't have to wait too long at the TSA screening area. The best part was I had decided to pay an extra $79 for a seat with additional leg room. An added bonus was being among the first to board the plane and thus avoid the masses who made a mad rush for the gate as well as the overhead storage bins. I watched movies on my iPod all the way so the flight went fairly quick. My layover was only an hour and a half and my connecting flight was on time. All poking aside, air travel truly is a marvel. For pennies per mile we travel quickly and safely. Early American settlers would laugh at our complaints. They faced severe weather, geographical obstacles, wild animals, Indians, bandits, starvation, disease and death. Maybe I should quit my belly-aching. Naw.
At the security gate at the Dayton airport my wife greeted me with an eye-opening kiss and hug, She had really missed little ol' me. She insisted on retrieving my bags and taking them to the car. Just call me spoiled. Although I always enjoy my time in Alaska, I must admit the best part of my trip is coming home.