Thursday, August 23, 2012
Every time I visit Alaska, Robert Krol creates an HO scale marvel to present to me in recognition of all the work I've done on my website. On past trips I have received two different GP49s, an MP15, Difco dump car and a center beam flatcar. During a cell phone call earlier in the trip, he said he had something very special for me and he added he didn't have a clue how I was going to get it home. He said he would only have one opportunity to meet with me during my trip and that would be in Anchorage this morning. It would also mean I would have to get up at 7:30 AM so as to drive from Wasilla to Anchorage before he finished his task and departed. This was just asking too much so I told Robert to forget it. There was just no way I wanted to do that. Ouch! Man, it hurt to type that out on the keyboard! Seriously, I got up on time and sped down to Anchorage as I was not going to miss out on this one!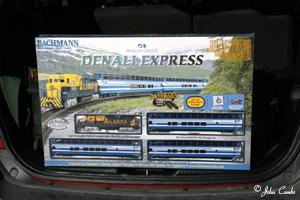 I stopped by McDonalds to get two sausage McMuffins. The homeless man was still sitting on his stool except now his sign had changed. It still read, "Homeless. Need help." However, he had added a note to the bottom which read, "No food. Just money please." All I could do was laugh.
I met Robert in the front of some hotel (they all look alike to me) in downtown Anchorage. We spent a few minutes catching up and then he retrieved my gift. I was shocked to see the HO scale Bachmann Princess Cruise's Denali Express set which was comprised of a GP40, three Princess ultra-dome passenger cars, track and a power pack! I knew Bachmann was creating these, but knew they weren't going to be available to the public for at least six months. Since Robert works for Princess, he was able to finagle one in advance. This was definitely a very cool gift indeed! After presenting me with the the gift, he saw his crew had finished unloading the truck and said he needed to go. I immediately went to the UPS Store and mailed this treasure home. I then finished up the morning uploading photos to Facebook, typing away on my trip journal and recording trip expenses.
Another little birdie called my cell phone to let me know an 8,000-foot long empty freight train was headed from Anchorage to Whittier. Although I had shot a ton of photos along Turnagain Arm this trip I could not refuse the deliciousness of capturing this monstrously long train as it snaked along the curves. At the speed of a photon I headed out to the arm and caught the freight just as it got to Potter Marsh. I had a blast chasing and photographing it all the way down to Bear Valley.
However, an interesting event happened as I entered the Portage Glacier area. Did you know the speed limit drops from 50 to 35 mph just after going through the highway tunnel at Portage? I saw the sign, but did not slow down as I wanted to catch the train on the bridge in Bear Valley. Unfortunately, a park service vehicle coming head on was clocking my speed with radar. Drat! I knew I was caught so I immediately pulled over to await the officer and my impending speeding ticket. The officer turned on his flashing lights, did a U-turn in the road and immediately came back after me. However, he went past me! Thinking maybe he had an emergency call elsewhere, I got back on the road and drove towards Bear Valley. He came head on again with his lights flashing. I parked in the lot across from Bear Valley and awaited my ticket. Again, lights a flashin' he drove past me! So I walked across the road and waited for the freight train. He drove past me again and that was the last time I saw him. Maybe I should have been a stealth fighter pilot.
| | | |
| --- | --- | --- |
| | | |
| Sunshine on her face | I stood on top of the rental car to get this shot | Keep on a rockin' me baby! |
| | | |
| Freight cars trailing off into infinity | Crossing the bridge at Bear Valley | |
I am grateful my wife arranged for a rental car with unlimited mileage. I had spent a good portion of my trip on the road and now I'd be driving from Whittier tunnel to Wasilla, adding another fist full of miles. I picked up lunch enroute and then set my cruise control so as not to tempt fate again. It was late afternoon when I pulled into the Live Steamer's track and I immediately spied Jack Klingbeil off to the side working on some machinery. Jack had been gracious enough to give me a personal train trip and I was also looking forward to seeing their new facilities.
The Live Steamers were forced to relocate after 21 years when the Wasilla airport expansion terminated their lease. The new 20-acre space off W. Riley Avenue currently has 1,400 feet of track, but will triple in size in the next few years. Jack added they had only been open to the public for a little over a month and lots of construction was currently underway. He introduced me to Vicki who assisted with construction and served as the on-site caretaker.
Being someone who can barely replace a rubber washer on a faucet, I was amazed by the top notch construction of the track and facilities. Chain saws, a mini-excavator and Gators were used to clear the right-of-way. Fill material was added, geo fabric inserted, steel rails, plastic ties and ballast installed.. I'm sure the summer's heat and the hoards of mosquitoes made the job all the more challenging.
As Vicki fired up the SD70MAC, Jack yelled over the roar to hop aboard. With a slow gentle tug we got underway. I loved the slow gentle pace of the 1/8 scale train as it glided along the newly-laid track through the birch and evergreens. Little structures were scattered all along the line and the halfway point was marked by a 10-foot wooden Howe truss bridge crossing a little creek.
On our second time around, Vicki spotted a moose and stopped the train. I got off and walked toward the front of the train until I spotted the moose. Unfortunately, the moose bolted just as the camera's shutter closed so it was nothing more than a blur in my photo. My time at the track went too fast, but I must admit I had a fantastic time. I am looking forward to coming back in a year or two to see the addition of two more loops!
| | | |
| --- | --- | --- |
| | | |
| Entrance to Live Steamer's track | Vicki takes Jack and I for a ride on the new track | There are lots of hand built structures along the line |
| | | |
| A little cabin in the woods | Crossing the creek via a Howe truss bridge | |
Here are the videos:
My last "duty" of the trip was to attend the open house for #557. I arrived about 15 minutes early and saw crew members still working on #557. Although unplanned, this was a great way to show supporters that restoration work was already underway. This was not your grandpa's static display! Lots of noteworthy folk were in attendance including Jim Posey, General Manager of Anchorage Municipal Light and Power, Pat Shake, Vice President of Transportation/Mechanical of the Alaska Railroad and Robert Franzen of Steam Services of America. After everyone had a chance to look #557 over and get some photos, Pat Durand conducted a brief meeting sharing the plans for #557 and stressing the importance of locating funds and equipment. The surprise of the evening came from retired ARR employee Jerry Peters who had the old number board for #557 and planned on placing it on the locomotive once it is fully restored.
| | |
| --- | --- |
| | |
| Art Chase (yellow hat) cranking down on a giant wrench | Pat Durand talks with Robert Franzen and Jim Posey |
| | |
| Just a few of the folks who attended the open house | Pat Durand (in reflective vest) tells about future efforts to refurbish #557 |
Once the open house ended I accompanied Dave Blazejewski and Frank Keller to Red Robin for a late hamburger and fries feast. Dave needed a ride back to Anchorage and I agreed to take him. Once we arrived in Anchorage, Dave directed me first to a location near the depot. He said this would be the perfect location for a railfan webcam since it not only showed trains, but ship/COFC traffic on Cook Inlet. I pledged the next time I have the railroad's ear I am going to push for a webcam for this spot.
It was midnight by the time I returned to Pat's camper. The 18 hour day done I crawled into bed and drifted off into unconsciousness.