Thursday, July 15, 2010
After a hot shower, a sausage McMuffin, and a full tank of gas, I was ready to head to Whittier for the barge loading ballet. The sky was an overcast gray with slight sprinkling so I hunted for a radio station to compliment the mood. I stumbled upon FM 88.3 NPR which featured Ozark music. As I waited to enter the Anton Anderson Tunnel, I listened to "Come from the Heart" from the album Old Friends by Guy Clark. Although I am not a fan of Ozark music, for some strange reason, this song really struck me today.
You gotta sing like you don't need the money
Love like you'll never get hurt
You got to dance like nobody's watchin'
Its gotta come from the heart if you want it to work

| | |
| --- | --- |
| | |
| MoW train with Porta Potty | Mountainous scenery on the arm |
| | |
| Time to cough up $12 | Just inside the tunnel |
I always consider driving through the 2.5 mile Anton Anderson Memorial Tunnel a real $12 foamer treat. Not only is it the longest highway tunnel in North America, but it is shared with the Alaska Railroad as well. There are several videos of the complete journey on YouTube, but this one is so folksy that it is my favorite. You can even hear the jet turbine exhaust fans as he passes under them.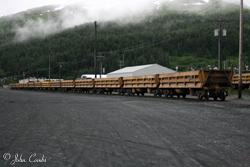 I drove to the barge loading facility's security gate and told the agent to let my escort know I had arrived. While I waited, I donned my high visibility jacket, safety glasses, hard hat and steel toed boots. After my escort arrived, we first made a stop to watch Difco dump cars drop loads of gravel into the yard. [Click here for the 3.8MB video of John Britt emptying a dump car.] The whole area was abuzz with activity due to the installation of the new hydraulic ramp system. This would replace the twin towers which used weights to raise and lower the loading ramp. A new all-weather control shack was being installed as well. The entire freight barge slip rehabilitation would cost over $3 million and also included new mooring fenders, sheet pile wall, decking, slip pass-pass, camels and dolphins. The front unloading area was the final replacement in 2010 with ARRC and Lynden each funding $2 million. My escort gave me a life jacket and safety briefing before putting me in a safe zone so I could grab some digital goodness. [Click here for the 4.9MB panorama video of the construction area.]
| | | |
| --- | --- | --- |
| | | |
| Crane installing the new hydraulic lift | Remote control pack for ramp operations | New all-weather control booth |
| | | |
| Barge ready for freight car loading | COFCs up top | |
My escort informed me the barge can hold over 50 railcars on the first level and over 100 trailer containers upstairs. To prepare for barge unloading, steel cables are connected from hoists stationed on the dock to the barge. Hoists are then used to pull the cables left or right until the rails on the barge are aligned with those on the dock. Once this occurs, a temporary connection is put in place. Now railcar freight can be loaded/unloaded. Today GP40 #3003 would serve as the yard goat. In front of 33003 were several flat cars known as idler flats. What is an idler flat? I'm glad you asked. The joint between the barge and the dock is very weak. In order to avoid losing freight or locomotives, old flat cars are used to serve as a connector between the two. Flat cars work best for the task since they are lightweight and do not block visibility. Now let the unloading begin!
| | | |
| --- | --- | --- |
| | | |
| Ready to load freight | Here comes the cut | Locomotive and idler flats |
| | | |
| Tank cars entering the barge | Tying them down | Ready to go! |
| | | |
| Ready to load the next section | Box car coming aboard | A gondola filled with scrap |
| | | |
| Graffiti express | More freight to load | Barge almost filled |
| | | |
| Tying them down | Last cut of freight | Loaded and ready to go |
And here's the video:
Just as the freight loading ballet was coming to an end my cell phone rang. Alaska Railroad Transportation Superintendent Dave Blazejewski wanted to know if I would like to join he and his wife Deanna for dinner. Is the Pope Catholic? Does a one legged duck swim in circles? Does it snow in Alaska?
Once again I headed out on the spectacular Turnagain Arm drive keeping an eye out for moose, Dall Sheep and crazy drivers. Although this drive is very beautiful, it is also the most dangerous highway in Alaska. Many sections are only two lanes and some drivers simply don't have the patience to wait for the passing lane. Today was no exception. One young motorist in a large pickup truck passed me only to discover he could not also overtake the next car as well. If I had not jammed on my brakes, he would have struck me as he swerved back into my lane. He did not learn anything from this encounter as he quickly leaped back out into oncoming traffic to pass the car in front of me. He kept leap frogging cars as we continued up the arm and had several more close calls.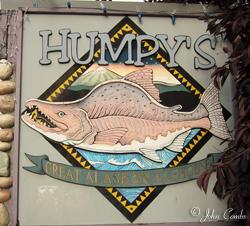 I met "Blaze" at his office in the Anchorage Operations Center. As we looked out the window into the yard, he pointed out GP40 #3006 moving a cut of freight cars. He explained the shops had replaced the plow to accommodate front steps to allow switching service. Now that the MP15s were gone the railroad had turned to its GP40s to fit the bill. The test was successful and several more GPs would receive this modification as well. So it looked like model railroaders will have to do some kit bashing and hunting for a source to provide the newly designed plow.
I am always on the lookout for new and great dining places. Blaze and Deanna suggested Humpy's Great Alaskan Alehouse and were shocked to discover I had never eaten there before. Once I walked through the door, I knew it must have tremendous food (and beer) as there was no open seating anywhere. After wandering around like urban parasites, we eventually grabbed a freshly vacated table. The food was excellent and the prices were fairly reasonable. Although I am not a connoisseur of the brew, Blaze assured me their draught beers were among the best downtown. I gave this place two "thumbs up" and would advise you to put it on your "must do" list.
The day ended in my typical WiFi, email, photo dump, journal entry fashion. As I had passed the half way point of the trip I did laundry at the condo as well.