Tuesday, July 13, 2010
When life hands you lemons, make lemonade. My morning plans had fallen through so I switched gears and set my sights on accomplishing a few miscellaneous things. After showering, eating, backing up photos and working on my trip journal I headed to the Alaska Railroad gift shop to get some much desired memorabilia. Next, I made the super short drive to the historic freight shed. This refurbished freight shed will offer approximately 36,000 square feet of office space to a number of tenants. The renovation was certified under the U.S. Green Building Council's Leadership in Energy and Environmental Design (LEED). This is but one step in the railroad's vision to revitalize the Ship Creek area. As I drove around the building, it appeared all work had been completed and tenants could soon move in.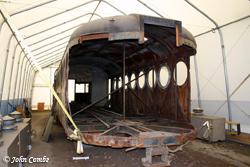 After seeing this remarkable refurbishment job, I thought I'd go check the status of the McKeen car refurbishment. To digress a bit, the McKeen Car Company of Omaha, Nebraska built 152 internal combustion-engine railroad motor cars from 1905-1917. The Alaska Railroad owned one of those McKeen cars (construction number 83) during the 1940s. After its retirement, it changed hands a few times until it was purchased in 2004 by Anchorage Historic Properties. During my 2008 trip, two Alaska Railroad employees helped me to locate it under a large white canvas enclosure on Orca Street (take Post to Viking to Orca). I now was a little concerned since the Anchorage Historic Properties website had disappeared since my last railcar visit. However, once I drove onto Orca Street I immediately spotted the ginormous white canvas enclosure (N 61 13.376 W149 51.289). I peaked through the window on the front door and saw the McKeen car was still there. Unfortunately, it appeared unchanged since my 2008 visit. Hopefully, efforts to restore this will continue as there are only six surviving units. Those interested in seeing a fully restored unit should visit the Nevada State Railroad Museum.
I left Orca Street and headed back in the direction of the yard. As I turned back onto a Post Road I spied a SD70MAC #4007 near the end of the yard. I pulled off onto the berm (N 61 13.876, W149 49.840), turned on my emergency flashers and shot about a dozen photos of what appeared to be a crew that had finished their run.
| | | |
| --- | --- | --- |
| | | |
| SD70MAC #4007 | Magnetic key holder geocache | Fireweed along pedestrian trail |
| | | |
| Cache is hidden under the pile of logs | Log book, trade items and GPS unit | Geocache hidden in flower bed |
| | | |
| Bicentennial caboose #1776..... | ...is now the Iron Horse Express | |
My evening's activity was to attend a large geocaching gathering called a GeoBBQ. While planning my trip, I thought it would be very cool to meet geocachers from the great state of Alaska so I looked up events that were offered during my visit. This event (a meet and greet cookout) was held in Eagle River so I decided to "cache" my way to the event. I first picked up a few in the Anchorage area. One of them was a magnetic key holder put on a metal bridge along a pedestrian/bike trail. As I headed out of Anchorage, I stopped for a geocache at an old weigh station on the Glenn Highway. This time the container was an ammo can. I found it 30 feet into the woods under a pile of logs. After signing the log book, I traded for a single use insect repellant packet. Unbeknownst to me, this would become very important later on in the day. Once in Eagle River I picked up another half dozen geocaches. One was a 35mm film canister hidden in a beautifully landscaped area. During my drive, I stumbled upon the Alaska Railroad's former bicentennial caboose (N 61 20.023, W149 33.834). It had come back to life as the Iron Horse Express.
Life is just so full of surprises. I arrived at the park at 6:30 PM and found a picnic shelter full of elderly women. I knew this couldn't be right for a geocaching gathering, but I sat down at the table to see how this one would play out. All the women gave me the skunk eye.
"I am looking for the geocaching gathering, " I said.
"That," she stated emphatically, "is at the other end of the park. You really aren't supposed to be here. This is for quilters only." she grumbled.
"Yes, you really aren't suppose to be here," added another.
I immediately departed so as not to risk being shot as a spy who overheard any of their super secret quilting bee stuff. The other end of the park turned out to be much friendlier. As the geocachers had lost out on the use of the picnic shelter, one of them brought in his oversized flatbed truck to use as a table. One of the geocaching families had provided the meat while another had brought drinks. All the other geocaching families had brought either a salad or dessert. It really was quite a feast! The rest of the evening was spent meeting people, swapping stories and handing out door prizes.
| | | |
| --- | --- | --- |
| | | |
| The banquet table | "Geology Barbie" pigs out | Geocachers group photo |
One of the cachers I met told me the best geocache he had ever done was called "Flirting with Fun Guys" and was just a mere 15 minutes down the road. How could I resist? The parking coordinates took me into a fairly new housing development with a trail that lead off into a heavily wooded area. As I began the hike in I was instantly covered with blood sucking mosquitoes who were about to enjoy a banquet of their own. I picked up the pace in hopes of eluding them, but all I seemed to do was to make them hungrier. As I arrived at ground zero I began searching the obvious places for the hidden cache. After several minutes, I decided to take a few steps back and use my powers of observation, all the while swatting the air to keep the winged vampires at bay. One thing geocaching has taught me is to pay attention to detail so as to spot something that might be out of place. Using those lessons learned I quickly spotted the geocache. I retrieved the container and tried to sign the log book, but the mosquito's were just too fierce. It was then I remembered I had the packet of insect repellant. Once I had plastered all exposed skin with this precious liquid, the little boogers retreated just out of reach of my skin. A double victory! So would you like to see how you would have done with this geocache?
Click here to view the scene at ground zero. See if you can find what doesn't belong.
If you think you see it then click here to see if you were right.
To reveal its hiding place then click here.
Pretty wild, eh? Somebody went to a lot of trouble to create that one and you can imagine the joy of discovery you get when you finally figure it out. Yes, most geocaches are fairly simple, but a few of them will absolutely amaze you.
The drive back to Anchorage was pretty uneventful with the exception of an Anchorage police officer running radar from behind a bridge abutment on the Glenn Highway. The guy in front of me was speeding and tripped the trap. The officer pulled out in pursuit. Unfortunately, the officer pulled out right in front of me. If I hadn't slammed on the brakes I would have hit him. But hey, at least I wouldn't have had a problem finding a policeman to fill out the accident report for my insurance company! LOL
I stopped at Wendy's again for food and Wi-Fi. Back at the condo, it was as quiet as a library. Louise had flown back home and I was all alone tonight with my thoughts. I sure missed seeing Don at the end of the day.
The last task of the day was to ensure everything was recharged for tomorrow. I put the cell phone into its cradle, plugged the camera and cell phone into the wall outlet and slid my body into the bed.