Wednesday, July 16, 2008
Terry and I had breakfast with retired ARR locomotive engineer Frank Dewey at the Mixed Grill restaurant in "The Towers" next door to Don's condo. Frank loves to give his prized possessions away to friends. Thus, I became the recipient of two large framed and matted Alaska Railroad steam locomotive builder's photos. It was an awesome gift indeed and I vowed to ship them home professionally. On a previous trip, he gave me a large framed Alaska Railroad train painting. I chose to box it up and check it as baggage on my flight home. By the time it hit the baggage carousel in Dayton, the box was badly damaged and torn open. The painting was fine, but I realized just how extremely lucky I had been.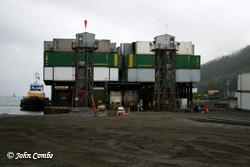 Today's special activity were to observe barge unloading at Whittier. Ted Woodward was handling the operations there and we met him at the security gate. Terry and I donned our high visibility jacket, safety glasses, hard hat and steel toed boots. Ted then supplied us with life jackets and a brief safety talk. As we walked out toward the dock, Ted explained that three companies had freight on board the barge today - Alaska Railroad, Lynden and Northland Services. He said although the barge can hold over 50 railcars, only 41 were on board today. The second level was fully loaded and held over 100 trailer containers which would be fork lifted off and loaded onto railroad flat cars. Ted directed Terry and I to a 100' x 30' safe zone nearby where we could grab some photos and video while staying out of harm's way.
To prepare for barge unloading, steel cables are connected from hoists stationed on the dock to the barge. Next, the hoists are used to pull the cables left or right until the rails on the barge are aligned with those on the dock. Once this occurs, a temporary connection is put in place. Now railcar freight can be unloaded. Today GP38 numbers 2002 and 2008 would serve as switchers. In front of them were two flat cars known as idler flats. What is an idler flat? I'm glad you asked. The joint between the barge and the dock is very weak. In order to avoid losing freight or locomotives, old flat cars are used to serve as a connector between the two. Flat cars work best for the task since they are lightweight and do not block visibility. Now let the unloading begin!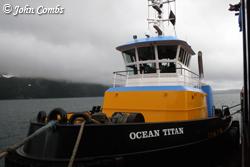 I am always intrigued by the variety of items that emerge from the barge. Yes, there were your typical tank, hopper and box cars. However, we also saw large construction equipment, fishing boats, army vehicles and some stuff that defies description (see photo above of steel poles with yellow caps). The entire process of unloading all the railcars on the Anchorage Provider barge took a total of two hours and ten minutes. [click here for 21.2MB video] Now that it was empty, Ted let Terry and I walk on board. Call me silly, but I was pretty excited to be actually standing on the barge's deck. Terry didn't seem to think it was a big deal so I guess only hardcore foamers (such as myself!) could appreciate an experience such as this. Ted gave us a brief barge tour and taught us how a barge actually works during the unloading process. To help keep itself level after several rows of freight cars have been removed, onboard ballast tanks compensate by draining their water. The barge has six ballast tanks for leveling and it takes approximately 40 minutes to pump each one dry.
Several employees came over to chat and I was surprised how many of them were fans of my website. Ted then introduced me to Brett Spencer who works for the Western Towboat Company. He is the captain of the tugboat Ocean Titan that brought this barge from Seattle to Whittier. Brett offered to give us a tour of his vessel and Terry and I both politely declined. [Gasps of horror from those reading this journal] Just kidding! Of course, we agreed to a tour! What do you think I am? Stupid? Don't answer that.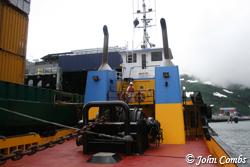 As we boarded the Ocean Titan Brett explained tugboat operations. There are five men on the crew, a captain, two mates and three workers. Before leaving the Alaska Railbelt Marine terminal in Seattle, Washington, three guys board the barge and spend 1-2 hours checking on the tie downs. Once the boat leaves the terminal, Brett will pilot the tugboat for an eight hour shift while the two mates will take the other shifts. Total trip time is typically on a three week cycle taking one week to get from Seattle to Whittier and one week to get back. They run the tug 24 hours a day and make approximate 11 mph on calm water. The captain will tow the barge .4 miles behind the tugboat while in the ocean and .17 miles behind while in the Inside Passage. He also must make sure the line doesn't get too tight. Typically they stop every day to board the barge and ensure the refrigerated units are running at the correct temperature.
We entered the bridge and I was amazed at all the high tech electronics gear it housed. The radar not only detected nearby ships, but provided their name and type. Equally impressive was the GPS van unit and command center. However, what I really loved was the XM satellite radio feed and wireless broadband Internet. I noticed the laptop had a beautiful ocean backdrop screen. When I asked, Captain Brett admitted taking the photo himself. Turning to the laptop, Captain Brett brought up numerous photos and video of the many journeys he had taken. What did I do? I begged him to let me use some of these on my website.
There were also two pistol grip joysticks on the console. They are used to control the twin Z drive Caterpillar #3516 engines. The Z drives generate a total of 5,000 hp. They have no rudders, but can point the propellers 360 degrees. The windows are all heated and the vessel is equipped with central heat and air conditioning.
Captain Brett then took us through the various levels of the tugboat. Terry and I both were amazed at how big this little tug really was. It boasted a full galley complete with oven, stove, broiler and dishwasher, crew quarters, exercise equipment area, food storage and an enormous engine room. Terry was awestruck by the cleanliness of the tugboat. As she said, "The floors are clean enough to eat off of them." We saw not one rust bolt or dirty corner. It is obvious this crew takes great pride in caring for their craft. We thanked Captain Brett over and over again for a truly phenomenal tugboat tour.
As we exited the tug, the longshoremen were jumping into action. Using giant forklifts they went into a synchronized ballet of unloading the container freight from the top deck of the barge. It is amazing to watch them gracefully unload a container from the front port side, quickly pass by the forklift unloading the front starboard side and then pass the container onto a smaller forklift that will load it onto a railroad flatcar. The whole process is free of mistakes and wasted motion.
| | |
| --- | --- |
| | |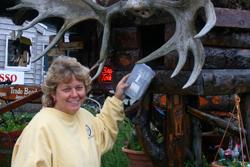 We returned our life jackets to Ted and thanked him for being such a great escort. Before leaving Whittier, however, we needed to do one more thing - retrieve at least one geocache. I got out my GPS unit as Terry read the cache description sheet. We drove to ground zero and Terry found the geocache (shown at left) before I had even gotten out of the car. With our final checklist item accomplished, we headed quickly to the tunnel to catch the next window of opportunity. Feeling a little bit inquisitive, I used my GPS to measure the elevation at both ends of the tunnel. As it turned out, the Whittier end of tunnel is 75 feet above sea level and the Bear Valley end is 164 feet above sea level. You might want to hold onto this piece of information for the next time you are playing Trivial Pursuit. You just never know when it might come in handy.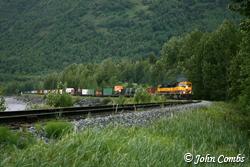 As we drove back to Anchorage, we encountered a southbound freight train. Try as I might, I could not find a very good place to snap the shot. Eager to get back to the condo for dinner with Don, I just settled for the closest thing I could get. It was not the best, but it would do.
Derek had dinner ready as we walked in the door. When the dishes were done, I gave Don a photo debriefing of the day's events while Terry made cake and chocolate chip cookies. As we nibbled on dessert, I asked Don if he would mind having Terry interview him for his life's history. He agreed and Terry spent the rest of the evening asking questions and typing up his answers on her laptop. There were some sad stories while others left us rolling on the floor with laughter.