Friday, March 12, 2004
Now there's a totally depressing thought - it is my last day in Alaska. It is at this point that I realized I just need two more days! Note to self: Add two more days to my next ARR trip! I packed my bags and made one final eBay check with Don.
I stopped by the yard office, found the amazing Curt Rudd and thanked him for all his help during my visit. Incredibly, he thanked me for all I had done for the railroad.
My plans were to spend the rest of the day at the headquarters building. First stop was the plans and drawings folks, Brandon Frazier and Mike Grunwald. I had heard these guys had some really cool stuff. And they did! They have engineering drawings as far back as 1915, old structural photos and even project foreman's notes. The older drawings were all done on linen and thus had held up admirably over the years. Since I was currently doing some research on the Hurricane Gulch Bridge, I threw this out as a challenge for them. After a little searching and digging they hit the jackpot. They had 20-30 original drawings for the bridge, each one showing specific details on how to assemble it. Brandon made a copy of the drawing for me using a large HP copier that could also scan the information to CD.
Several minutes later Brandon excitedly brought over a file folder containing more detailed information. Apparently, the bridge was reviewed in 1956 for inclusion on the historic register. There were lots of photos plus a slab of documentation. Digging deeper into the file I found the original construction foreman's notes dated 1921! Brandon and Mike let me make copies of some of these. I could have spent weeks in this department, but knew I would have to move on or miss out.
My Alaska Railroad counterpart, Willow Peyton ARR webmaster, was my next stop. She must be doing pretty well for herself since she had left the depths of the lowly cubicles (like what I sit in at work – gak!) and moved into an office with real walls. We spent about five minutes discussing the success of the online booking and online gift store projects. She admitted sending out an e-mail to all the employees citing my website and asking everyone to help me while I was in town. Jerry VanThomme, computer support technician, happened to be passing by her office and recognized me. As the three of us talked, Willow mentioned the locomotive simulator was currently in operation and asked Jerry if he would take me over to see it. On the way to the simulator, Jerry took me through his work area to show me the new HP computers he was installing at everyone's desks.
The simulator consists of a laptop connected to an overhead projector that displays a locomotive engineer's forward view onto a wall. The laptop is also connected to a super cool engineer's station complete with SD70MAC-type floor, seat, controls and displays. The simulator is currently being leased from BNSF for the rest of this year. As the technician set up a demonstration for me, locomotive engineer and friend Frank Dewey stopped in. Frank asked if I wanted to go to lunch with him and I agreed. Just as the simulator got up and running, senior locomotive engineer Dana Godfrey came in. Both engineers discussed how accurate they felt the simulator really was. They agreed the biggest shortcoming was trying to simulate "slack" conditions for a pair of SD70MACs pulling a full load.
| | |
| --- | --- |
| | |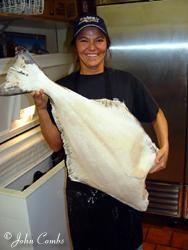 Frank and I chose to eat at The White Spot since it would be a new dining opportunity for me. This top rated restaurant has been in business since 1959 and had many noteworthy figures eat here. Walking into this eatery is like walking back in time. Seating is strictly at the counter, food preparation is done before your eyes and freshness is paramount. Frank and I ordered hamburgers, but the halibut also looked incredibly tempting. The hamburgers were cooked fresh, the French fries were cut by hand and the Coke was served in real Coke glasses. It was a tight fit in this small restaurant and we had to wait a bit, but most of the customers were regulars and were very friendly. Jennifer the cook moved a mile a minute. When asked for a photo, she took Frank and I back to the freezer, pulled out a halibut, smiled and said, "Here's my fish!"
After we left the restaurant, I told Frank I still needed to get photos of GP40 horns for HO scale modeler Bob Garner. While walking through the diesel shop, we bumped into Jethro Greenbaum, son of Norman Greenbaum who wrote the song "Spirit in the Sky." Norman gets $55,000 in royalties each year just for this song! Not only did I get the GP40 horn photos, but I also got some incredible close-ups of the front of number 2004. As we left the building, I lamented to Frank that I had not seen 3015 my favorite locomotive for the entire trip. As if on cue, number 3015 pulled into the yard and stopped right next to our car to tell me goodbye.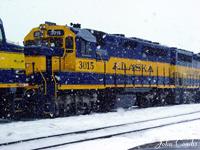 Frank dropped me off at the headquarters building for my 2:00 pm appointment with Jim Blasingame, Vice President of Corporate Affairs. It was good to see Jim again and he loaded me down with a bunch of neat gifts and brochures. I felt like a kid at Christmas! We spent about an hour discussing the importance of preserving the history of the Alaska Railroad. Jim went to the company safe and brought out copies of the Alaska Railroad Record dating all the way back to 1917. He excitedly showed me where reporters had written articles concerning much railroad workers were being paid, the current construction problems at hand and what the cook severed for lunch that week. He also said he has a project underway to convert the railroad's vast collection of video to digital form (DVD). President Patrick Gamble popped his head in long enough to say he was heading out for a meeting and to shake my hand.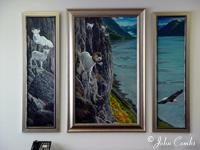 During a discussion about the railroad's annual poster competition, I mentioned that it seemed as though the ARR was currently emphasizing animals and scenery over trains. I cited the last three years posters which displayed large orcas or flowers or Dall sheep in the foreground and a small train in the background. Jim said this was merely a coincidence and railfans should not be concerned. Jim then lead me through the entire executive office showing all the paintings that had been selected for the annual ARRC poster over the years. Probably the coolest of the bunch was the 2001 Dall Sheep poster (which I heard was a sellout due to a large number of hunters purchasing the print.) The artist convinced the railroad to purchase additional side panel art.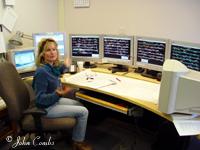 As we returned to his office, we bumped into Randy "BJ" Bjorgan, President of the Military Society of Model Railroad Engineers. Somehow our conversation turned to Global Positioning Systems (GPS) for trains and the next thing I knew we're downstairs in the dispatcher's room getting a tour. Bonus! Jan the dispatcher explained to us how the GPS on top of the locomotive is used to track its location and then pinpoint it on the route maps displayed on computer screens. Eventually, software upgrades will be put in place so that locomotives can be controlled by computers, thus preventing all head on collision and runaway train possibilities. Cost per GPS installation is about $250. At the end of the tour, I thanked Jim for spending almost two hours of his valuable time with me and rushed off to my next appointment.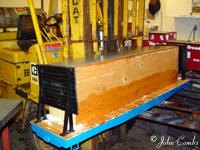 A stop at master builder Jack Klingbeil's house is a visit well worth the time. In 2002, he was working on a phenomenally beautiful 1.7 scale SD70MAC. This time he showed me his 1.7 scale Alaska Central caboose, flatcar and boxcar. His daughter is following in his footsteps and had built a 1.7 scale tram. Moving into his living room, he showed me a DVD he had made of all his ARR super 8mm movies over the years. It was a pretty awesome DVD and I was both surprised and pleased when he gave me a copy of it so I could add some of the clips to my website. He also loaned me a lot of his old negatives to scan and use on the website.
I returned to Don's and tried to crammed all the goodies I had been given into my two suitcase. [Note to self for next trip: Bring bigger suitcases] Don fixed me a farewell steak dinner and I tried to wolf it down before my final appointment.
At 7:00 pm Albert Bailey and Bones Reekie made a return visit to tell more exciting tales of railroading days gone by. They indeed are a valuable part of the historical brain trust of the Alaska Railroad. Listening to Albert talk, I am amazed at the sharpness and depth of his memory. Bones' memory, on the other hand, needs an occasion prodding, but he is without a doubt the best story teller of the bunch. Don got a little dismayed when they started to tell stories about a few of the things he had done in his past and quickly put the kibosh on them.
Don took me to the airport and we said our final goodbyes. I cut my words of thanks a little short when a lump suddenly appeared in my throat.
Like a condemned man being led to the gallows, I shuffled into the airport and over to the ticket counter line. Within a few hours, Alaska would be only a memory.
Chapter 9 | Index | Chapter 11