Thursday, March 11, 2004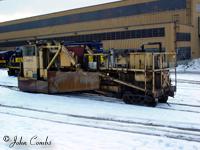 The snow fleet crew gave me a warm welcome as I entered the yard office at 9:00 am. I was really beginning to feel like one of the gang! After getting their orders, they spent a little time planning out the day ahead. We headed to the diesel shopped and picked up our power and spreaders. Today's line up would be Jordan spreader 9, GP40 numbers 3007 and 3012, Jordan spreader 8 with ice teeth and a few gondolas bound for a work crew at Brookman.
Approximately once a year, a barge carrying Spenard Builder Supply freight comes into Seward. Frank told me the barge had arrived and been unloaded onto a freight train which would be bringing the materials north today. We would have to watch our time by clearing the route south and heading back north as soon as possible.
With Daryl Kollander on GP 3007, we slowly moved out of Anchorage and onward toward Turnagain Arm. Duane, Derek and Frank held a lively talk on railroading life. One of their more interesting statistics in that people in train service experience a whopping 70% divorce rate! Derek piped up that before coming to the railroad, he had worked on the north slope and their divorce rate was 82%. Duane replied that it looked like railroad employees had some catching up to do! Seriously, spouses of those in train service have to tolerate extended and irregular work schedules. It is not unheard of for an employee to leave on an overnight assignment and through a change of plans, wind up gone for a week or more.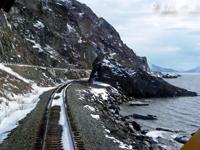 As we entered the Turnagain Arm region, we saw the beauty of Cook Inlet ringed by rugged mountains dotted with the occasional mountain goat. Just another day in paradise! [click here to view the 848KB video]I began asking questions about the various track signs along the rail and Frank took it upon himself to teach me. Soon we arrived at Brookman and dropped off the gondolas. The work crew here was replacing 70 pound in the siding with 115 pound rail. The railroad had decided that with the extra weight of the SD70MACs and heavier freight loads that all the sidings should be upgraded. To date approximately 90% of the sidings have 115 pound rail. They also said Potter just got upgraded to 115 pound rail, but Dunbar had not been done yet. They also said the railroad would eventually have 141 pound continuous welded rail (CWR) on all the mainline. They said the railroad had already installed continuous welded rail at Fort Richardson (milepost 123-125).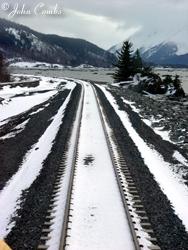 For beginners only: Most modern railroads use continuous welded rail (CWR) where rails are welded together for distances between 400 feet and a mile or more long. to form one continuous rail. Since there are few rail joints, the track is very strong, gives a much smoother ride and also needs less maintenance. Because of its strength, trains can travel faster and with less friction. There is one main disadvantage in CWR and that is distortion in the rail itself due to temperature changes. Rails expand in hot weather and shrink in cold weather. Since welded rail does not have nearly as many expansion joints, it will have a greater tendency to buckle (summer) or have large gaps (winter) between joints. Therefore, when the rail is put down, it is heated to normal summertime temperatures so they expand and then quickly fastened to concrete sleepers (clamps) and welded to the next rail. This ensures the rail will not expand any further in hot weather and the sleepers keep it from shrinking in cold temperatures. In the early days of railroading, all ties, ballast and rails were laid by hand. Today, CWR is put in with very specialized machinery which minimizes human labor. At left is a photo of CWR on concrete ties.
| | |
| --- | --- |
| | |
| The wye at Portage | Out the window of spreader 8 |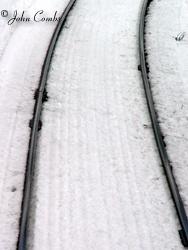 At Portage we picked up Rocky Murrill and Ed Rivera to assist in clearing the snow. Ed's main concern was the ice that lay between the rails. Locomotive engineer Daryl Kollander used the Portage wye to turn the train around so that spreader 8 (with ice teeth) was up front and spreader 9 at the rear. The crew moved from spreader 9 to 8 to begin operations. It was then that I discovered just how nice our spreader 9 accommodations had been. Spreader 8 was a real rat pit. It was old, had a beaten up wooden floor and used a old stove for heat. When it got too hot inside the spreader, we opened the windows which would bang loudly against the spreader's body. The overall noise inside the cab of spreader 8 was so loud, we had to use ear plugs.
Since our snow removal did not begin until Tunnel, we moved at a pretty good pace. We popped through each of the five tunnels and saw where the section workers living in the area had already cleared some of the snow from the tracks using bulldozers. Our pace slowed to a crawl and I took the opportunity to enjoy the absolutely breathtaking winter wonderland. The photo at right show the ice teeth marks between the rails. Although the teeth could be set lower to remove more ice, the fear is that if they are set too low they may gouge into the wooden ties.
| | | |
| --- | --- | --- |
| | | |
| Approaching the first of 5 tunnels | Inside of a tunnel | Heading toward Grandview |
| | | |
| Section worker plowing snow | Duane imitating the AOL man | Beauty! |
| | | |
| View from rear of the blade | A lot of snow here! | No snow, but good view of arm |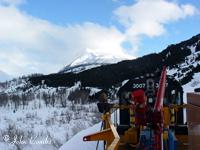 Not long after passing Grandview we stopped operations and headed to spreader 9 at the other end of the train. Ed and Derek carefully maneuvered the spreader's wings to clear the snow while avoiding nearby rocks, signs and dirt hills. [click here to view the 588KB video] They cleared the siding at Grandview and Duane cleaned the switch. As I was sitting in front of the control stand, I felt something hot running down my back. As it turned out, one of the coffee mugs had turned over spilling its contents all over my back. I stood up and turned around to face a wide-eyed crew. I pointed my finger in their general direction and said, "Now you guys owe me one!" Frank apologized and asked what I wanted. "I want you to drop me off at the north end of the switch at Spencer so I can videotape the spreader to clear the siding." Frank agreed so quickly that I'd wished I asked for even more! As promised, they dropped me off and I got some very nice footage for the website.[click here to view the 1.4 MB video]
| | | |
| --- | --- | --- |
| | | |
| Rich Holzapfel at Spencer siding | Locos clear siding rails first | Spreader 9 finishes the job |
Eventually the snow was so low that we pulled in the wings for good. However, we kept the nose part of the plow down and at 35 miles per hour, the snow really flew. We dropped Ed and Rocky at Portage. While there we used the wye to modify our lineup so that the spreaders were in the back and GP40 3012 as lead locomotive.
| | |
| --- | --- |
| | |
| "Mr. Happy Face" Ed Riveria | Duane Frank hamming it up |
Our final hour of train travel was spent in the last remaining light of the day. We tied up at Portage just after dark. The ride back to the yard office was full of stories, jokes and laughter. This really was a magical crew. We returned to the yard office at 8:00 pm. I was the first to be dropped off and was very sad that the day had to come to an end. As I thanked my friends and shook their hands, I got a lump in my throat.
I returned to Don's and went through the routine of telling him my stories and checking eBay for Alaska Railroad items. Although I hadn't worked as hard as the snow fleet crew, I went to bed totally exhausted.
Chapter 8 | Index | Chapter 10