Chapter XVIII: Executive Encounter
Friday, July 7, Anchorage.
I rolled over in bed and looked at my watch. It was tough to admit, but I had slept in until 7:30 a.m. With that admission out of the way, I rolled back over and slept for another hour.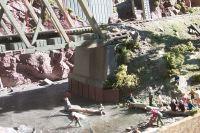 By the time I had packed, shaved, showered and eaten breakfast, it was 9:30 a.m. and the pull of the Alaska Railroad was growing strong. As I headed for my rental rascal, Pat and Casey pulled out a super detailed N scale layout module from the garage to show me. For the next ten minutes, Pat introduced me to each of the minature people on the layout and spun stories about their activities at the scene. The stories were fun, but the modeling techniques were extraordinary. I wish I could have stayed for a week under the aprenticeship of these two talented individuals.
I drove to Anchorage, parked on the Fourth Avenue tourist strip and made some last minute gift purchases for my loved ones at home. With a slight bit of nervousness, I pulled up in front of the Alaska Railroad Corporation (ARRC) general office building. Over a week ago, Jim Blasingame, ARRC Vice President of Corporate Affairs, had arranged us to meet at his office. I was very flattered that an ARRC executive would take the time to talk to some strange computer geek from Dayton, Ohio. Now the time had come for that meeting.
"At last we meet!" Jim said as he warmly shook my hand. In the true spirit of friendship, he presented me with gifts, a beautiful Alaska Railroad hat and fleece jacket. By then my head had swelled so much that it was tough getting the hat to fit! He complimented me on the fine work I was doing on my Alaska Railroad web site and asked how my trip had been so far. I told him that many of the Alaska Railroad employees I met really gave me the red carpet treatment. As we sat there discussing the high points of my trip, Scott Banks, ARRC Public Affairs came into Jim's office and joined us.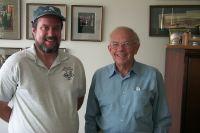 As I sat there thinking it can't get any better than this, Jim left his office only to return with Gov. Bill Sheffield, President and CEO of the ARRC. As I shook Gov. Sheffield's hand, I told him it was truly an honor and privilege to meet him. And let me tell you, it was! For the next ten minutes, Gov. Sheffield spoke to me about current and future plans for the railroad as well as understanding the needs of the customers. The Grand Finale came when Scott Banks used my camera to take a photograph of Gov. Bill Sheffield and I together. Alaska Railroad fans worldwide, eat your heart out!
By the time I left Jim's office, an hour had passed. Even today I am still amazed that he seemed like he had all the time in the world to spend with me! As soon as I left the executive suite, I made one last attempt at finding Webmaster Willow Peyton at her desk. Bullseye! It was a blast hearing her speak of the ARRC's future computerization plans including new web site services. She also took me around the office to meet some of the other people on her floor, all of whom gave me various Alaska Railroad goodies. Admittedly, I cherished these items much as aboriginies did when first given butane lighters. On the way out, I met Loren Mueller, the new Chief Operations Officer for the railroad. He was formerly with the Burlington Northern as Vice President of Operations so I wished I'd thought to ask how the Alaska Railroad stacked up.
It was painful walking out of the general office building. Although three hours had elapsed, I could have stayed all night.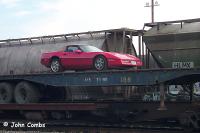 I made another stop by the Anchorage yard to check off some more items on my photo roster. A switcher was just bringing in a mixed frieght and the highlight was a red Corvette on a flat bed on a flat car.
Frank had left me the key to his apartment and I was able to carry in all of my belongings in just three trips. While sorting through everything, Frank called and said he would not return from Whittier until tomorrow night. This was a bit of a disappointment since I was hoping to spend some time with him. I continued my packing and realized I would have to take home an extra box due to all the incredible gifts I received. A call to the airline told me that there would be an additional charge of $50 for a third checked bag if they were short on baggage space. Stay tuned for futher details.