Chapter XVII: MATI
Thursday, July 6, Anchorage.
If you needed to know what a bad headache felt like then you could have just asked me today. I had a whopper. It helped to remind me how healthy and injury free my almost four weeks in Alaska had been. Fortunately, Pat had a good hot breakfast of pancakes and eggs on the table which prevented my brain from totally leaking out of my ears.
Casey and I drove to the famous Museum of Alaska Transportation and Industry (MATI) in Wasilla. His dad was one of the primary movers and shakers for the museum so we paid no fee and had free roam of the place. I admitted to Casey that my only interest was in Alaska Railroad related items so he conveniently skipped everything else.

It takes vision to create any kind of reputable museum and this one did not disappoint me. The F7 locomotive number 1500 is the museum's showcase item. It is part of their logo as well as being the first thing you focus on when you drive up to the museum. Its next door neighbor, Alco RS-1 number 1000, Alaska Railroad's first diesel locomotive, looks in pretty good shape for being 56 years old. We also checked out various items such as sleeper cars, jordan spreaders, tank car, locomotive cranes, gas powered MOW cars and the Whitney section house. At 10:00 a.m. a northbound passenger train pulled by SD70MAC 4001 and GP-40 3010 came roaring by the museum (which is located at milepost 163.8) and I was able to get a couple quick photos.
The icing on the cake was a stop at the Live Steamers track located adjacent to the museum. Casey brought out the 1.5 scale (i.e. big enough for you to sit on and ride) F7 locomotive number 1500 and connected two flat cars. Casey sat on the flat car behind the locomotive and I sat on the green bulkhead flatcar. With a toot of the whistle, Casey began a smooth journey over the 3,000+ feet of track in just over 10 minutes. It was a fantastic ride that I will not soon forget.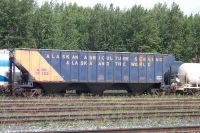 Our next stop was Alaska Railroad's Anchorage yard to obtain photos of anything I didn't already have. Today's treasures included an ACT container, several SD70MACs, all the locomotives on the dead track and the Alaska agricultural hopper. We then took photographs of several local Alaska Railroad supported businesses to be used in support of my industries page on my web site. We ended the run by photographing the southbound gravel train as it passed by Elderberry Park.
We returned to the Durand residence for a fine dinner and some good company. Casey headed out for a date and I headed out to the mega motor home to work on the journal.