Chapter XV: The Gravel Train
Tuesday, July 4, Anchorage.
Frank got his Whittier gravel train work call at 4:30 a.m. This was much too early for me so I rose leisurely at 8:45 a.m. Leaving Frank's apartment, I discovered that I was unable to get across town due to the roads being closed for the Fourth of July parade. It took me an hour to find an escape route and get around the multitudes of demolition derby drivers flocking to the parade.

I made it to the Whittier tunnel around noon and was able to drive right in. I have never encountered any town as unique as Whittier. Their phone book doesn't even cover an entire page. They have 30 to 50 school children meaning your high school graduating class would have two to three members. That is if your parents didn't decide to send you off to Anchorage instead. There is basically one street in town and a handful of businesses. But the thing that makes them really stand out is virtually all the residents live in the Begich Towers apartments. This World War II era building survived the 1964 earthquake plus the resulting tsunami. Another apartment tower is nearby, but the Army chose not to repair it after the earthquake. The weather is fairly dreary three fourths of the time and rumor has it that alcoholism is rampant.
I found Frank in locomotive 2004, waiting on five Difco dump cars to be filled by a back hoe with gravel. This gravel is then dumped next to the docks in preparation for the construction of Lynden's new dock. Crowley lost the Alaska Railroad's barge contract to Lynden who in turn is building a barge in Seattle and a dock in Whittier. After watching for a hour, I left for Anchorage to get a few items Frank needed plus catch the northbound Whittier passenger train as it emerged from the Whittier tunnel.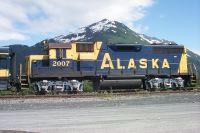 It was 2:40 p.m. when I exited the tunnel. The train was due to pass through the tunnel at 3:05 p.m. so I killed some time talking with a few fellow tourists. At 3:18 p.m. locomotive 2007, P-30 and three passenger cars finally emerged and I took a few shots and got back on the road. By the time I got to Portage, the train was already there and the crew was killing time until it was time to head the shuttle back to Whittier. As I took photographs of the train, I encountered conductor Craig Stoskopf reading a book in the shade. Craig was very friendly and shared many great stories from his 24 years with the railroad.
Returning to Anchorage, I grabbed a quick lunch at Burger King and then picked up the items Frank needed. I headed back down the Seward Highway and encountered almost a continuous line of traffic coming the other way. Many of the Anchorage folk head down to the Kenai Peninsula for a weekend getaway and with this being the Fourth of July weekend, the traffic was even heavier. There was a wide variety of nuts on the road, a few of which had no problem running on coming traffic off the road if it meant they could pass the car in front of them.
I arrived at the Whittier tunnel at 8:10 p.m. and waited for 20 minutes until it was southbound traffic's turn to use the tunnel. As soon as I arrived in Whittier, I ran into Frank who said a barge had just come in.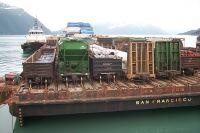 We drove to the docks and walked out onto an observation platform. Although I have seen many photos of Whittier barges, the sight of a huge barge coming into the dock totally enthralled me. We watched for almost a half hour as the tugboat slowly nudged the freight car laden barge into place. Frank said the barge would be unloaded at 7:00 a.m. the next morning and that he could make arrangements for me to watch from the tower. Cool!
We stopped for dinner at the rustic Anchor Inn. Holly, our waitress, was as friendly as she was cute. We talked with her briefly about life in Whittier and she eventually admitted to retreating to Washington for the winter. The only thing worse then a summer in Whittier appears to be a winter in Whittier. Average snowfall is twelve feet and in 1956 they got a whopping 72 feet of snow. Refueled and refreshed we headed for the Begich Tower for our night's lodging. Fireworks soared through the air and disappeared to the low lying Whittier clouds.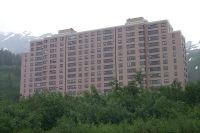 The railroad reserves three apartments on the seventh floor year round at Begich Towers for its employees working in Whittier. Each apartment has a kitchen living room, microwave oven, bathroom with shower and two bedrooms. My lucky number is seven and as luck would have it, our room was number 707. I called Pat Durand and made arrangements for an historic Whittier tour for 9:30 a.m. the following morning. Frank and I watched a TV program that showed exploding railroad tank cars among other things. Was this foreshadowing? We finally headed to bed at midnight.