Chapter XIV: Administrative Details Day
Monday, July 3, Anchorage and Palmer.
Getting up repeatedly at 5:30 a.m. makes me feel like my brain is leaking out of my ears. The long days were really beginning to catch up with me. We made it to the airport by 6:30 a.m. Randy dropped off his rental car and I picked up mine. We exchanged words of thanks and a promise to do this again in a few of years. Randy headed for his plane to Seattle and I returned to Anchorage to take care of some administrative details. Yuk!
First, I dropped some stuff at engineer Frank Dewey's apartment (tonight's lodging). Next, I called Richard Wise to make arrangements to pick up the camping equipment he had been holding for me. Fortunately, he was off work and could drop everything off right then and there. I again met him at the Sea Galley and reclaimed the wayward items. We talked for a few minutes about our jobs, the joys of Alaska and of course, the Alaska Railroad. After getting route directions from him, it was off to Palmer to return the stuff.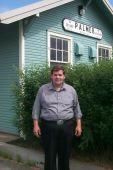 I got a little sleepy on the drive up, but stale donuts and rock and roll music (100.5 the Fox) from the radio kept me going. Once at Palmer, I dropped off the equipment and stopped at McDonalds. While eating my worm burger, I tried to think if there was anyone in Palmer I wanted to see. And then it hit me! Lucky Dog! Louis Friend (aka "Lucky Dog") was a minister in Pennsylvania when he first encountered my web site while looking for information to model the Alaska Railroad. Through some stroke of luck, he got a pastoral job in Palmer and now uses the real thing to help him model.
I called his house and to make a long story short, we met at the Palmer Depot around 1:15 p.m. Louis and his family had always wanted to live in Alaska and were now living their dream. Louis has always been a big Alaska Railroad nut, but has never had the opportunity to ride the train yet. To add insult to injury, one of Louis' daughters recently got a job at Westours at Denali National Park and got to ride the McKinley Explorer railcar to get there. Hopefully she'll get an employee family discount and take Louis on the train so as to scratch his itch.
Returning to Anchorage, I took care of the rest of my troop's unfinished business. I bought their trip patches and several souvenirs my Scouts had forgotten to buy for loved ones at home. I also boxed up their backpacking stoves since these are not allowed on the plane. I then spent the next four hours working on the journal which you are now reading.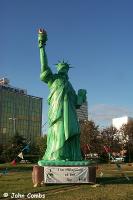 I met Frank Dewey (my good friend and Alaska Railroad engineer) at 8:00 p.m. He took me to a local shopping mall where we got pizza and a huge glass of real lemonade. His true purpose for taking me there was to visit SimCade. In the room are four cockpits which contain a computer monitor, flight stick, throttle, other flight controls and a pilot's seat. You pay $1.00 per minute, get into the cockpit, chose the plane you want to fly, close the canopy and then hold on for a wild ride. The flight simulators have real motion and sound providing the pilot with a fairly realistic ride. To add to the excitement, all the computers are networked together and each pilot can engage in dogfights with the other participants. The operators also have a computer so it is possible to have five pilots shooting down each other in an attempt to own the skies. The action was so good that I left the mall with shaking hands and wobbly legs.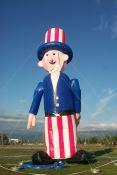 We stopped by Delaney Park, a city park which was originally the first air strip in Anchorage. City employees were setting up various displays for tomorrow's Fourth of July celebration. Since the park was practically deserted, it was a great time to photograph the 30 foot tall Uncle Sam and Statue of Liberty inflatable balloons. They also had various historic displays including a replica of the canvas wall tents used when Anchorage was nothing more than a tent city.
Arriving at the post office, I mailed the troop's backpacking stoves thus ending all my administrative details and duties. We returned to Frank's house and I set up my bed for the night. Frank gave me a lot of Alaska Railroad items including artwork, photographs and HO scale models. His generosity was absolutely overwhelming! We then watched train videos until 1:15 a.m.