Rebuilding a locomotive for the Alaska Railroad's general and passenger service is quite a major undertaking. The winning bidder must remove and recondition all major components as well as make any necessary repairs. This contractual "to do" list is actually quite staggering.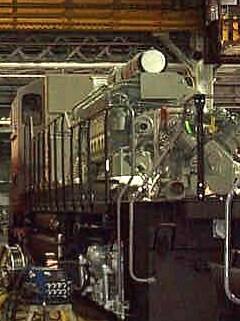 It includes the carbody, cab, main frame, fuel system, piping, sanding system, draft gears, couplers, air system, trucks, dynamic brakes, batteries, cooling system, radios, prime mover, lube oil system, head-end power and the electrical power and control system. If the budget permits, some optional work (electronic upgrades, etc.) may be purchased.

Once the rebuild process is complete, the locomotive gets a new coat of paint and shiny reflective tape. The rebuilder then provides complete testing of the prime mover and head-end power. Both a load and track test are conducted and documented. Finally, the rebuilder will ensure the locomotive is road ready. This includes filling the unit with sand, lube oil and fuel.

A recent rebuild of GP40-2 numbers 3013, 3014, 3015 is a good example of this process. The winning bidder was National Railway Equipment in Dixmoor, Illinois. The locomotives were sent to Whittier where they caught a barge to Seattle. Railfans from Seattle, Washington to Superior, Wisconsin to Chicago, Illinois burned up rolls of film capturing these unique units. When the locomotives arrived at NRE, they were completely disassembled and the work got underway A well orchestrated ballet of grit blasting, cleaning, repairing, replacing, modifying, and reconditioning took place. Some new items were added such as a stainless steel recirculating toilet. Finally, the locomotives (designated GP40-H) got a new coat of paint.

As an historical note, number 3013 had a number stencil error. The Alaska Railroad chose to "live with it" so as to not hold up final delivery. NRE later received the correct stencil and numbers 3014 and 3015 came out as planned. These bright, shiny units then left the factory. However, as one insider said, "Locomotives are 'show room clean' only on the day they leave the factory - if it wasn't raining that day." Beginning in late August 2001, the units returned one by one to Alaska, refreshed and ready to work. As an added extra, the Alaska Railroad had an NRE service representative on site to assist in putting the units in service and provide training.

Click here for Talgo LRC rebuild information