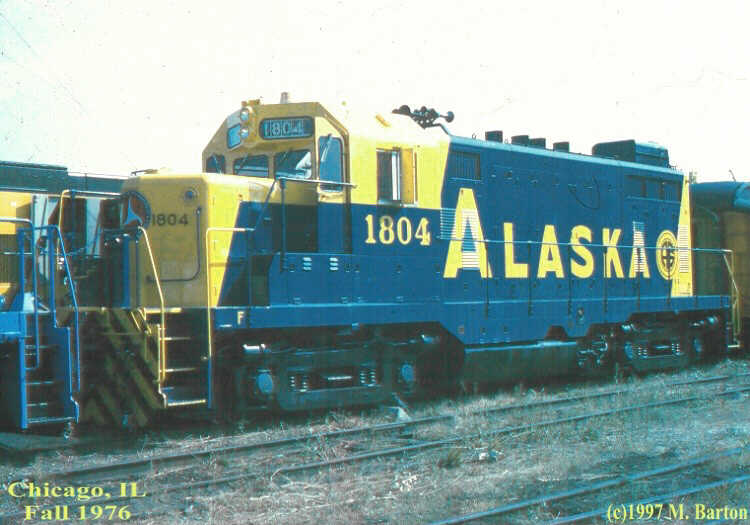 Photo courtesy of Michael Barton
Mike Barton's description of the photo (taken in Chicago, Illinois in the fall of 1976):
"My recollection is that it was some type of trade show...for railroad suppliers to show off their wares. The ARR loco was accompanied by a couple others that were also freshly painted...a Conrail, and an Illinois Central Gulf (ICG). As I recall, it was in the Illinois Central (IC) yard just south of downtown."
"I was just reading an article in the December 1998 issue of RailNews magazine. Let me quote one paragraph: 'In the early 1970s, ICG began marketing Paducah's capabilities to outsiders and enjoyed modest success rebuilding units for other railroads. Series of Geeps owned by Conrail, Rock Island, and Alaska Railroad made their way through Paducah for upgrading, and wrecks arrived sporadically for repairs.' This leads me to believe that it may have been an exhibit by ICG for it's rebuilding program where the locomotives I saw and photographed the locos including the ARR Geep. Paducah is IC's former shop in Kentucky, where they build steam locomotives in days gone by. In regard to LaGrange (Illinois, a Chicago suburb), it served for many years as EMD's only manufacturing facility. All EMD diesels were built there until perhaps the early 80s. Now most work is done at its London, Ontario plant, though LaGrange still does sub-assemblies, and occasionally some other work, like painting, etc. LaGrange has held open houses from time to time to commemorate various anniversaries."
Also, in Trains magazine they had a photograph of the two as they started fires along the tracks. After starting small brush fires they went to the shop to be fitted with spark arrestors.
Later, 1804 and 1810 were sold to Santa Clarita Railway and they are used for the movie Under Siege 2 with Steven Segal. (Click here to 1804 in her SCRX colors in Saugus, CA 5/2/98) These two locomotives were again sold, with 1810 going to Samuel's Industries in Milwaukee, OR and 1804 is going to the Gold Coast Railroad Museum in Florida. Alaska Railroad railfan Bob Garner reports, "I contacted the Museum and he stated that it was purchased from the Santa Clarita. It was refurbished in San Antonio and is now in Birmingham, AL waiting to go to Miami. It is in the ACL purple and silver livery. It will be placed in limited service at the museum." [11/23/02]
2/14/13 - Check out the fantastic article on the Gold Coast Railroad Museum's website.