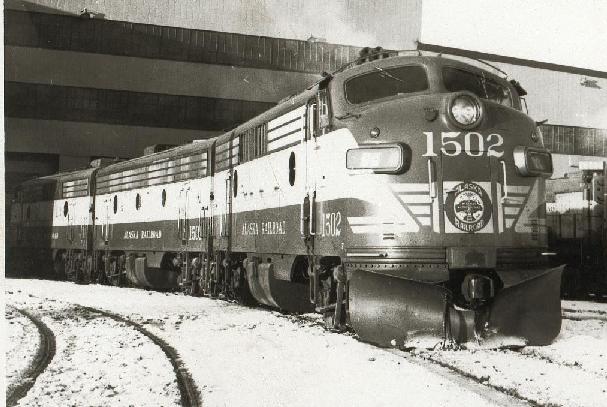 This photo of FP7-A #1502 is credited to Alaska Railroad collection. It was taken behind the ARR Anchorage shops on February 3, 1957 by William A. Gibson Jr. This is the original passenger paint scheme. Number 1502 later changed to this paint scheme and then to this one. This locomotive was acquired new in 1952 and later sold to a company in Finley, WA.
1502 was one of the units from the first order. 1500-1506 were ordered direct from EMD. The first run of the new 1502 and 1503 Diesels were made on a northbound freight in January 1953. On hand to see the engines off were factory representatives, train enginemen and well-wishers.
On F7 units, all the even numbers are A units and all the odd numbers are B units. An interesting note: If the Museum of Alaska Transportation and Industry obtained 1503 and put it with the 1500 already on hand, they would have the only F7 A&B set from the same order in the entire United States.
No. 1502 was involved in the Alaska Railroad's worst train wreck. At 3:45 p.m. on July 5, 1975, freight train Extra 1502 South struck the rear of passenger train No. 5 at MP 279.18 south of Hurricane. Collision speed was approximately 25 miles per hour. No. 5 had stopped to permit passengers of the train view Mt. McKinley. All cars of the passenger train and the first four locomotive units of the freight train were derailed. Sixty-two persons were injured, 23 were hospitalized and two of the injured subsequently died. Dome car 10 was heavily damaged when the underframe was buckled. The estimated cost of damages was over $558,000. The National Transportation Safety Board determined that the probable cause of the accident was the failure of the engineer of Extra 1502 South to operate the braking system on the locomotive properly and the failure of both traincrews to comply with railroad operating rules. The engineer of No. 1502 was fired by the railroad and several other crewmen were suspended.
Oh, the mighty, how they have fallen! Number 1502 is now a restaurant.
Photo courtesy of The Durand Collection