Stian Sørby's Number 1500 from Runaway Train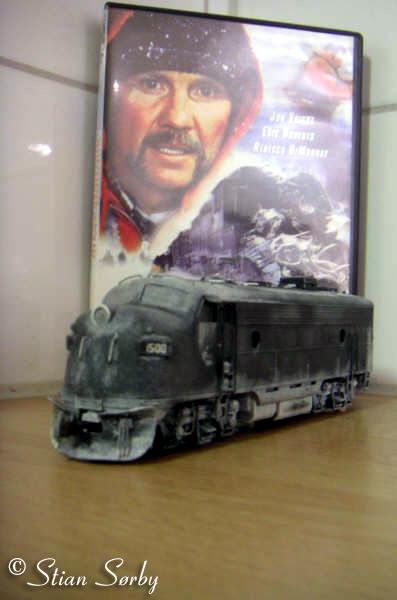 ---
.
Stian Sørby says of his creation, "Here she is. She started out as an Athearn F7 Amtrak unit, but with a little help from Polly Scale "Scale Black" she was converted into the ARR #1500 as she appeared in the movie 'Runaway Train'. Now, obviously I'm not a professional model builder, and to be honest, this is the first model I've ever finished! I didn't use an airbrush for this model at all. The black color was brushed on, and the snow/ice was dry brushed. That was probably the most time consuming work on this model.
"I used the Walthers F7 dress up kit and parts from Details West and Details Associates for the detailing. Yes, I know, I've used the wrong winterization hatch, but I couldn't find that large ARR hatch anywhere. So I put this one on until I can find the correct one. The plow is scratchbuilt, since I couldn't find an exact plow either. Now, after looking at the Runaway Train over and over again, I couldn't find the horn, so my guess is they must have removed it for some reason, so I didn't add a horn to my model either."
Comments from Pat Durand, " Stian Sørby is to be congratulated for his work on #1500 modeled after the movie Runaway Train. Excellent job, Stian Sørby. Your plow is very adequate and you will not find a commercial product to do the job. I believe the winter hatch is the CP CN unit from Miniatures by Eric, if so you are right on again. These double stack hatches cover only the last fan and go to the end of the removable roof panel. The first fan is blanked out on most of the F units and you need to look for the five horn array on a bracket between the two middle fan positions with a 3/4 inch air line pipe going forward to connect where the original horn was attached on the right side. They were moved back there to keep them from filling up with snow and ice. The snow weathering is fantastic. Actually looks better than the movie version. Number 1500 was painted with a water based black paint and then most of the weathering was done just the way you did it with phony snow. A fine example of art emulating art emulating life. I hereby dub the creator Stain Stian a master of weathering."